Story highlights
Preliminary report suggests fire was caused by an electrical fault
The blaze is the latest tragedy to fuel Iraqi public anger at inept governance
(CNN) —
Shaima Hussein should have left Baghdad's Yarmouk hospital on Wednesday cradling her newborn son, her firstborn, conceived after years of struggle.
For years, Hussein and her husband, Moad, tried desperately to conceive. They went into debt and sold their car to pay for in-vitro fertilization.
Yman, their miracle baby, was born Tuesday via cesarean section.
"I can't describe the feeling. I didn't care if it was a boy or girl," she said. "I wanted to give my child the best life, the best things."
Less than a day later, he was gone, and Hussein left the hospital clutching a bundle of paperwork, the bureaucratic remains of a young life cut short.
Yman was among 11 babies who died of suffocation after a fire broke out in the hospital's maternity ward.
Some were just hours old, resting in incubators in the preterm birth unit, when a short circuit occurred in an air conditioning unit, according to a preliminary report provided by the Civil Defense.
Oxygen from those incubators fueled the flames, a security source at the scene said, leaving behind a mess of charred vessels and devastated parents.
'Their corruption has reached infants'
The fire triggered outrage in a country where electrical fires are common in antiquated buildings that are poorly maintained.
"In the new Iraq, people don't live more than hours," wrote one Twitter user.
After night of burning and bombing, mourning in Baghdad
People directed their anger at the government, citing incompetent management of the country's fraying infrastructure and its apparent inability to protect citizens.
"We never hear that the parliament or the president's office have burnt down, only the institutions where the poor people go," wrote another.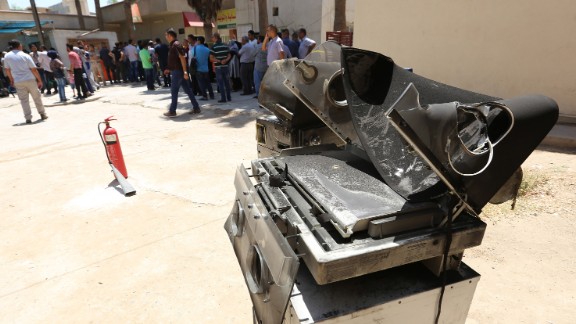 SABAH ARAR/AFP/Getty Images
Some called for the resignation of the country's health minister.
"Their corruption has reached infants only hours old," wrote another Twitter user.
The blaze was just the latest tragedy to strike Iraq, which is locked in a battle to oust ISIS militants controlling large swaths of territory, including the country's second city, Mosul. Tempers boiled over in the capital last month in the wake of a massive ISIS car bombing in the largely Shiite Karrada neighborhood. About 300 people were killed, many of them perishing in an ensuing inferno in a shopping center.
'I don't know whether they are alive'
Yarmouk, one of Baghdad's main hospitals, is in the western part of the city. While firefighters entered the charred, waterlogged building on Wednesday, nervous families gathered outside the ward, awaiting news of their loved ones.
The 29 women who recently gave birth in the ward were rescued and transferred, along with surviving infants, to other hospitals in the Iraqi capital, said Ahmed al-Rdainy, a spokesman for the Iraqi Health Ministry.
But Hassan Omar could not find his newborn twins, a girl and a boy, anywhere.
"I don't know whether they are still alive or not," he told reporters outside Yarmouk.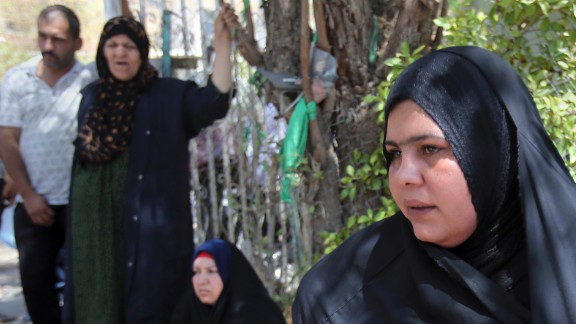 Karim Kadim/AP
Amid the pandemonium, the Husseins searched for their son.
The pain of Shaima Hussein's C-section ceased to exist.
"I couldn't feel the operation at all. It was as if my stomach wasn't sewn up. I forgot my phone, I forgot my scarf, I forgot everything. My whole face was covered in black soot. I was in shock," she said.
"I was asking, 'Where is my son?'"
They found his blackened body at the hospital morgue. Positive DNA testing will make it official, but a mother knows her son.
"His name was there and I recognized him," Hussein said.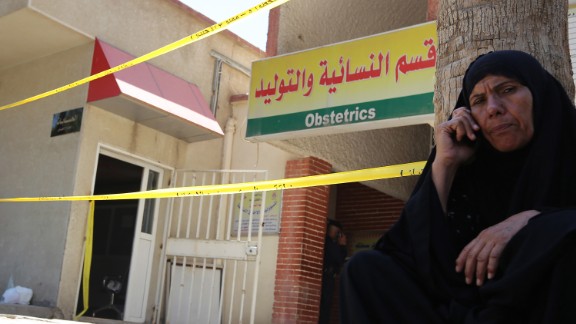 SABAH ARAR/AFP/Getty Images
CNN's Hamdi Alkhshali, Schams Elwazer and Tim Hume contributed to this report.