When 18-year-old Michael Brown was killed in a confrontation with police in Ferguson, Missouri, in August 2014, the aftermath was so devastating it seemed there was no place for America to go but up.
Then came the next 24 months.
JOSH EDELSON/AFP/AFP/Getty Images
In the two years since Brown was fatally shot by Ferguson police officer Darren Wilson, there's been a pileup of other controversial police encounters that have resulted in the deaths of unarmed black men.
During one harrowing week this July, two police-involved shootings happened within two days, only to be followed by a deadly attack targeting Dallas police officers. The country then mourned a second attack on police on July 17 in Baton Rouge.
Meanwhile, the protests and calls for justice have only grown louder. As the headlines stack up, here's a recap of how this outrage began and why Ferguson was the gas that fueled the fire:
Saul Loeb/AFP/Getty Images
There's still conflicting information about Brown's death
Michael Brown and Darren Wilson encountered one another as Brown walked with a friend, Dorian Johnson, down the middle of Canfield Drive after 12 p.m. on Saturday, August 9, 2014. Wilson told authorities he approached the two young men because they were blocking traffic.
Handout/Getty Images North America/Getty Images
What happened next depends on whom you ask.
Authorities said that Brown attacked Wilson in his car and tried to take his gun. Others said Wilson was the aggressor, and that Brown had his hands up when Wilson began firing.
Interactive timeline: What happened in Ferguson
What is clear is that Wilson shot and killed Brown, who was unarmed. According to the St. Louis Post-Dispatch, the entire fatal encounter took less than two minutes.
Protests went on for months
Crowds quickly gathered at the scene of the shooting as Brown's body remained in the street for four hours.
Two days after Brown's killing, authorities estimated as many as 1,000 demonstrators were protesting in Ferguson. "We had what probably bordered on riot conditions," Ferguson Police Chief Thomas Jackson said, explaining that it took hours to process the scene, collect evidence and move Brown's body.
The frustration and anger in the community became crystal clear in the weeks that followed as residents faced off with police, with some of the demonstrations turning violent.
Our Ferguson "After MB:" Residents talk about their town
#Ferguson shone a national spotlight on the issue of police and race
The outcry heard in Ferguson was already building before Brown was killed. The month before, another high-profile case revolved around Eric Garner, an unarmed African-American man who died in New York after being placed in a chokehold by police.
Two years before that, it was 17-year-old Trayvon Martin, who was also unarmed when he was shot and killed by neighborhood watch volunteer George Zimmerman. The rallying cry of "Black Lives Matter" was formed when Zimmerman was found not guilty of murder in Martin's death, and it transformed into a movement in the wake of Ferguson.
The death of Brown, who'd just graduated from high school and was two days away from starting college, was seen by many as another example of mistreatment by police in African-American communities. And Ferguson already had a long history of distrust between its mostly white police force and the city's mainly black population.
Why Ferguson touched a raw, national nerve
Between August 9 and August 25, 2014, the hashtag #Ferguson was used on Twitter 11.6 million times with retweets and 1.9 million times without, according to the social media monitoring company, Sysomos.
What happened in Ferguson, many on social media were saying, was happening everywhere.
Two investigations were launched
One was a criminal investigation led by St. Louis County, which determined whether Wilson would face charges. The other was a civil rights investigation spearheaded by federal officials.
Pablo Martinez Monsivais-Pool/Getty Images
The feds also led a civil rights investigation into the Ferguson police department's overall track record with minorities.
Fresh outrage erupted after Wilson avoids criminal charges
The grand jury's decision not to indict Wilson in November 2014 was met with chaos. While most protesters that night were peaceful, some businesses throughout the city were also looted or set on fire.
Police responded by deploying tear gas, as the governor called in the Missouri National Guard.
Photos: Unrest in Ferguson
Photos: Unrest in Ferguson
Photos: Unrest in Ferguson
Photos: Unrest in Ferguson
Photos: Unrest in Ferguson
Photos: Unrest in Ferguson
Photos: Unrest in Ferguson
Photos: Unrest in Ferguson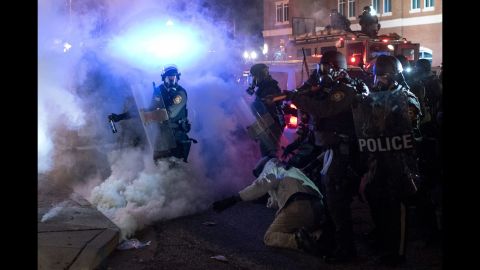 Photos: Unrest in Ferguson
Photos: Unrest in Ferguson
Photos: Unrest in Ferguson
Photos: Unrest in Ferguson
Photos: Unrest in Ferguson
Photos: Unrest in Ferguson