Story highlights
Elizabeth Holmes explains the next chapter for Theranos
The Silicon Valley unicorn has had a hard 2016, facing investigations and lost license for California lab
The government sanctioned Theranos and banned Holmes from owning a blood-testing lab for two years
Palo Alto, California
CNN
—
Elizabeth Holmes, the CEO of Theranos, escorted CNN Chief Medical Correspondent Dr. Sanjay Gupta around her famously secretive research and development lab like the proud owner she is. The two are dressed in obligatory blue lab coats, safety goggles and bright blue latex gloves.
Holmes began getting media attention in 2014, when she promised that her biotech startup would revolutionize lab testing by delivering faster, cheaper and more accessible results. Overnight, Theranos became the darling "unicorn" of venture capitalists, estimated to be worth as much as $9 billion.
Holmes showed Gupta specimens tucked under chemical hoods. She pointed to a temperature-controlled unit stacked with white boxes labeled "Dengue Clinical Samples." She warmly introduced a woman wearing a white lab coat with the word "Theranos" stitched over her heart.
Until now, "no one (other than employees from Theranos), ever in here," said Holmes, the woman previously described as the world's youngest female billionaire, as she pauses at a door for a lab labeled "Edison."
The 13-year-old company has made large promises but operates under a regulatory cloud. Holmes, ever the charismatic entrepreneur, had been a regular feature in business and fashion magazines until she started lying low the past few months.
Currently, the medical startup is facing government investigations and at least a dozen lawsuits, and it lost its main retail partner, Walgreens. It was the subject of a high-profile investigation by the Wall Street Journal.
Then, in July, Holmes heard news that would test her future as well as the company's.
A Centers for Medicaid and Medicare Services investigation into the company's Newark, California, lab, found major problems. The investigation said there was lack of proper oversight with the tests, flaws in the way some of the hematology tests were run and insufficient documentation, and overall, the work was "of immediate jeopardy to patient health and safety." Theranos was then forced to void two years of that lab's results.
Regulators also revoked the license of its Newark blood-testing facility and legally banned Holmes from owning or operating a lab for two years. (The company can appeal that decision, which would go into effect in early September.)
Forbes, the magazine that once named Holmes America's richest self-made woman, worth $4.5 billion, lowered its estimation of her net worth to "nothing."
"The headlines are not always accurate," she said. But she admits she does read some of the negative press.
"It's really painful to see some of the things that have been written," Holmes said. "But you have two choices, I think, when you go through something like that. Either you let it tear you down, or you use it to become better."
She told CNN she's choosing the latter and will keep her company open. With some leadership changes and a new medical advisory board, she has ambitious plans to grow.
'It's not an easy thing to do'
Some in the medical community have criticized Theranos for its "stealth research." In the past, Theranos bypassed peer-reviewed journals and conferences. But on August 1, Holmes will speak at the Annual Scientific Meeting and Clinical Lab Expo of the American Association for Clinical Chemistry. She'll unveil the company's newest invention, a mini-lab that can run a wide variety of tests using miniaturized laboratory robotics.
In another break from past secrecy, she also spoke on the record with CNN and gave the network an exclusive tour of the lab.
When asked why she was giving CNN such unfettered access, the 32-year-old entrepreneur told Gupta that she was bringing her company into a new stage.
"This next chapter for us is about really committing to transparency," Holmes said. "And the best way for us to start with that is to show you who we are and what our technologies are."
Holmes took a fob from a staff member and swiped it across the security panel with great ceremony. She was about to show off one of Silicon Valley's best-kept secrets of the past 10 years. She pushed on the door.
Nothing happened.
She swiped again as the news cameras rolled. The door didn't budge. The crowd of public relations staff and assistants, one carrying an extra Theranos-branded lab coat with Holmes' gold iPhone tucked into its front pocket, scrambled.
A superstitious or thinner-skinned leader may have seen this moment as an omen, but this particular CEO, who says she doesn't believe in backup plans, took the glitch in stride.
She calmly explained that her fob was upstairs in her office. Handed the right one, she opened the door and ushered in the crew to show them a device she believes will help Theranos realize its grand ambitions.
"We're trying to use (this time) to become better and to realize even more why we started this in the first place," Holmes said earlier. "This is a dream. This is a mission. People can't afford lab testing. And when you see what that means to people, it's an incredible fuel. So we're working to channel it, but it's not an easy thing to do."
How Theranos began
Holmes makes her creation of the multibillion-dollar startup look easy. Her origin story is perfect for a Silicon Valley movie narrative.
Holmes attended Stanford University, where she studied chemical engineering. Never one to waste time, she talked engineering professor Channing Robertson into letting her work in his lab, a privilege normally reserved for grad students. Much of his work concentrates on creating timed-release devices for drug delivery.
While some other Stanford freshmen were plotting how to get alcohol for their next round of beer pong, Holmes figured out how to start her next business. She had run one in high school, selling C++ programming software to Chinese. universities She and her brother studied Mandarin with their father's encouragement.
Her father, Christian Holmes, an award-winning innovator in his own right, works as the deputy assistant administrator in USAID's Bureau for Economic Growth, Education and Environment and as the agency's first global water coordinator. Her mother has spent a career on the Hill, taking some years off to raise the family when they moved to Texas because Christian Holmes had briefly left government to work in leadership at Tenneco Energy and Enron.
Holmes said her drive to help others came from watching how her parents worked. It may also be where she learned to manage a crisis. Her father has led several relief efforts to help victims of national disasters and war in a variety of government leadership positions. He even helped solve one of the biggest immigration crises to face the United States, coordinating the Mariel Boatlift, the migration of 200,000 Cubans and Haitians to America in 1980.
Her parents' belief that she could do anything helps her act that way, Holmes said. They gave her tool kits at home, where drawing schematics and building things was "part of the norm for me growing up."
Named one of Stanford's President's Scholars, Holmes used the stipend that came with the honor for top admitted students to fund a summer trip to Singapore, where she studied the respiratory disease SARS.
When she returned, in the fall of 2003, she told Robertson she wanted to drop out of Stanford to start her own company, following in the footsteps of tech giants such Mark Zuckerberg, Steve Jobs and Bill Gates. She was 19.
"I went through a process of asking myself what I want to do with my life and who I was, and I chose to try to devote my life to doing something meaningful," she said.
Dropping out was an easy decision, she told an audience at Stanford last year. She loved the university but felt she already had enough training, and she didn't want to waste her parents' money on expensive classes she didn't attend.
Instead, she persuaded her parents to give her that money to start her company. Robertson became her first board member.
In September 2004, she filed her first patent application for a medical device that measures chemicals in the body and drug delivery, technology that built on concepts explored in Robertson's lab.
Holmes says she always wanted her company to be about two things: new tech and disease detection.
Disease detection became a passion, she said in a popular TEDMED talk, after a beloved uncle died when his skin cancer turned into brain cancer. She felt that earlier detection could have saved his life, so she vowed to improve the testing industry where she saw real room for innovation. With lab information driving the greater majority of clinical decisions, her company could radically transform medicine.
Photos: Behind the scenes at Theranos
Photos: Behind the scenes at Theranos
Photos: Behind the scenes at Theranos
Photos: Behind the scenes at Theranos
Photos: Behind the scenes at Theranos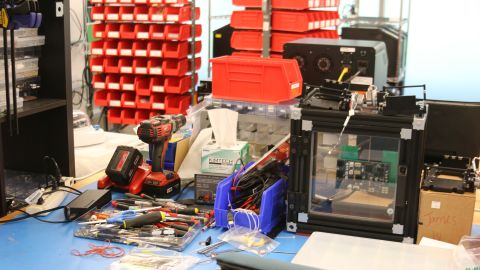 Photos: Behind the scenes at Theranos
She also hates needles, as media outlets have reported as part of the Theranos origin story.
"I am afraid of needles, that is very true, but that was not why I started this company," she said. "I don't know if that's a strong enough reason to be able to go through what I go through, you have to go through, to build something like this."
Her hope was to create a blood test that hurt less, took less blood and was affordable and accessible. One of her best-known products is a test that pricks your finger to draw a tiny amount of blood, as opposed to the traditional blood draw method.
"It's a lancet, not a needle, and it's tiny," she said as she watched a tech prick Gupta's finger.
"It really didn't hurt at all," he said. A small sample of his blood filled the "nanotainers," no bigger than a dime. The company could run a wide variety of tests on that sample.
Making testing less painful makes it "more accessible and wonderful" even, according to Holmes.
Last year, a company menu showed it used that technology to test for more than 80 diseases or health conditions. But as of now, only one Theranos finger-stick test has FDA approval: its test for herpes (PDF). Other companies have used finger-stick technology in the past, but studies have shown that the technology has limited accuracy. She believed her tech was more accurate, although it hadn't been proved in the medical literature.
A company is born
In creating the company, Holmes made other nontraditional choices. Rather than filling her advisory board with medical leaders, she packed it with political strategists, including former Secretaries of State Henry Kissinger and George Shultz, former Secretary of Defense William Perry and former Sens. Sam Nunn and Bill Frist.
"They're brilliant strategists and businesspeople and health care leaders. They've been a wonderful resource, a set of mentors and advisers," Holmes said. "We're trying to do something that is controversial, and it's changing things that haven't been changed for a long time."
Lab work is a $75 billion industry with thousands of players controlling little pieces of the process. Theranos would love to control all of it.
"These people have seen what it means to try to change things, to try to change policy," Holmes said. "That has a lot of ripple effects."
The ripples attracted major investment and interest from the broader medical world. Theranos partnered with drugstore giant Walgreens to create easy-access testing facilities in its retail stores. It formed a partnership with Cleveland Clinic. It worked with more than 9,000 doctors and as of November had performed 3.5 million tests since starting to offer them in 2013. Customer surveys were positive, the company said.
In 2014, Forbes said Theranos was worth $9 billion. Holmes held the majority stake at more than half, making her the youngest female billionaire.
Theranos achieved another milestone: testing accessibility, at least in Arizona, which passed a law in 2015 that allowed people to order medical tests directly, without a doctor. Holmes said in an interview around that time that she didn't understand that in some states you could buy a gun or a tank but couldn't buy a pregnancy test without a doctor's permission.
Things were looking up. Holmes became the youngest winner of the 2015 Horatio Alger Award for "exceptional leaders." Glamour named her one of its women of the year. Fortune magazine put her on the cover, as did Forbes and Inc. which called her the "next Steve Jobs." The New York Times fashion magazine ran a profile that talked about her now-famous black turtlenecks.
"Do we have to talk about the black turtleneck?" she asked, laughing, when Gupta mentioned it. "I was a young woman in a world in which there aren't a lot of young women, and I didn't want how I looked or what I wore to be what people were paying attention to. So I dressed very conservatively for a very long time, until it became all that everybody was talking about. And then, when that became what people were talking about, I changed it, because it was never about that." She wore a black suit and white shirt during the interview.
Holmes was a sensation until the criticism caught up with Theranos.
When things fall apart
While asking for more transparency in health care results, the company's methods were anything but. Instead of the traditional peer-reviewed journals and conference papers, Holmes argued, it would test out its technology with the FDA approval process.
"It started out because we're trying to build something different, and we developed a lot of proprietary technology, and then we chose our method of introducing it as working toward these FDA clearances," Holmes said. The medical community didn't buy it.
This choice fostered "a lot of skepticism on the part of many of us in the laboratory medicine field," said David Koch, a professor of pathology laboratory medicine at Emory University and a past president of the American Association for Clinical Chemistry. He said that presenting new methods at conferences or in journals gives other scientists a chance to see whether it really works.
"That's how new technology is introduced in the laboratory medicine field," he said.
In 2015, an article in the Journal of the American Medical Association by a professor who worked at Holmes' alma mater, Stanford, used Theranos as a prime example of companies that should not bypass traditional scientific methods to introduce technology.
"Stealth research creates total ambiguity about what evidence can be trusted in a mix of possibly brilliant ideas, aggressive corporate announcements and mass media hype," John Ioannidis wrote.
Another inventor in the lab tech field, Dr. Eleftherios P. Diamandis, a division head of clinical biochemistry at Mount Sinai Hospital in Toronto, wrote several opinion pieces in the Clinical Chemistry and Laboratory Medicine journal with similar criticisms. He also questioned Theranos' premise that more testing will lead to better health care.
"Her claim that people can go to the pharmacy and test themselves or whatever they want to test and identify early the disease so they can live longer is pure speculation. There is no evidence in the literature even if someone tests themselves every day or every month that this will lead to better disease prevention," Diamandis said.
People without medical degrees could get confused about their test results or seek unnecessary and expensive treatment, he explained.
Then came a series of crushing blows to the business.
In October, the FDA ruled that the company's nanotainers were an "unapproved" medical device. The company decided to "pause" their use in all but its FDA approved herpes test.
In November, the Centers for Medicaid and Medicare Services started an investigation of Theranos' Newark lab and found that the company had "serious deficiencies" that put patient health and safety in "immediate jeopardy."
In subsequent checks, the lab continued to fail with its hematology testing, poor staff oversight, improper storage and other issues, according to letters from the agency.
In January, the agency gave the company 10 days to get the program into compliance. Theranos got an extension, but the Centers for Medicaid and Medicare Services still found problems.
In May, an independent study in the Journal of Clinical Investigations also found that there were some disparities in Theranos testing. Theranos took issue with that study's results. It also took issue with the investigation from the Wall Street Journal.
There was also the investigation by the U.S. Securities and Exchange Commission, an investigation from the U.S. Attorney's Office for the Northern District of California and investigations from the Pennsylvania and California state health departments, too. And now there are a handful of lawsuits filed by people who say they were misled about the testing. One person claims they had a heart attack, despite the tests (PDF).
And on July 7, federal regulators revoked Theranos' certification for its flagship Newark lab and banned Holmes from owning or operating a medical lab for two years. The government pulled the lab's approval to receive Medicare and Medicaid payments. And Theranos had to void two years of its test results.
A new hope?
Holmes said her company is investigating its options. It still provides services through its labs in Arizona. But in the meantime, the company has lost its relationship with Walgreens and shut down the Newark lab.
"At the highest level, we didn't have the right leadership in the laboratory," she said. "And we didn't have the implementation of the quality system in terms of procedures and the associated documentation to ensure that we were realizing the quality standards that we hold ourselves to." It shut the Newark lab "not to try to put Band-Aids in place but to try to rebuild it from scratch."
The company has hired other leaders, she said, and built infrastructure to make sure "we don't grow too fast."
She's about to launch the product that has been kept behind those security doors. She will introduce her "portable lab" at a medical conference in Philadelphia and believes it will revolutionize the medical field.
She's reflective as she stands at this crossroads.
"I've grown so much in going through something like this," Holmes said, and she believes the company can "channel it toward being better and better and better in every area."
"I chose to found this company, and I chose to pursue this dream. I genuinely believe that it's the greatest mission and cause that I could pursue in my life," Holmes said. "You take challenges, you take adversity, you take what has been an unusual press environment in terms of the past month, and we're choosing to channel it toward doubling down on our mission and getting back up when we get knocked down."