Story highlights
Pope Francis tripped and fell Thursday as he celebrated Mass in Czestochowa
The pontiff is in Poland for World Youth Day, an international gathering of Catholic youth
Pope Francis celebrated Mass Thursday before a huge gathering of young Catholics in Krakow on the 1,050th anniversary of Poland's "baptism" as a Catholic country.
Scattered showers did little to deter the hundreds of thousands of cheering worshipers, who gathered in Krakow's Blonia Park to hear the Pope deliver the open-air Mass.
Francis is making his first visit to the predominantly Catholic Eastern European country for World Youth Day – an event organized by the church that draws young Catholics on pilgrimages from around the world every two or three years.
"Nothing is more beautiful than seeing the enthusiasm, dedication, zeal and energy with which so many young people live," he told the crowds during Thursday's welcoming sermon for the event.
The pontiff, who traveled to the event in the southern Polish city on an ecological tram accompanied by 20 disabled youth, called on the young people gathered to have a positive impact in the world.
"Is it possible to change things?" he asked the crowd twice. "Yes!"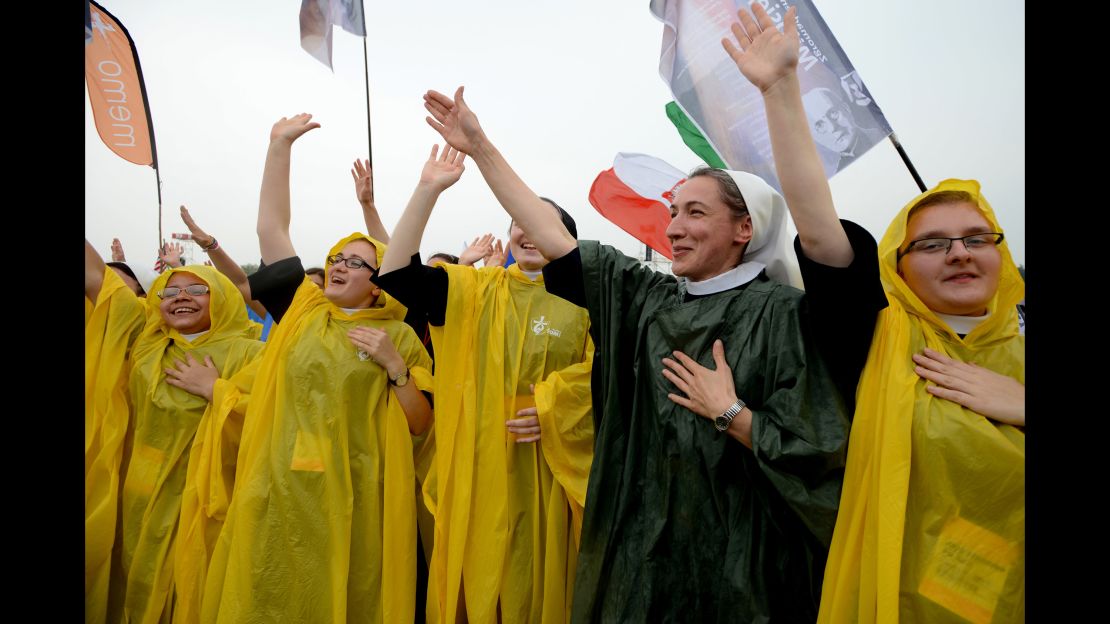 Among the attendees were Dunya Saleem and Dunya Azad, who had traveled from Erbil in Iraqi Kurdistan. Speaking to CNN, they recounted their prayers for persecuted Christians in many parts of the Middle East.
Earlier Thursday, while leading an outdoor Mass in the southern Polish city of Czestochowa, the 79-year-old Pope stumbled and fell after appearing to trip on a step. He was swiftly assisted by members of the clergy, and the service continued without interruption.
The Mass, before a crowd of about 100,000 people, was held in celebration of the 1,050th anniversary of Poland's acceptance of the church, marking a date in 966 when a medieval king was baptized and set the course of the country's modern identity.
This is the second day of the Argentine pontiff's five-day visit – his first to Eastern Europe.
On his flight to Poland Wednesday, Francis addressed the recent slaying of a Catholic priest in Normandy, France, by two jihadists who declared their allegiance to ISIS.
He told reporters that "the world is at war," but stressed it was not a war of religion.
"The world is at war because it has lost peace," he said. "There is a war of interest, there is a war for money, a war for natural resources, a war to dominate people," he continued.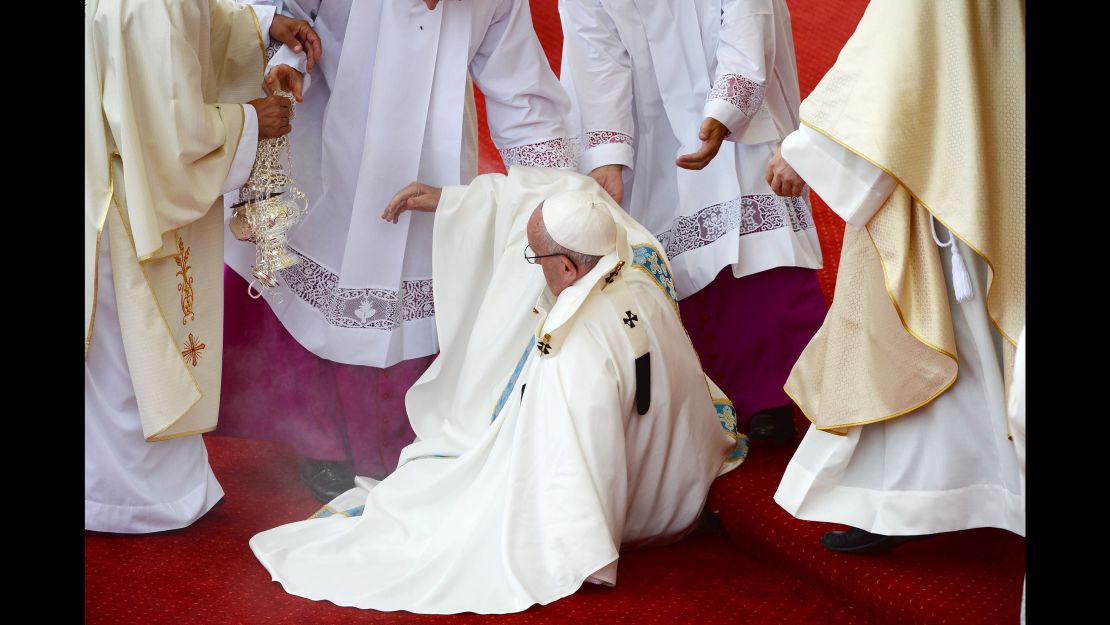 "Some might think it is war of religion. It is not. All religions want peace. Others want war."
Poland is the birthplace of one of the most celebrated modern popes, John Paul II. The late pontiff, who spent 27 years as pope before he died in 2005, was made a saint in 2014.
During his sermon in Krakow, Francis encouraged those gathered to applaud louder when he mentioned the late pontiff.
On Friday he will pay tribute at a memorial at Auschwitz-Birkenau, site of a German Nazi concentration camp during World War II.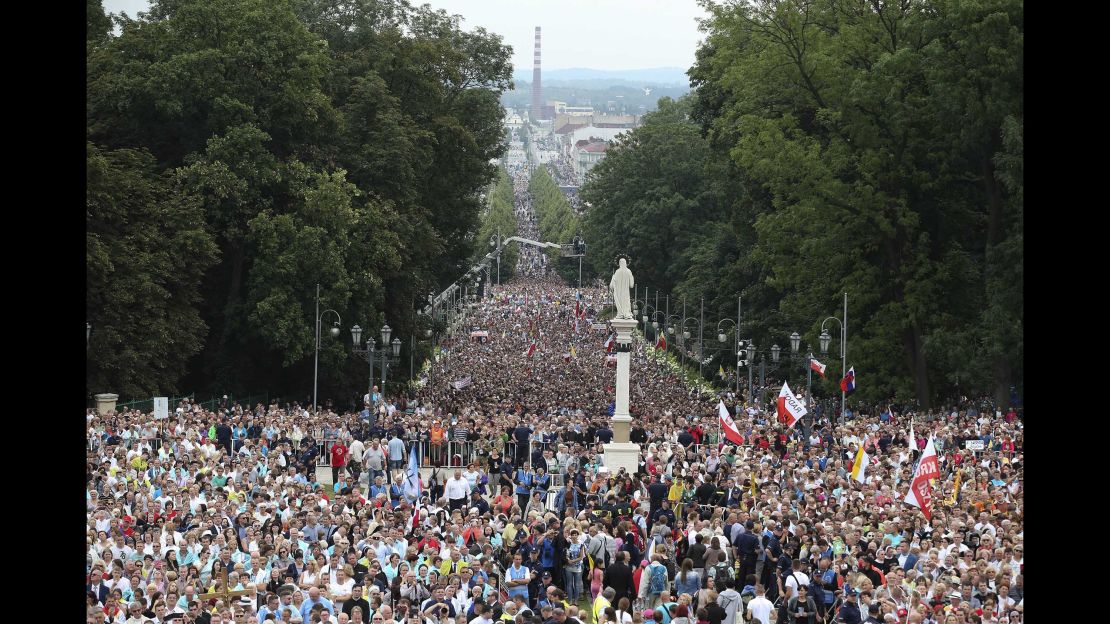 CNN's Delia Gallagher reported from Krakow, with Tim Hume writing in London. CNN's Antonia Mortensen also contributed to this report.