Story highlights
Le Monde won't publish images of terrorists to avoid "posthumous glorification"
The French newspaper is joined by La Croix and BFMTV, but not France Televisions
How should the media report terror attacks? It's a question many in France have been asking after an 86-year-old priest was killed this week – the latest victim in a slew of terror attacks in the country.
And on Wednesday, French newspaper Le Monde said it will no longer publish photographs and names of terrorists "to avoid possible posthumous glorification effects" – a move also taken by CNN French affiliate BFMTV and Catholic newspaper La Croix.
Not all French media outlets, however, are following suit. Michel Field of the state-run France Televisions said journalists would continue to judge case-by-case whether it was in the public interest to distribute certain photos and information.
We speak to two experts on the merits and pitfalls of a media terrorist blackout.
The argument for
Charlie Beckett is the founding director of Polis, a think tank for research on international journalism and society at the London School of Economics and Political Science.
Courtesy LSE
"I can understand why a French newspaper wouldn't want to put a great big picture of this horrible person who's done such murderous things on its front page," he said. "Partly because it offends, but also because it is doing what they want – it glorifies a particular person."
But he added, "That said, it doesn't mean you couldn't have the photo and name the person on page three or four, without glorifying them. By publishing this story in a way that glorifies the terrorist, it helps (terrorists) recruit and fund raise – and it might just trigger some other unbalanced lunatic to do something stupid."
"Terrorists reuse mainstream Western media in their propaganda," he said. "They will say to their supporters, 'Look how this guy who sacrificed himself to the cause has become a figure of hate, look how much they're frightened of him.' And so they will actually use Western media material in their propaganda.
"But in the end I don't know if it makes a huge difference. Though I can understand why Le Monde has chosen to be discreet."
How terror can breed through social media
The argument against
Mhamed Krichen is a TV anchor for Al Jazeera Arabic and a member of the board of directors of the Committee to Protect Journalists.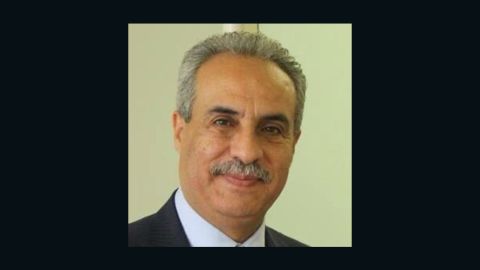 Twitter/M'hamed Krichen
"I don't think this is a good idea because our job as journalists is to give the full picture as much as we can – meaning words and also photos," he said. "When we publish a photo of somebody who is a terrorist or a criminal, I think that is part of our duty as journalists because the public has the right to know and to see.
"If we adopt Le Monde's position regarding photos of terrorists," he added, "I would ask the same question of people such as (Syrian President) Basahar al-Assad, who is a real terrorist against his people."
"Maybe you don't publish a photo, but (potential terrorists) will continue to admire this terrorist because of what they have done. It's a very simplistic way of dealing with a very complicated problem."