Story highlights
Baltimore mayor calls dropping charges against police officers a "wise decision"
Police union president says justice has been done
Three of six officers already had been acquitted in Freddie Gray case
(CNN) —
Baltimore prosecutors on Wednesday dropped all charges against the three remaining officers facing trial in connection with Freddie Gray's death.
Gray, 25, died after sustaining a neck injury while in police custody in April 2015. Three of the six officers charged in the case had already been acquitted.
Gray's death became a symbol of the black community's mistrust of police and triggered days of protests and riots in Baltimore. The city became a focal point of the Black Lives Matter movement and the nationwide debate on excessive police force. Police said no extra officers will work the streets Wednesday night.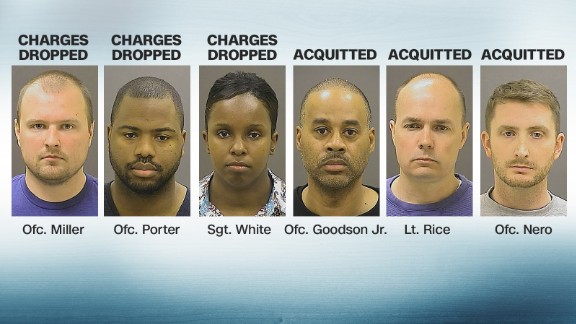 "Justice has been done," said Gene Ryan, president of the Baltimore Fraternal Order of Police, said after the charges were dropped.
But the city's top prosecutor didn't quite see it that way. Baltimore State's Attorney Marilyn Mosby said the decision was "agonizing," and she slammed the way police handled their investigation into the case.
Mosby: 'Inherent bias … when police police themselves'
More than a year ago, Mosby stood on her city's courthouse steps and announced charges against the officers. "No one is above the law," she said as she read out charges that ranged from second-degree depraved-heart murder to manslaughter to second-degree assault.
In a fiery address to reporters Wednesday, Mosby said she still believes Gray's death was a homicide. But now, she said, she realizes the criminal justice system needs "real, substantive reforms" to hold officers accountable.