Story highlights
Amnesty International: More than 10,000 have been detained, many of them soldiers
Turkey denies allegations it subjected some detainees to rape and torture
(CNN) —
Captured military officers raped by police, hundreds of soldiers beaten, some detainees denied food and water and access to lawyers for days. These are the grim conditions that many of the thousands who were arrested in Turkey face in the aftermath of a recent failed coup, witnesses tell Amnesty International.
Detainees awaiting trial have been beaten and tortured in official and unofficial holding centers in Istanbul and Ankara since the July 15 coup attempt by parts of Turkey's military, the human rights group alleged this week, citing interviews with detainees' lawyers, doctors and a person who was on duty at one of the centers in Ankara.
Photos: Thousands of protesters converge on Istanbul's Taksim Square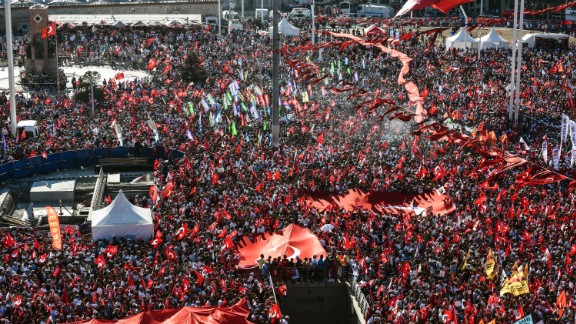 Photos: Thousands of protesters converge on Istanbul's Taksim Square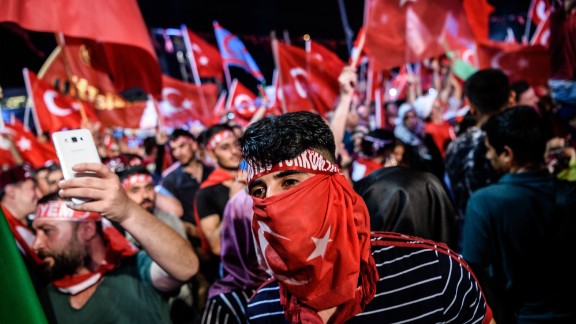 Photos: Thousands of protesters converge on Istanbul's Taksim Square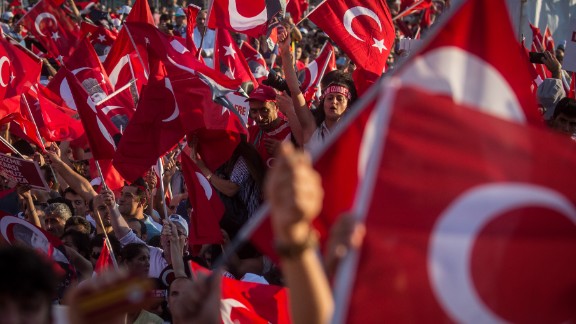 Photos: Thousands of protesters converge on Istanbul's Taksim Square
Photos: Thousands of protesters converge on Istanbul's Taksim Square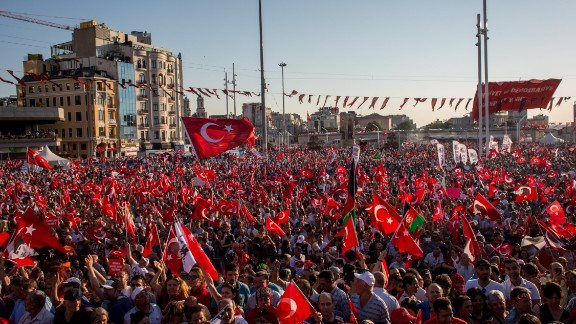 Photos: Thousands of protesters converge on Istanbul's Taksim Square
"The grim details that we have documented are just a snapshot of the abuses that might be happening in places of detention," John Dalhuisen, Amnesty International's Europe director, said in a statement Sunday.
Justice Minister Bekir Bozdag denied the allegations in the report.
"No individual was tortured or mistreated during or after their detention," Bozdag said.
"Accusations of torture and ill-treatment are unfounded," he said, blaming them on supporters of cleric Fethullah Gulen, whom President Recep Tayyip Erdogan has accused of orchestrating the upheaval.
Deputy Prime Minister Mehmet Simsek told CNN that "if there are any substantive allegations, there will be further investigations," saying the government has "zero tolerance to any abuses."
More than 10,000 people have been detained, Amnesty International said. More than 9,000 were soldiers, though about 1,200 were released, the Turkish government said last week. Nearly 1,700 troops, including 87 generals, have been fired, the state-run news agency Anadolu reported.
Life one week after Turkey coup
Here's a look at some of the allegations, according to Amnesty International:
Rapes and beatings
• Many detainees are being kept in informal holding centers, such as a sports hall at the Ankara police headquarters and some riding club stables in the city.
• Detainees say they saw police officers raping senior military officers with batons or fingers, according to two lawyers in Ankara.
• A person who'd been on duty at the Ankara police headquarters claimed to have seen a severely beaten detainee who lost consciousness with large swelling on his head. Police allegedly denied that detainee medical treatment. "Let him die. We will say he came to us dead," the witness quoted a police doctor as saying.
Turkey: Full coverage
• Up to 800 male soldiers were being held in the Ankara police headquarters sports hall, a source there said, and at least 300 showed signs of having been beaten, with bruises, cuts or broken bones, the source said. About 40 could not walk, and a woman detained separately from men had bruising on her face and torso, the source said.
• Detainees were brought before prosecutors for interrogation with their shirts covered in blood, lawyers said.
Turkey to disband presidential guard unit following coup attempt
Stress positions and food deprivation
• Many detainees were handcuffed behind their backs with plastic zip ties and forced to kneel for hours, the interviewees said.
• Detainees alleged that police deprived them of food for up to three days and water for up to two days, according to the interviewees.
'Grave violations of a right to a fair trial'
• More than 10 lawyers were interviewed, saying most of their clients were held for at least four days before being charged. In most cases, the detainees had been held without the ability to talk to relatives or the attorneys before their hearings.
• In most cases, neither the clients nor their attorneys were informed of specific charges, the lawyers said.
• "These are grave violations of the right to a fair trial which is enshrined in both Turkey's national law and international law," Dalhuisen said.
• "In the vast majority of cases, (lawyers) said that no evidence establishing reasonable suspicion of criminal behavior was presented against their clients during the charge hearings … (and) lawyers explained that judges ordered detained soldiers to be placed in pretrial detention if they left their barracks the evening of the coup, regardless of the reason," Amnesty International said in a statement.
Call for independent monitors
Amnesty International said it wanted the European Committee for the Prevention of Torture to send people to check on detainees' conditions.
The roundup of suspected coup plotters is not the only government response to the uprising.
Under a new presidential decree following the attempted coup, suspects can be detained for as long as 30 days without charge, and the government can listen in on all conversations they have with their attorneys.
A three-month state of emergency declaration issued Thursday grants Erdogan new sweeping powers to implement the detention measures.