Story highlights
NEW: One attacker was a 19-year-old wearing "electronic tag," prosecutor says
Priest killed after two men take hostages in Catholic church in Normandy, France
One of two suspects in a church attack that left a priest dead in northern France was known to anti-terror authorities after attempting a trip to Syria, a French anti-terrorism prosecutor said Tuesday.
Adel Kermiche, 19, was wearing an "electronic tag" during the deadly hostage incident at a Catholic church in the town of Saint-Etienne-du-Rouvray, prosecutor Francois Molins said.
The monitoring apparatus was a condition of his house arrest after two attempts in 2015 to travel abroad – at least once to Syria – using a relative's identification, Molins said.
Kermiche was identified via fingerprints after the attack, which French President Francois Hollande said was committed in the name of ISIS.
The second killed attacker has not been identified.
Speaking to journalists in the town where the two men took five people hostage during morning Mass on Tuesday, Hollande said the attack was a "cowardly assassination" carried out "by two terrorists in the name of Daesh" – another name for ISIS.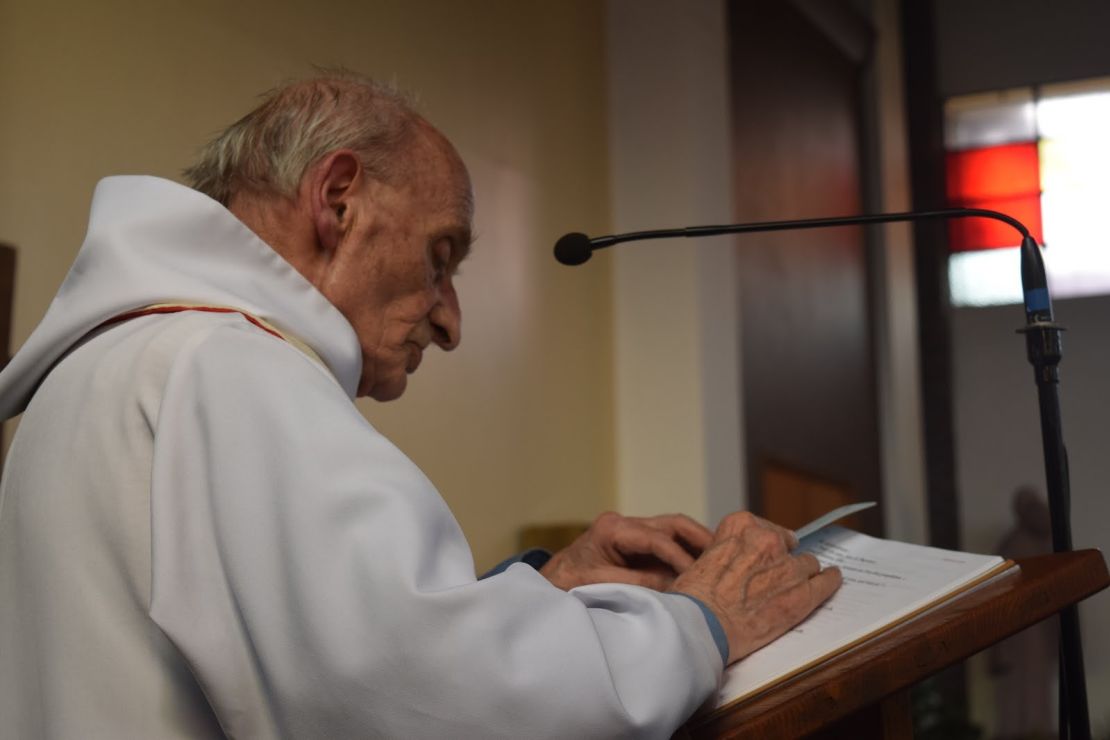 The Rev. Jacques Hamel, 86, was stabbed in the chest and had his throat slit, Molins said.
The incident comes at a time when France is still grieving a Bastille Day terror attack that left 84 dead amid efforts to contain radicalized Muslims within its borders.
Hollande urged the public to remain unified in the face of the threat.
"All people feel affected so we must have cohesion. … No one can divide us," he said. "Terrorists will not give up on anything until we stop them."
Opinion: Why terrorist attacks?
'Allahu Akbar'
A witness said congregants pleaded with the attackers to stop.
Besides the slain priest, three nuns and two churchgoers were taken hostage, Molins said.
Another victim, who was not identified, was stabbed in the hip and throat, Molins said. The person is in stable condition, he said.
Sister Daniele Delafosse said she was able to escape the attack, according to CNN French affiliate BFMTV.
Before she fled, she witnessed the perpetrators gather around the church altar and perform some sort of religious oration in Arabic before forcing Hamel to his knees and placing a knife to his neck, she told the station.
Police attempted to negotiate through a small side door in the church, but they could not enter the building sooner because of the hostage situation, Molins said.
One of the killers wore a fake explosive belt, and the other carried a kitchen timer and fake bomb, he said. They were captured as they exited the church.
One of them shouted, "Allahu Akbar" – Arabic for "God is the greatest" – as they left the church.
Related: Why France attack is latest asault in ISIS war on Christianity
Trouble keeping track
France has been under a state of emergency since the Paris terror attacks in November last year, and French authorities have struggled to monitor thousands of domestic Islamic radicals on their radar.
More than 10,000 people are on their "fiche S" list, used to flag radicalized individuals considered a threat to national security.
In response to the heightened terror threat, Hollande has vowed to double the number of officials charged with the task.
The priest's killing follows a string of violent attacks across Europe in recent days, some claimed by the Sunni terror group ISIS, including the Bastille Day attack in Nice.
According to a French intelligence source, Kermiche tried to enter Syria twice after becoming radicalized following the 2015 Charlie Hebdo attack in Paris. The attacker was associated with Maxime Hauchard, a French jihadi who appeared in an ISIS beheading video in 2014, the source said.
Molins confirmed that Kermiche tried to leave the country twice for Syria in 2015.
He was placed under "judicial control" in March 2015 after trying to use his brother's identification to go to Syria. Two months later he left the country for Syria using a cousin's identification card.
Authorities in Turkey stopped Kermiche and deported him to France via Switzerland, from where he had entered Turkey.