Story highlights
Clinton will have high-profile surrogates like Barack Obama and Bernie Sanders
She faces high unfavorable ratings and needs to convince people they don't know the real Clinton
Hillary Clinton's challenge this week is reintroducing herself to a country that has known her for decades and getting through to the millions of Americans who are convinced that they already know everything there is to know about the former secretary of state and first lady.
Wasserman Schultz resigning as party leader
The Democratic National Convention is her best opportunity to deliver a forceful case for her candidacy and draw a sharp contrast against Donald Trump. She will have to counter the stream of attacks that Trump and his surrogates threw her way at last week's GOP convention, and at the same time, make a fresh appeal to the large swath of the Democratic base that rejected her during the primaries and independent voters yet to pick a side.
Celebs head to DNC, some to back Clinton, others to protest
But even before it begins, Clinton's convention is mired in controversy.
A slew of leaked emails from the Democratic National Committee posted online this weekend raised questions about the DNC's impartiality and reinforced the idea that the Democratic establishment actively worked to submarine Bernie Sanders' insurgent candidacy.
CNN/ORC poll: Trump leads Clinton
Under fire, Chairwoman Debbie Wasserman Schultz announced Sunday afternoon that she would resign from her position after the convention. The episode is an embarrassing distraction for the Democratic Party, as the Clinton campaign and its surrogates prepare to use the week to paint two starkly different visions between Clinton and Trump.
Another distraction: the source of the hack. US officials suspect it came from a Russian cyber attack and the FBI said Monday it is investigating. The idea of Vladimir Putin's Russia somehow involving itself in US politics is a story that is both serious and can also distract from Clinton's messaging plans.
FBI investigating suspected Russian hack of DNC emails
A Clinton official said the convention will highlight Clinton's years in public service and how she plans to fight for Americans from the White House. "The contrast between Donald Trump's convention where he 'alone can fix it' versus Hillary Clinton's convention is that we are stronger together," the official said.
And the participation this week of Democratic leaders including President Barack Obama, Vice President Joe Biden and Bernie Sanders alone should remind voters that Trump has not won over the support of major Republican leaders, such as former Presidents George H. W. Bush and George W. Bush, as well as the 2012 GOP nominee, Mitt Romney, the official added.
Obama's former senior adviser Dan Pfeiffer said the two conventions this year are less about first impressions and more about making a second introduction.
"It's slightly unique for Clinton and Trump because they're incredibly well-known," Pfeiffer said. "Normally when you get to the convention, the broader general election electorate pays attention to learn about you, so you're framing your narrative. But for Clinton and Trump, because they're so well-known, you're re-framing the narrative because there's not a lot of brand new information you will learn."
Debbie Wasserman Schultz's controversial tenure
Clinton and Trump enter the general election with historically high unfavorable ratings.
In a CNN/ORC poll last week, 55% of Americans said they have an unfavorable view of Clinton, while 59% said the same of Trump. Although Clinton is viewed slightly more favorably, she continues to suffer on the issue of trust: 65% said they do not believe Clinton is honest, a sharp rise from 50% who said the same in March 2015.
Clinton and her campaign have grappled with a number of controversies, including her use of a private email server at the State Department as well as her handling of an attack on a U.S. consulate in Benghazi, Libya.
Democratic pollster Geoff Garin said he is realistic about how difficult it is to remake Clinton's image. Still, the convention is a powerful stage from which Clinton can set out her vision, he said, and at the very least "give people a reason to feel better about her."
"The reality is that she comes out of this nominating process with pretty high negatives and this is a chance for her to make her case in her own terms," said Gain, who advises the pro-Clinton super PAC Priorities USA. "There's not going to be many more chances like this."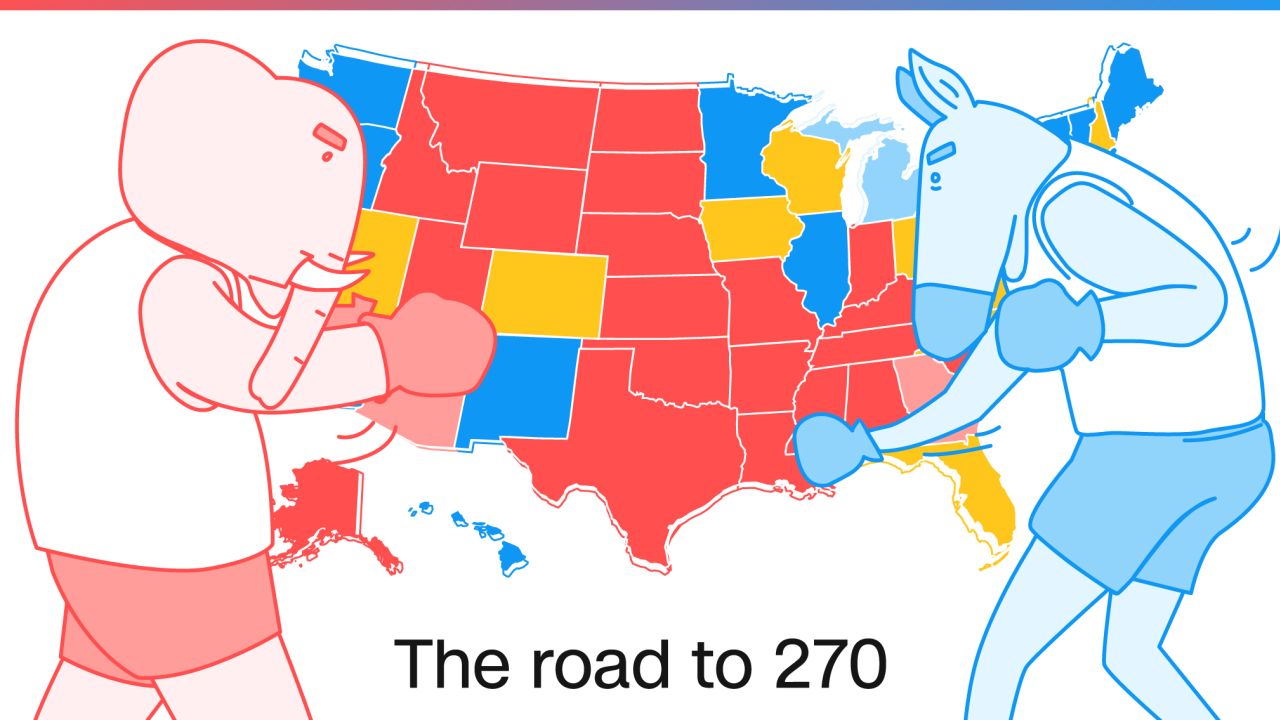 The Republican convention last week laid bare a splintered party that continues to have deep misgivings about their nominee.
Their four-day affair began with drama on the convention floor, when anti-Trump delegates unsuccessfully sought to mount a last-ditch rebellion against Trump. Then, in an extraordinary scene Wednesday night, the convention hall broke out into jeers as former presidential candidate Ted Cruz refused to explicitly endorse Trump during his prime-time speech.
Clinton, too, has confronted her share of challenges in rallying the Democratic base. Over the last year, she has come under pressure from Sanders and his liberal supporters to embrace progressive policy priorities. And even after she had clinched the party's nomination, Sanders put off making an endorsement as he advocated for his signature policy proposals to be incorporated into the Democratic platform.
After winning several key concessions, Sanders finally offered Clinton his formal backing last month. Pledging to help Clinton with the ultimate goal of defeating Trump, the self-described democratic socialist encouraged his supporters to follow suit and will speak Monday night here in Philadelphia.
Oregon Sen. Jeff Merkley, who initially endorsed Sanders and is now supporting Clinton, said these recent developments were significant in "setting the stage for the two teams coming together." He stressed, however, the importance of Clinton continuing to embrace a progressive vision during the general election.
"Those ideas addressed the problems facing our country and they have tremendous resonance," Merkley said. "And if you step away from them, they would be deflating the support and enthusiasm that folks worked so hard to create."
Unlike Trump, who is still shunned by many in the Republican establishment, Clinton will have the help of the Democratic Party's highest-profile surrogates.
Clinton is also about to pick up a coveted endorsement. Former New York City Mayor Michael Bloomberg, who considered running for the White House himself this year, will speak at the convention and offer Clinton his formal backing. The Republican-turned-independent business mogul could boost Clinton's appeal to independents and potentially deliver a powerful message to voters discouraged about the economy.
And Clinton heads into Philadelphia with a political partner.
Virginia Sen. Tim Kaine, Clinton newly named running-mate, on Saturday offered a preview of the contrast she and Kaine plan to draw against the Republican ticket. Kaine began his speech with a message about inclusion — in Spanish.
"Bienvenidos a todos, bienvenidos a todos en nuestro pais, verdad, por que somos americanos, todos," said Kaine, which translates to: "Welcome to everyone, welcome to everyone in our country, right, because we're all Americans, all of us."
But the single most potent weapon Clinton has to unite Democrats may be Trump.
Michael Podhorzer, political director of the AFL-CIO, said the convention will crystalize for many Democrats that the choice for the party is no longer between Clinton and Sanders.
"Trump is everything they don't want. They've been, as in any primary process, buried in the back and forth" between Clinton and Sanders, Podhorzer said. "And now, they're looking around and saying oh my God, Trump could be president."