Story highlights
Michael Flynn drew online controversy Sunday morning
He apologized for retweeting an anti-Semitic message
(CNN) —
Retired Lt. Gen. Michael Flynn, a prominent Donald Trump backer, on Sunday stumbled into controversy online by seeming to endorse an anti-Semitic Twitter message from another user – and then quickly apologized.
"The corrupt Democratic machine will do and say anything to get #NeverHillary into power. This is a new low," Flynn wrote, quoting a tweet that read "Not anymore, Jews. Not Anymore," and linked to a tweet from this organization's Twitter account.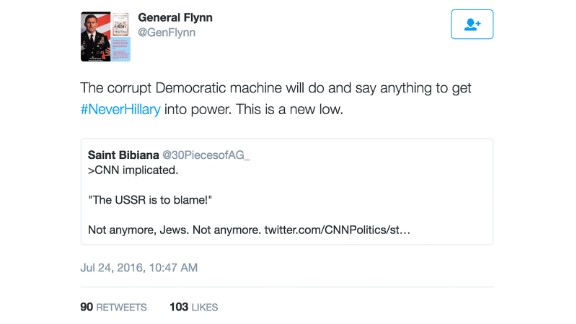 Twitter
After significant backlash online, Flynn's account took down his tweet and linked directly to the CNN Politics tweet, writing, "All, this is what was meant to be retweeted…the earlier retweet was a mistake. My sincerest apologies."
The account Flynn originally quoted has regularly posted bigoted messages.
Flynn headed the Defense Intelligence Agency in the Obama administration for two years. But he departed in 2014 after clashing with intelligence colleagues over counterterrorism approaches and other issues. He's since become a vocal backer of Trump, the Republican presidential nominee, and for a time was a dark-horse candidate for the GOP vice presidential spot.
While Flynn ultimately was not selected, he had a prominent speaking position at last week's Republican National Convention and has been mentioned as a potential secretary of defense in a Trump administration.
As recently as Saturday, Trump stoked such speculation with – of course – a retweet: "@Theresa_Cali: @realDonaldTrump General Michael Flynn will make a great Secretary of Defense when you become POTUS! #MakeAmericaSafeAgain."
Flynn, though, would be ineligible to serve in that role. Under federal law the secretary of defense must be at least seven years removed from active duty service as a commissioned officer.
Trump's campaign has been caught in several Twitter-related dustups. Most recently his campaign team posted an image of Hillary Clinton criticized by many as anti-Semitic – which the candidate and his staffers have denied.