Story highlights
Clinton picked Kaine on Friday to be her running mate
The two took the stage together Saturday in Miami
Virginia Sen. Tim Kaine was spotted at the Newport Shipyard Friday night just minutes before his phone rang at 7:32 pm, and then he disappeared from view.
He ducked inside the office of a dock worker to take the call discretely. There, surrounded by ropes, flags and other nautical equipment, he accepted Hillary Clinton's offer to join the Democratic ticket as her running mate.
Kaine had been a front-runner in Clinton's vice presidential search from the start. But as Clinton vetted the senator and other top contenders in recent weeks, the quiet life of an unassuming politician often dubbed "vanilla" was hardly that. For Kaine and his wife, Anne Holton, the final 78 hours leading up to Clinton's decision were filled with car chases and stealth getaways, reporters stalking their every move, and strangers asking for autographs.
Kaine in Miami: 'Bienvenidos a todos'
There was the one question that followed the Kaines everywhere: "Have you heard anything yet?"
The intrigue began to build mid-week. On Wednesday, the senator insisted he had no plans to fly to Florida, where Clinton planned to announce her running mate at the end of the week.
"But I'm checking the Greyhound schedule," Kaine joked, before sneaking out of a back door of the Northern Virginia Chamber of Commerce.
On Thursday, Kaine stopped by one of his long-time favorite spots in Herndon, Virginia: Jimmy's Old Town Tavern. Rolling up his sleeves, he poured a few beers for diners at the bar, only to once again be bombarded with questions.
Following an interfaith panel in Sterling, Virginia, that same day, Kaine and an aide got into a white Kia sedan, sending reporters into a car chase through Northern Virginia neighborhoods and highways. After nearly an hour, Kaine slipped into a McLean office building.
The spotlight also fell on Kaine's wife. With the announcement expected the next day, Holton stepped out of her home on Confederate Avenue to a group of reporters Thursday night. She told them she didn't expect her husband to be home that night, but casually invited the press to join her on her usual evening walk through her sleepy North Richmond neighborhood.
7 things you should know about Tim Kaine
The next morning, Holton, Virginia's education secretary, appeared to go to work as usual at the Patrick Henry Building in the state's capital.
Kaine himself, meanwhile, left his Washington apartment on Friday, several minutes before 8 a.m. A CNN reporter, waiting in a vehicle for his exit, monitored the senator as he got into a white car and drove towards the Capitol, but lost him when he disappeared into a secure entrance.
Kaine's schedule for the day offered few clues to the media tracking him. The former governor was to attend a fundraiser at the University of Massachusetts Club in Boston that afternoon, around the time that the Clinton campaign was widely expected to announce her pick via a message to supporters.
Sure enough, Kaine was on the move. At 8:24 a.m., Charles Moore – an employee at the software company Capitol One Labs – tweeted that he "almost literally bumped into" Kaine at Reagan National Airport.
"Said 'sorry' then 'good luck!' He laughed and said thanks," Moore wrote.
Around 11 a.m., Kaine stepped off of American Airlines Flight 2139 at gate B19 of Boston's Logan Airport, where another CNN reporter was waiting. Kaine appeared to be in a good mood, signing a baseball for a fan and chatting with the reporter. He mentioned he had a great time at a surprise 50th birthday party for a close friend the night before.
Why Tim Kaine has already made history
But on the Clinton front, he had nothing to share: "No news to report," Kaine said. For the time being, he still planned to travel to Newport, Rhode Island, later in the day to attend an evening fundraiser.
When Kaine came out of the airport restroom, a second person asked the senator for an autograph. Kaine and his entourage were escorted to a dark, red Toyota Highlander, which whisked him away to his Boston fundraiser.
The Highlander was later spotted tucked away at a service entrance in a garage under the high-rise building where the fundraiser was being held.
When security asked two reporters to leave the garage, another reporter with the local Boston station NECN hid in a stairwell. He saw luggage from the Highlander being moved into another SUV, before both cars exited the garage through a back entrance.
The intrigue took a dark turn later in the day when news broke of a shooting in Munich, Germany. Clinton, who was participating in a roundtable discussion in Orlando, personally sent out this tweet: "Monitoring the horrific situation in Munich. We stand with our friends in Germany as they work to bring those responsible to justice."
With the situation fluid in Munich, the Clinton campaign found itself in a conundrum: how to avoid split screen optics where Clinton was announcing her running mate at the same time that news of a mass shooting – and potentially a terrorist attack – was unfolding (police later said the shooter had no terrorist connection). A week earlier, the Trump campaign had faced a similar debate, when a terror attack shook Nice, France, as it was preparing to roll out Mike Pence as Trump's running mate.
When Clinton campaigned in Tampa in the late afternoon, she made no mention of her vice presidential pick. And there was still no message to supporters.
Meanwhile, Kaine continued his way to Newport as scheduled. A scrum of reporters met him there, waiting to catch a glimpse of the senator at the event on the water. According to attendees, Kaine said inside the private gathering he had no news on the VP front.
Then, something changed. He was spotted by reporters chatting with attendees at The Shipyard just minutes before his phone rang at 7:32 p.m. Clinton made the ask, and Kaine, hidden away in the dock worker's office, accepted.
Waiting for Kaine at a nearby beach was John Podesta, the head of Clinton's vice presidential search. Earlier in the day, Podesta had slipped past reporters at the Clinton campaign headquarter in Brooklyn by taking a freight elevator downstairs, then flown from Teterboro, New York, to North Kingston, Rhode Island.
Photos: Tim Kaine selected as Hillary Clinton's running mate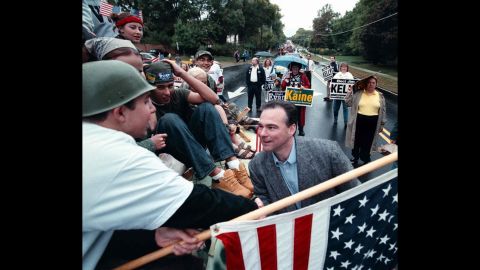 Photos: Tim Kaine selected as Hillary Clinton's running mate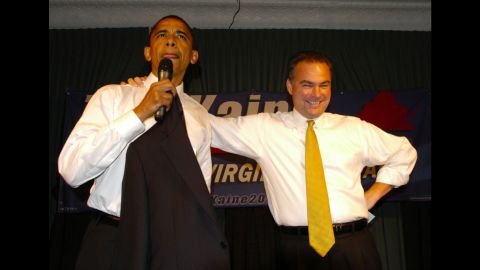 Photos: Tim Kaine selected as Hillary Clinton's running mate
Photos: Tim Kaine selected as Hillary Clinton's running mate
Photos: Tim Kaine selected as Hillary Clinton's running mate
Photos: Tim Kaine selected as Hillary Clinton's running mate