Story highlights
Since 1980, a man versus horse race has been staged in Wales; horses usually, but not always, win
Most animals are faster than humans, but our big brains, endurance and ability to sweat give us a competitive edge
The Fit Nation special with all 8 races will air on Saturday, Nov. 19 at 2:30 p.m. ET.
(CNN) —
Humans have been chasing animals for their entire existence. Racing against them wasn't a matter of sport, but necessity, as our ancestors simply needed the food.
Most animals on Earth are faster than we are, but our proportionally bigger brains, endurance and ability to sweat give us a competitive advantage over them. This means that if you can stay committed to running long enough, you can eventually catch up to any beast because they tire out. That classic tortoise-versus-hare strategy, along with some crude weapons, is basically how we caught lunch until humans started riding horses at least 4,000 year ago.
Horses, domesticated as early 3500 B.C. and pulling chariots no later than 2000 B.C., were particularly worth the chase. Tamed and later bred for strength and speed, horses weren't just useful around a farm and in battle, they were transportation. Until the train was invented in the late 1700s, riding or being pulled by a horse was the fastest a human could move on land.
Horse-based sports have just as long a history. In the ancient Olympics, horse competitions (chariot and riding) were among the most prestigious of them all. Chariot racing was all the rage in the Roman Empire, and later came medieval jousting and modern thoroughbred racing.
But in 1980, man-versus-horse racing as an organized, internationally respected competition had its birth in a rural town in Wales in the United Kingdom.
A foot (and hoof) race between human and horse may sound like no contest. Horses are faster than humans by a lot, but our endurance and perspiration help us equal our equine competitors.
So, when you're talking marathon-length distances, humans do have a shot, especially if the conditions are favorable, such as hot temperatures and hard, dry conditions.
Man vs. horse
That argument over whether humans or horses are faster, and over what distance, found its way to the backroom of a hotel pub in 1980, in the town of Llanwrtyd Wells, Wales. The town bills itself as the smallest in Britain, with around 900 residents.
According to local lore, the manager of the pub at the time, Gordon Green, overheard the debate between two customers and was inspired to organize an annual cross-country race: the Man vs. Horse Marathon. He hoped the uniqueness of the race might be good for business, but also wanted the chance to prove that – under the right conditions – a human could actually beat a horse.
It only took 24 years to prove it.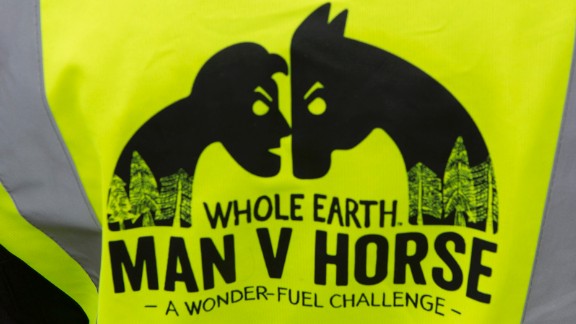 Photos: Man vs. horse: A racing rivalry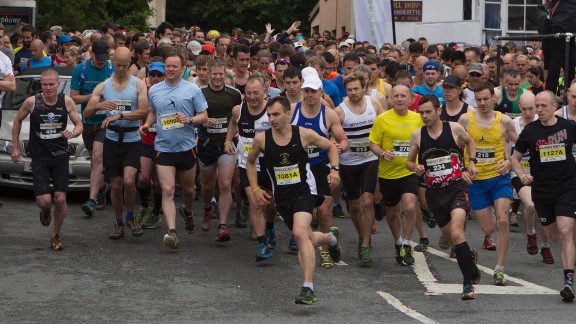 Photos: Man vs. horse: A racing rivalry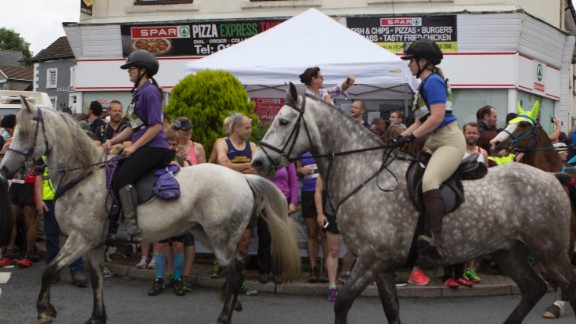 Photos: Man vs. horse: A racing rivalry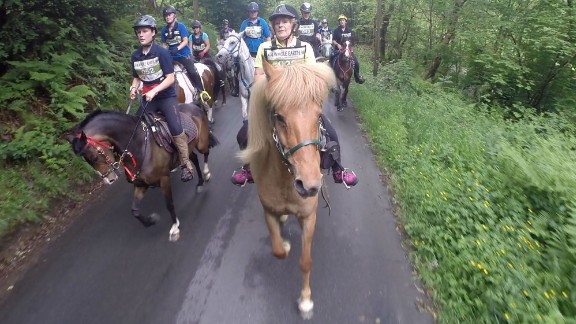 Photos: Man vs. horse: A racing rivalry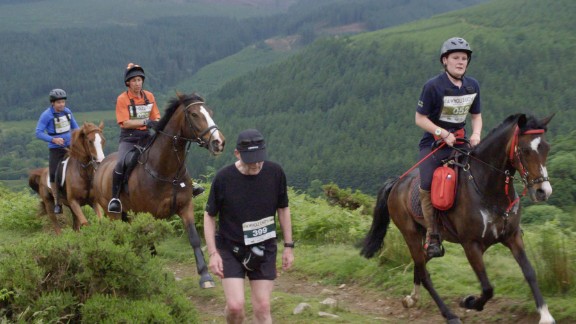 Photos: Man vs. horse: A racing rivalry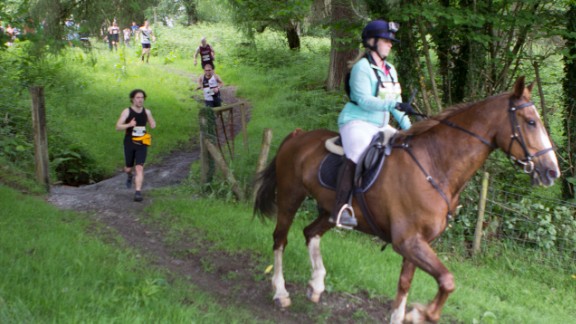 Photos: Man vs. horse: A racing rivalry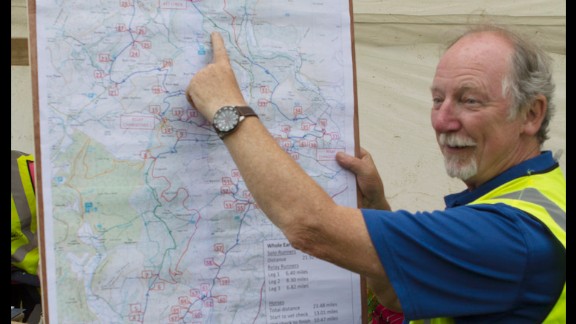 Photos: Man vs. horse: A racing rivalry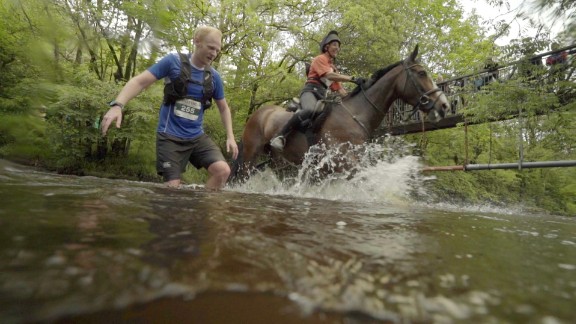 Photos: Man vs. horse: A racing rivalry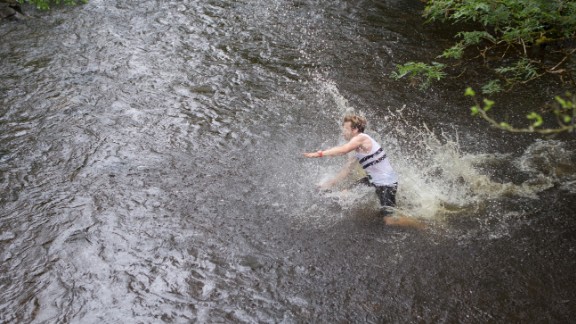 Photos: Man vs. horse: A racing rivalry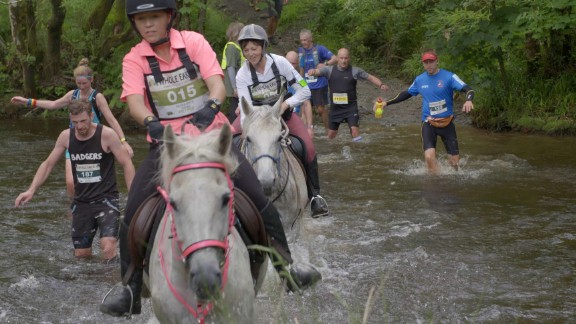 Photos: Man vs. horse: A racing rivalry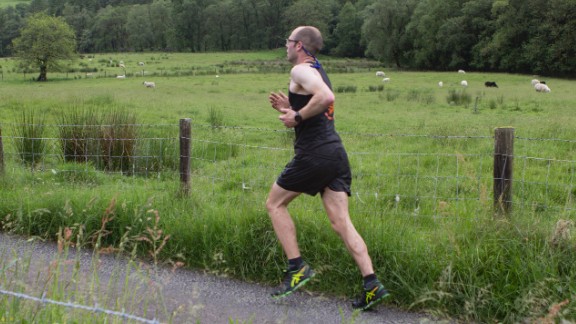 Photos: Man vs. horse: A racing rivalry
Photos: Man vs. horse: A racing rivalry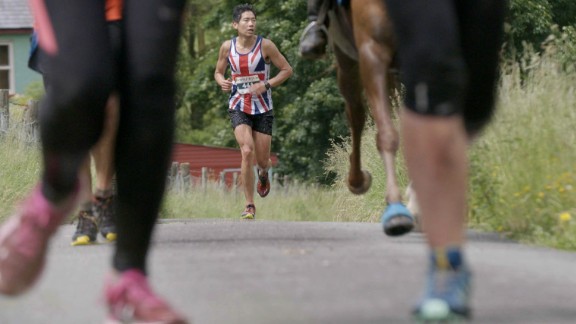 Photos: Man vs. horse: A racing rivalry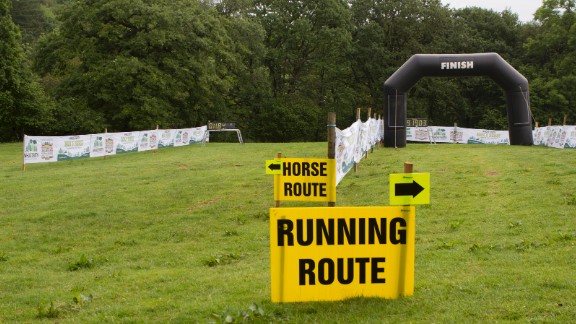 Photos: Man vs. horse: A racing rivalry
In the 36-year history of this unique marathon, a human has beaten the fastest horse only twice. In 2004, at two hours and seven minutes, Huw Lobb's evolutionary endurance and the favorable hot, dry conditions won out. Every year, the escalating jackpot for a human winner who can beat the fastest horse increases, until someone wins it. It had reached an inspiring £25,000 – $32,000 – when Lobb won it. In 2007, Florian Holzinger who wisely trained for the race in the Alps, beat the fastest horse by less than a minute.
In its first year, the race comprised of four horses and 29 runners, and has grown this year to 60 horses (with riders), 630 solo runners, aged between 18 and 73, and just more than 160 relay teams.
The course, which winds through verdant, rolling, sheep-speckled hills, has evolved over the years but it's basically an unusual marathon. In fact, it is technically not a marathon, running four miles short of that official distance, at 22 miles. The Man vs. Horse course goes up and down a mountain (or a very steep hill, as they are in Wales) of 2,000 feet elevation and much of the course features rocky, ankle-threatening conditions.
Surprisingly, the race hasn't led to many injuries. Despite the small boulders, steep incline, uncleared river crossings, and of course, horses being ridden very close by, there haven't been injuries more extensive than the rare twisted ankle.
Preparing for showdown
The night before the race, during registration, most runners and riders head to the local Neuadd Arms Hotel – the back pub where the race originated – located at the town's main intersection. Everyone enjoys a delicious carb-loading pasta dinner and locally brewed pints of Horse Sense and similarly themed beers and ales.
On race morning, the two-legged competitors return to the Neuadd Arms, but this time to the parking lot which serves as the start line. The horses convene up a side road and also give the human racers a head start to avoid a Pamplona-style pell-mell at the offset.
The humans and horses are all timed, but the latter must make two quick checks by a veterinarian along the course to avoid exhaustion. The horse course is also slightly longer, by about a couple of miles.
Two miles in for all of them, the course veers off the paved road and up into a trail with a steep incline of roughly 30% grade. This is often where horses pass most of the runners, who tend to walk this section.
Horses stay left to pass, but there are spots where the trail is narrow and runners need to hop out of the way of their larger competitors. It may be frightening to have hooves at your heels, but for Tom Fairbrother, who finished third among the runners, "the race was so physically demanding that I didn't really have time to get scared."
By the time they reach the last two miles and hit the waist-high river crossing, many of the racers fall down, buckling on rocks under their weakened legs
The finish line splits in two, segregated by species, and a few hundred spectators and fellow runners cheer from a nearby field.
That evening, many overnight guests head back to the Neuadd Arms for live music, more drink and excited talk of the race.
Horse-powered fun
The novelty of the race is certainly what attracts most runners, but that doesn't detract from the professional quality of a very demanding course. Because the Man vs. Horse course is so untraditional, its benefits and challenges go far beyond merely running a long distance race.
The mountain requires additional endurance, using muscles for climbing often underutilized on flat terrain. There is also the risk of uneven rocks, the water crossings and the potential to get clipped by a horse, all of which require mental focus and attention to obstacles.
"Man vs. Horse was such a unique event I'm not sure you can train specifically for what it throws at you," said Fairbrother. He suffered from bulimia and ran this race to conclude a series of 10 UK-based marathons in 150 days to "show eating disorder survivors that it is possible to regain strength and confidence and achieve physical feats they may not have thought possible."
Follow CNN Health on Facebook and Twitter
Unlike more traditional marathons Fairbrother had completed, this one required contending "with so many emotions and different unexpected and alien hazards to navigate. It was draining physically and mentally as I had to motivate myself to push my body outside of its comfort zone," he said.
But the finish is worth it for the bragging rights.
Most runners beat at least one horse, but in 2016, the fastest competitor was once again wearing a saddle with human on top. Maybe next year.