Story highlights
Turkey's president tells people to occupy streets following attempted coup
Many flood Taksim Square in Istanbul, saying they support government
For some a victory, others a tragedy.
Reactions from Turkish residents after a failed coup Saturday ranged from profound sadness to pride.
Demonstrators took to Taksim Square after President Recep Tayyip Erdogan urged civilians to "go to the streets."
Turkey coup attempt: How a night of death and mayhem unfolded
Six people discussed what the failed uprising symbolized, what it meant for their future, and how it made them feel.
Seemann Nur Dalbudak, the sympathetic student
Seemann Nur Dalbudak, a 17-year-old student, headed to Taksim Square in Istanbul with her aunt – even though the rest of her family didn't know she was there.
"If everybody is afraid to come out here, who will protect this country?" she said.
Turkey's military and government were actually getting along – before the coup
Nur Dalbudak said she was moved to come here after seeing other protesters help put down the coup on TV.
"The main reason why this (coup) wasn't successful is that Turkish Armed Forces didn't back it. They didn't want it. Only a fraction of soldiers were planning it," she said.
"The people have also realized their power," she said. "And I hope the people will always stand tall."
Emir Isik, the artist who remains hopeful
Emir Isik heard gunshots all night long in Istanbul.
Through his window he watched as F-16s flew by. They were traveling so low that some buildings were harmed by the sheer force of them passing overhead, he said.
"The situation is nerve-wracking. We are trapped inside a bothersome game within the country," he said.
Despite his frustration with the plotters of the failed coup, he said he's hopeful Turkish people can move on after Friday's bloody night.
Isik, an artist, sketched the Turkish flag.
"They made our people enemies of each other under our flag. We are immensely sad," he said.
Hasan Sen, the father who had to leave home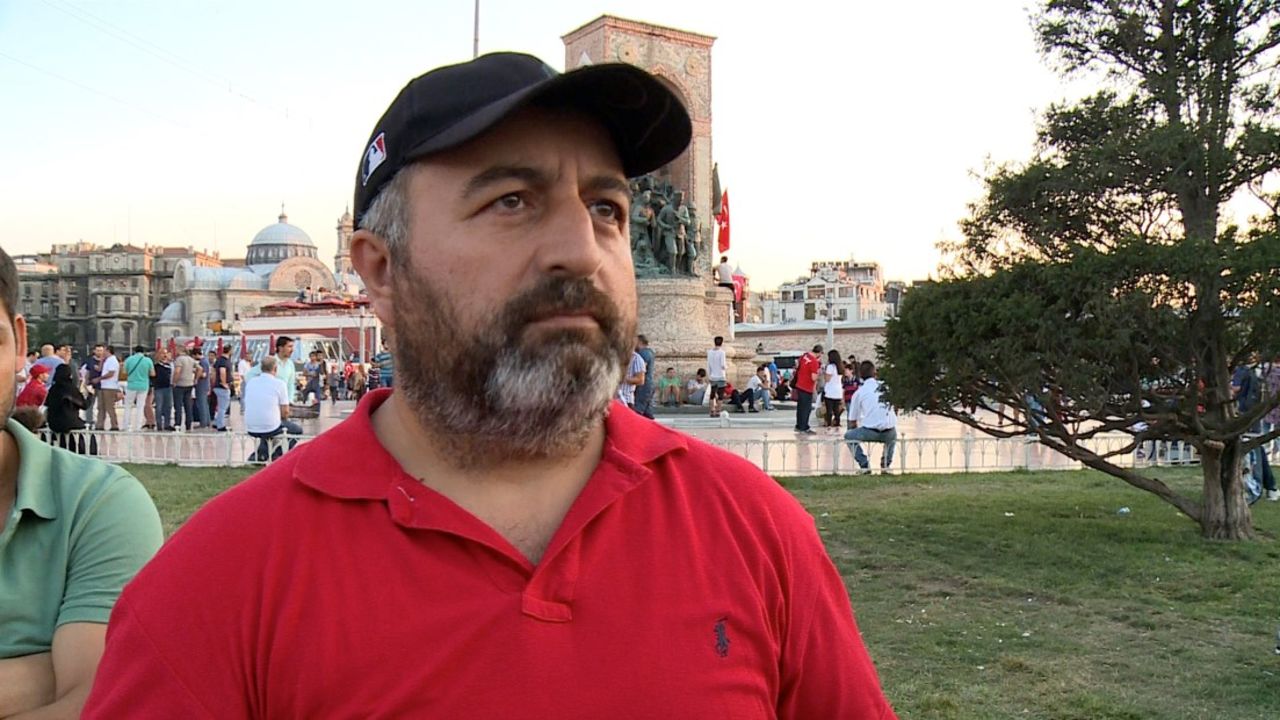 Hasan Sen, 46, with his 9-year-old daughter, joined other demonstrators in Taksim Square.
"Since I believed that there would be a far greater danger if I stayed at home, we have come out here to make our voice heard – irrespective of the political parties we support," he said.
Sen added that his daughter asked to come along.
"I didn't force her to come," he said, adding "I've brought her along for her to experience it."
Clare Busch, the American who caught images
Clare Busch, an American living in Turkey this summer while she works on a research thesis, photographed scenes from Saturday's aftermath in Istanbul.
She was struck by one image, that of a woman riding a scooter in front of demonstrators.
"(This) anti-coup granny was leading a group of men, marching and chanting, 'The motherland is solid,'" Busch shared on Instagram.
The older woman was the only female in the group that was headed down Istiklal Caddesi (Independence Street) toward Taksim Square.
"The mood wasn't overly aggressive, but it was nationalistic," Busch said. "Despite the older woman up front, there were no women marching with the men. Men were wearing headbands saying the homeland, or motherland, will never die."
Reyhan Sirim, the avid Erdogan supporter
Reyham Sirim, who works for the women's branch of the ruling Justice and Development Party, said she loved her prime minister and president.
She described "bullets flying past my head" during the uprising, adding that "some of my friends died next to me."
Sirim was scathing of Fethullah Gulen, the Pennsylvania- based cleric who Erdogan has accused of masterminding the attempted coup.
"Fetullah Gulen is a disgusting person," she said. "I hate him."
"If they gave him to me, I'd strangle him myself with my own hands."
Davut Yilmaz, the young man remembering Turkey's glory days
Davut Yilmaz, 20, remembers what he calls "old glorious days" under the leadership of President Erdogan.
He says Erdogan helped them regain their "self-confidence."
Turkey coup: Who is President Recep Tayyip Erdogan?
"We loved him a lot for that," he said.
For Yilmaz, losing his country to a coup was the equivalent to losing it to an enemy.
He said it felt like "blood was withdrawing from my veins."
The failed coup attempt resulted in nearly 200 deaths and 6,000 arrests.
"It was an impossible attempt," Davut said, "an empty dream."