Story highlights
Erdogan calls for continued protests and arrests
Turkey reopens the airspace around Incirlik Air Base
(CNN) —
Two days after a failed military coup, Turkish President Recep Tayyip Erdogan vowed a continued crackdown on those behind it – and those perceived to have been involved – as large crowds heeded his call to fill the nation's streets.
Thousands of soldiers have been arrested and hundreds of judiciary members removed since Friday's uprising, which left at least 290 people dead and more than 1,400 injured in a chaotic night of violence.
Around 6,000 people have been detained and arrests will continue, according to Turkey's foreign ministry.
Prime Minister Binali Yildirim has vowed that "they will pay a heavy price." Erdogan said that he will remove the "viruses" from all state institutions.
The arrests include Gen. Bekir Ercan Van, commander of the Incirlik Air Base, according to the Turkish President's office. The United States uses the airbase to launch airstrikes on ISIS in Syria and Iraq.
An "order of detention" for Col. Ali Yazici, a senior military aide to Erdogan, has also been issued, according to Anadolu.
Eight Turkish soldiers flew a helicopter to Alexandroupoli, Greece, hours after the failed coup attempt, where they were arrested and charged with "illegal entrance" into Greece. Greek Prime Minister Alexis Tsipras said they would be extradited within "15 to 20 days," Erdogan said Sunday in a speech outside his Istanbul residence.
Clashes occurred Sunday between security forces and coup plotters resisting arrest nearly 200 miles south of Ankara at Konya Airbase, a source told CNN. The government is now in control of the situation, the source said.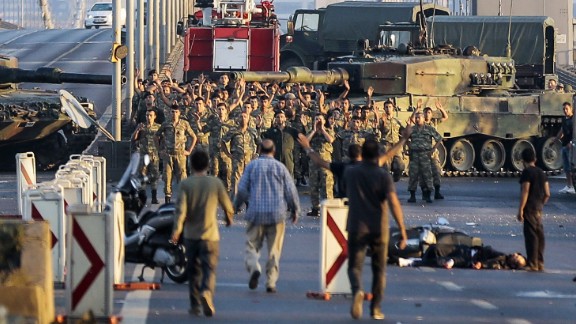 Gokhan Tan/Getty Images
Erdogan attended a funeral on Sunday held for some of those killed during gunfire – including the brother of his chief adviser, Mustafa Varank.
"It is not anything ordinary that my young brothers lay under tank pellets; this is a manifest of faith," Erdogan said.
He also said he did not rule out bringing back the death penalty for the coup's perpetrators.
As the crowd chanted "we want the death penalty," he said, "we can't ignore the people's request in a democracy – this is your right."
"This right has to be evaluated by the appropriate authorities according to the constitution and a decision can be made," Erdogan said in the address broadcast live on TV.
He asked supporters to stay on guard.
"You should fill the squares. This isn't a 12-hour operation. We will continue determinedly."