Story highlights
Alton Sterling's 15-year-old son calls for calm and unity
Five-year-old Olivia Haarsager is used to seeing "Mr. Phil," only at the cafeteria line at J.J. Hill Montessori School where she attends classes and where Philando Castile used to work in the cafeteria. But Thursday, little Olivia was standing in line with her mom, Rachel, to enter Castile's funeral. Philando Castile was shot and killed by a police officer during a traffic stop on July 6.
"It saddens me that she won't be able to, you know," Rachel said as she held back tears. "Have the benefit of him being an amazing person next year and for years to come."
Olivia was affected by the kindness of "Mr. Phil," like so many other students and members of the community who have poured out in support of the Castile family. Nearly 3,000 people flocked to Castile's funeral Thursday at the Cathedral of Saint Paul in St. Paul, Minnesota. The mood was somber and melancholic. Many people embraced and hugged each other as they looked at Castile's white casket and the arrangement of red and white roses that rested over it.
The service included remarks from Catholic priest the Rev. John Ubel and also the Rev. Dr. Steve Daniels Jr. from Shiloh Missionary Baptist Church.
"We have the death of an innocent black man whose life was taken at the hands of an officer due to his wide-set nose," said Daniels. "Racially profiled, pulled over for a broken taillight, shot multiple times next to his fiancée and her 4-year-old daughter. Thank God that they were not struck by some of those bullets."
It was the only mention of the tragic chain of events that led to Castile's death and the reports that police stopped him on that tragic night because he fit the description of a robbery suspect. All the details surrounding his death are still under investigation.
In a statement, the Cathedral of St. Paul said Castile's mother, Valerie, hoped to see "praying for peace and reconciliation" at the funeral, which was open to the public.
Castile has become the latest face of the Black Lives Matter movement, with protests being held across the country including Minneapolis-St. Paul, where hundreds of protesters have been arrested in the past week. Shirts in the pews read, "I can't breathe", "RIP Philando" and "Black Lives Matter." Daniels addressed some of those protesters concerns during the service.
"The Black Lives Matter movement don't mean that other lives don't matter. It does not suggest that we don't have our own issues in our race," Daniels said. "Every race has issues. That's not what these young people are saying. They are simply implying we want to be respected."
Valerie Castile noted the attention her son's death has given to the movement against police brutality in a quote included in the program for the service.
"Philando, you were a quiet and humble man. … But you making some noise now Baby!!!!!! I love you," wrote Castile.
A week ago, as a Facebook Live video showing the aftermath of Castile's death drew national attention and spurred protests, Minnesota Gov. Mark Dayton didn't mince words when he spoke to reporters about it.
"Would this have happened if the driver or the passengers were white? I don't think it would have," Dayton said July 7.
State authorities are investigating the death of the 32-year-old school cafeteria supervisor. And more than 1,000 miles away, federal investigators are looking into another police shooting: the death of Alton Sterling in Baton Rouge, Louisiana.
Both shootings have sparked protests nationwide and debate over whether officers used excessive force. Here's a look at the latest development in the cases:
Face to face with Obama
Cameron Sterling sobbed as he stood before reporters the day after his father's death last week. On Wednesday, the 15-year-old was quiet and composed, calling for calm.
On Thursday night, he'll be face to face with President Barack Obama, asking him a question during ABC's town hall on race and policing, family spokesman Ryan Julison said.
Sterling's family hasn't said what the teen will ask.
On Wednesday, standing outside the Baton Rouge convenience store where his father was shot dead, the teen said the shooting should unite people, not divide them.
"Everyone needs to protest in the right way – with peace, not violence," he said. "No violence whatsoever."
Alton Sterling's son speaks out
'The system is broken'
NBA stars opened Wednesday night's ESPY Awards ceremony in Los Angeles with a solemn statement about the "current state of America," including the shootings of Castile and Sterling – and last week's ambush that killed five officers at a Dallas protest.
"The violence of the last week has put a spotlight on the injustice, the distrust and anger that plagues so many of us. The system is broken. The violence is not new, and the racial divide is not new. But the urgency to create change is at an all-time high," New York Knicks forward Carmelo Anthony said.
Cleveland Cavaliers forward LeBron James said athletes should follow in the footsteps of the late Muhammad Ali.
"But to do his legacy any justice," he said, "let's use this as a call to action to educate ourselves, explore these issues, speak up, use our influence and renounce all violence. And go back to our communities, invest our time, our resources, help rebuild them, help strengthen them, help change them. We all have to do better."
This video is no longer available
Protesters shut down Minneapolis freeway
Protesters spilled onto a Minnesota interstate Wednesday, using cars to block lanes and backing up rush-hour traffic for miles
Some held hands in a human chain. Others sat on the ground as they chanted, "Black Lives Matter."
"It is private data under state law," sheriff's spokesman Jon Collins said.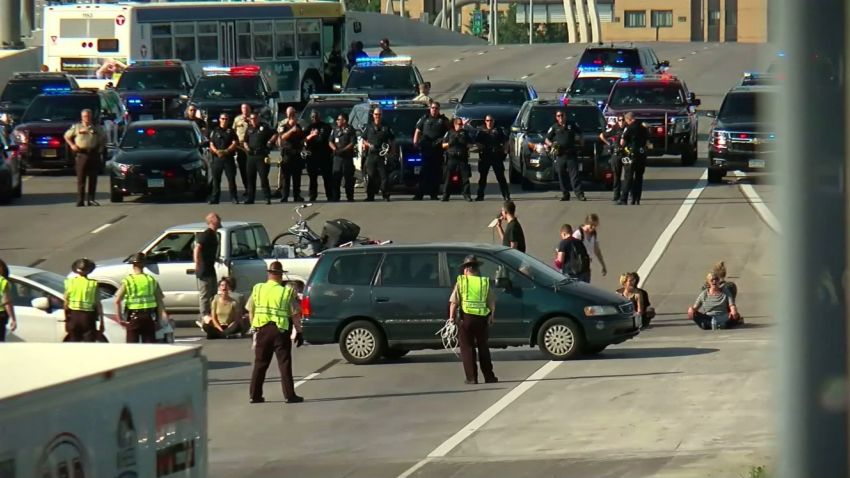 Philando Castile protest shuts down highway
It was one of a number of demonstrations against police violence across the country Wednesday.
"Non-black allies" were responsible for Wednesday's protest in Minneapolis, said Nekima Levy-Pounds, president of the Minneapolis NAACP, which has organized rallies and protests since Castile's death.
Police said the protesters who blocked the interstate would face charges.
"The State Patrol supports the right to exercise one's First Amendment rights," said Col. Matt Langer, Minnesota State Patrol chief, "but the freeway is not the place to do so."
CNN's Wayne Sterling, Justin Lear, Emanuella Grinberg, Holly Yan, Joshua Berlinger, Faith Robinson, Polo Sandoval, Eliott C. McLaughlin, and John Newsome contributed to this report.