Story highlights
West Africa loses over $1 billion a year to illegal fishing
A 'Blue Economy' could be an engine of growth and development for the continent
The ocean once offered a comfortable life for the fishing community of Joal, in the Senegalese capital Dakar.
"Ten years ago a fisherman could support a big family," says Ahmed Diame, a Greenpeace ocean campaigner based in the region. "Now they cannot eat."
Depleted fish stocks force the fishermen to travel further out to sea in search of a worthwhile catch, says Diame, which can be dangerous. Others quit and leave Joal to find work abroad, often via migration routes that are even more dangerous.
In a community that relies on fish, the wider economy suffers. The jobs of processing and preparing fish are also disappearing, along with those of the boat builders. The drought is also taking its toll on the population's health.
"People rely on fish for protein," says Diame. "A lot of the boys are very weak with malnutrition."
Free-for-all crime spree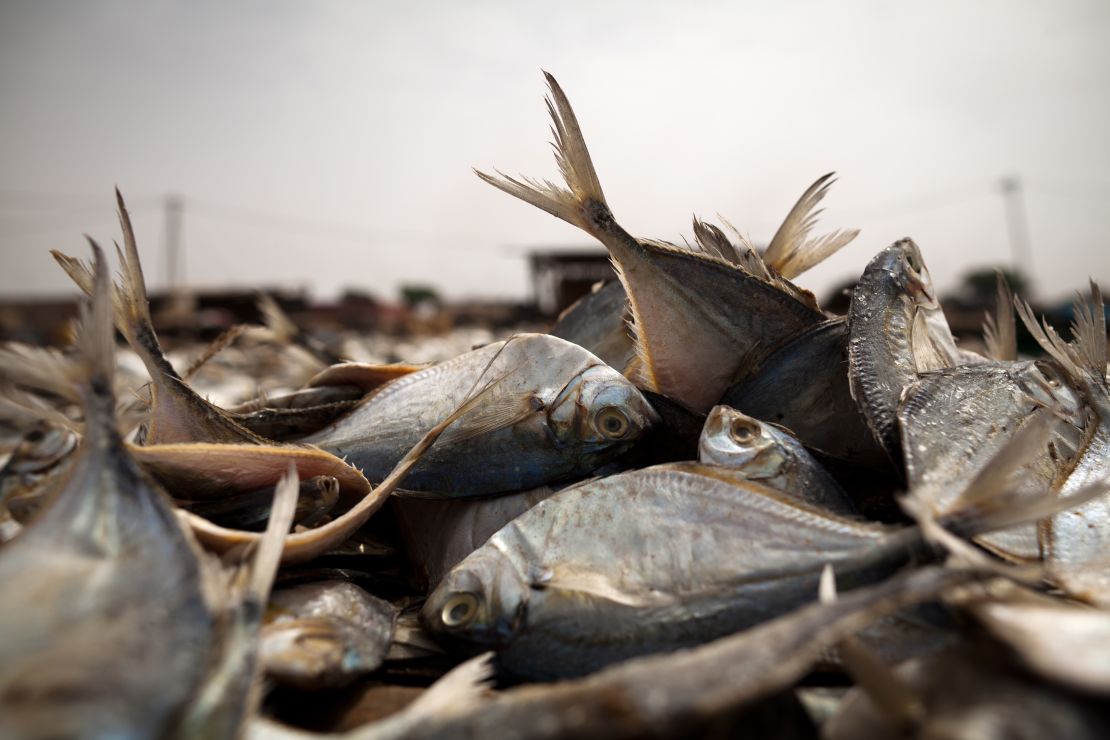 The crisis in Joal is indicative of a wider problem. West Africa has become a global hub of illegal fishing, losing an estimated $1.3 billion a year to the trade, according to a report from the Africa Progress Panel, with Senegal accounting for $300 million – around 2% of its GDP.
The waters off West Africa are being plundered by industrial vessels from across the world including Russia, China, and ships operating under "flags of convenience" that allow them to skirt costs and regulations. Such ships can take hundreds of tons of fish in each haul, and inflict lasting damage on the marine environment.
"Trawlers catch all the fish available regardless of protected species or safety standards," says Abdou Karim Sall, President of the Platform of Senegalese Artisanal Fishermen (PAPAS). "These big vessels hold heavy nets that destroy the ocean and the marine habitat but especially nurseries for juveniles, which prevents the fish from reproducing."
A recent report from the Overseas Development Institute and Spanish journalism group PorCausa used satellite tracking to monitor the methods and scale of expropriation.
The research showed a common practice of fishing boats transferring stock to commercial vessels at sea, known as transhipments. A second method involves transporting fish out of West African ports in vast freezers on container ships, which are less rigorously inspected than other vessels. This latter method accounts for 84% of illegal fish exports from the region, the report estimates.
"It is a free for all," says Alfonso Daniels, a co-author of the report with the ODI. "The legal framework is insufficient…and there is no political will to enforce the laws that do exist."
The report recommends a series of new measures, including a global database and tracking system for all vessels, a ban on transhipments – already in place in Senegal – and greater scrutiny of container vessels.
However, any progress would rely on the active support of African governments, and the report authors were frustrated at a lack of transparency in their deal-making with fisheries. One deal that was exposed, a 25-year lease of Mauritanian waters to a Chinese firm, drew heavy criticism for its impact on local livelihoods and the environment.
Building a blue economy
The oceans are widely seen as a potential engine of growth for the continent. Thirty-eight of the 54 African countries have coastal borders, and marine development was recently hailed as the "new frontier of African Renaissance" by the African Union.
The ODI/PorCausa report also confirmed the abundant potential, estimating that protecting and developing fisheries could generate almost $3 billion of additional revenue each year for African countries, and create around 300,000 jobs.
The recent "Africa's Blue Economy" handbook from the UN Economic Commission for Africa (UNECA) outlined how cracking down on illegal fishing, as well as threats such as pollution and piracy, could make rapid and diverse growth possible.
"The Blue Economy can play a major role in Africa's structural transformation," wrote UNECA Executive Director Dr. Carlos Lopes in a blog published in June, highlighting the opportunities to expand marine sectors such as "fisheries, aquaculture, tourism, transport, ports, coastal mining, and energy."
Such development would rely on improved governance, international co-operation, and modernized infrastructure, the UNECA handbook notes, as well as commitment to sustainable and inclusive principles, such as expanding employment of women and minorities in marine sectors. This approach could also bring about far-reaching social progress in areas such as poverty and resource conflicts.
There is little doubt that marine development could offer profound benefits to communities across the continent, but the continued plundering of oceans puts that prospect in jeopardy.
Half of the global population of marine wildlife has been lost since 1970, Daniels notes, and further damage could prove irreversible. "The window is closing," he says.