Story highlights
Theresa May names chief leadership rivals Boris Johnson, Liam Fox to Cabinet
May faces daunting task as she negotiates UK "Brexit" from the European Union
When Theresa May took over as Britain's new Prime Minister, her spouse of nearly four decades stepped out of the shadows and into the limelight.
The Conservative Party leader spoke directly to the poor, black and white working-class residents as well as women, youth and those with mental health issues, saying, "The government I lead will be driven not by the interests of a privileged few, but by yours."
Her party prizes unionism, she said, and not just among England, Wales, Scotland and Northern Ireland, "but between all of our citizens, everyone, whoever we are and wherever we're from."
"David Cameron has led a one-nation government, and it is in that spirit that I also plan to lead," she said.
May wasted no time getting to work, naming six Cabinet members shortly after taking the nation's helm. Among them were two of her chief rivals in her bid to head the Conservative Party: members of Parliament Boris Johnson and Liam Fox.
In his final appearance in Parliament as Prime Minister, Cameron opened with the quip that "apart from one meeting in the afternoon with the Queen, my diary is remarkably light."
Before resigning, Cameron delivered remarks outside 10 Downing Street, saying, "It's not been an easy journey, and of course we've not got every decision right, but I do believe that today our country is much stronger."
He wished May the best, especially as she negotiates the country's "Brexit" from the European Union. If he were granted one wish, he said, it would be the "continued success of this great country that I love so very much." Cameron will continue on as a member of Parliament.
Live updates: Theresa May takes reins
Leaving on light note
Earlier Wednesday, Cameron appeared to be in a jovial mood as he told members of Parliament: "I have addressed 5,500 questions from this dispatch box – I'll leave it to others to decide how many I've answered."
He held up a photo of himself with Larry the Downing Street cat, saying he loved the "chief mouser" and was sad to be leaving him behind.
On a more serious note, Cameron said he cared passionately about the UK, adding that "we need to make sure as we leave the EU, how we keep the benefits of the common travel area."
Gesturing across the room and up to his wife, Samantha, watching from the gallery, he said: "I will miss the roar of the crowd, I will miss the barbs from the opposition, but I will be willing you on.
"Nothing is really impossible if you put your mind to it. After all, as I once said, I was the future once."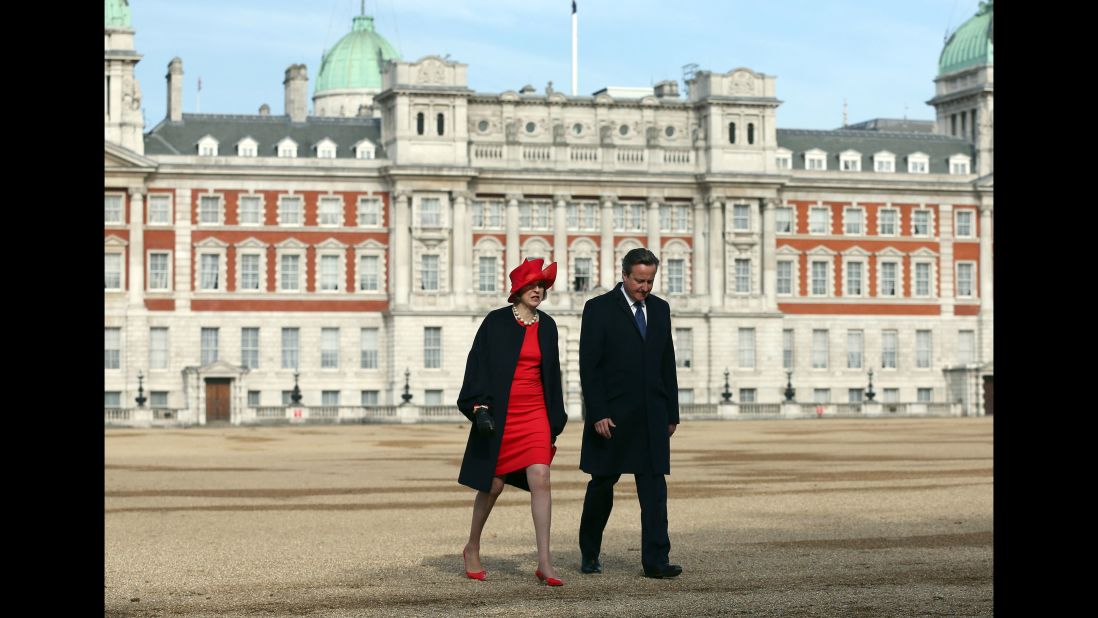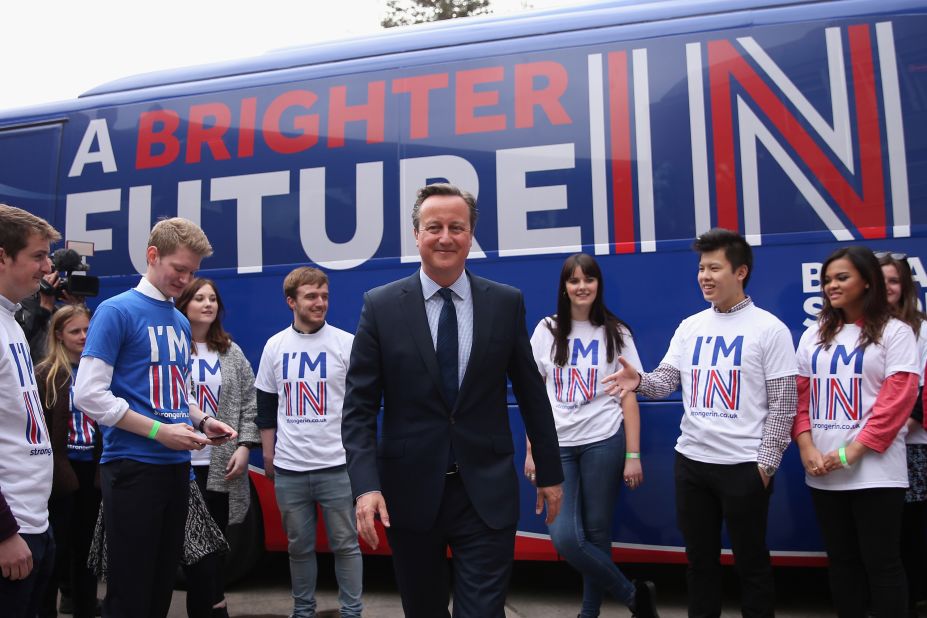 A look back at David Cameron's time as UK Prime Minister
How did we get here?
Cameron announced his resignation last month, following the UK's shock referendum vote to leave the EU.
May – who became Conservative leader Monday after her sole contender for the job, Andrea Leadsom, dropped out of the race – is Britain's second female prime minister after Margaret Thatcher, who held office from 1979 to 1990.
The past few weeks have been dramatic ones in British politics, with Brexit setting off a domino effect of politicians falling by the wayside – Cameron resigned, allies stabbed likely successor Boris Johnson "in the back," and leadership contender Leadsom threw in the towel amid controversial comments on motherhood.
May has a daunting job as prime minister, facing pressure to start Brexit negotiations with the EU, salvage a plummeting economy and unite a divided nation.
A hefty to-do list: What awaits Britain's next PM
Challenges ahead for Britain's new PM Theresa May
What lies ahead for May?
May will need to form a Cabinet – speculated to include many female ministers and a designated Brexit minister.
Will the next PM have the job from hell?
She took the first steps in that process shortly after assuming the mantle. She named ex-Foreign Secretary Philip Hammond the chancellor of the Exchequer, a position that oversees the British Treasury, according to a statement from 10 Downing Street.
Later, she tapped Johnson as foreign secretary and Fox as secretary of state for international trade. Both members of Parliament unsuccessfully challenged her for Conservative Party leadership, and Johnson, the former London mayor, was one of the leaders of the campaign to leave the EU.
Other appointments: Amber Rudd, former secretary of state for energy and climate change, was named home secretary, the position May vacated to become Prime Minister; Michael Fallon will remain as defense secretary; and David Davis was selected as the secretary of state for exiting the European Union, 10 Downing Street said.
The latter post is a newly created one also known as the Brexit secretary. Davis backed the campaign to leave the European Union.
Fox marked the last of Wednesday's appointments, May's office said.
She is expected to meet Scottish First Minister Nicola Sturgeon in the coming days, with Sturgeon telling a news conference Wednesday that Brexit "does not apply to Scotland, as Scotland voted differently in the referendum."
Scotland bucked the national trend for the referendum, with 62% voting to remain.
Sturgeon offered her congratulations to May, expressing hope that "despite our differences," they can have a constructive working relationship.
Scotland likely to seek independence after EU vote
Along with overseeing EU negotiations, May will need to unite a nation deeply divided over the referendum where 52% voted to leave and 48% to remain.
Not to mention a Conservative Party whose infighting over Europe prompted Cameron to call a referendum in the first place – leading to his spectacular downfall.
Congratulations pour in
Among those congratulating May were European leaders with whom she will work closely during Brexit talks.
German Chancellor Angela Merkel and French President Francois Holland spoke with May on the phone.
"They pledged to actively pursue the development of the bilateral friendly relationship between France and the United Kingdom in all areas," Hollande's office said. "The President reiterated his hope that negotiations for the exit of United Kingdom from the European Union are started as soon as possible."
London Mayor Sadiq Khan, who campaigned against Brexit, congratulated May and urged her to address aspects of Britain's post-EU future such as the capital's economy and status of EU citizens in Britain.
Congratulations also came from European Council President Donald Tusk and European Commission President Jean-Claude Juncker.
Philip May steps into the shoes of another first spouse – Denis Thatcher.
CNN's Milena Veselinovic in London contributed to this report.