Story highlights
The photograph shows a woman standing in front of police
The image, shot by Jonathan Bachman, is already being called iconic
Will this be the photograph that symbolizes this past week's protests?
An image of what appears to be a woman's peaceful resistance to police is garnering plenty of attention online.
Powerful images from a painful week
Shot by Jonathan Bachman for Reuters, the photograph shows a black woman in profile, standing in the middle of the street as two police officers in riot gear seem to be preparing to arrest her in Baton Rouge, Louisiana.
"Everyone was given proper instructions and a certain amount of time to clear the roadway. If they did not, then they were arrested," said L'Jean McKneely, spokesman for the Baton Rouge Police Department.
People are already calling the photograph iconic on social media.
"Jeez. Just wow," Bob De Jonge wrote on Twitter.
Protest symbol
The symbolism of a single person's nonviolent resistance against a large, heavily armed opposition is reminiscent of a handful of other famous photographs, including Marc Riboud's shot of a Vietnam war protester holding a flower in front of armed police, or the image of the lone protester confronting a tank in Tiananmen Square.
More recently, the Bachman shot calls to mind a photograph of activist Maria-Teresa "Tess" Asplund standing alone and confronting several hundred neo-Nazi marchers in Sweden, her fist firmly raised in protest.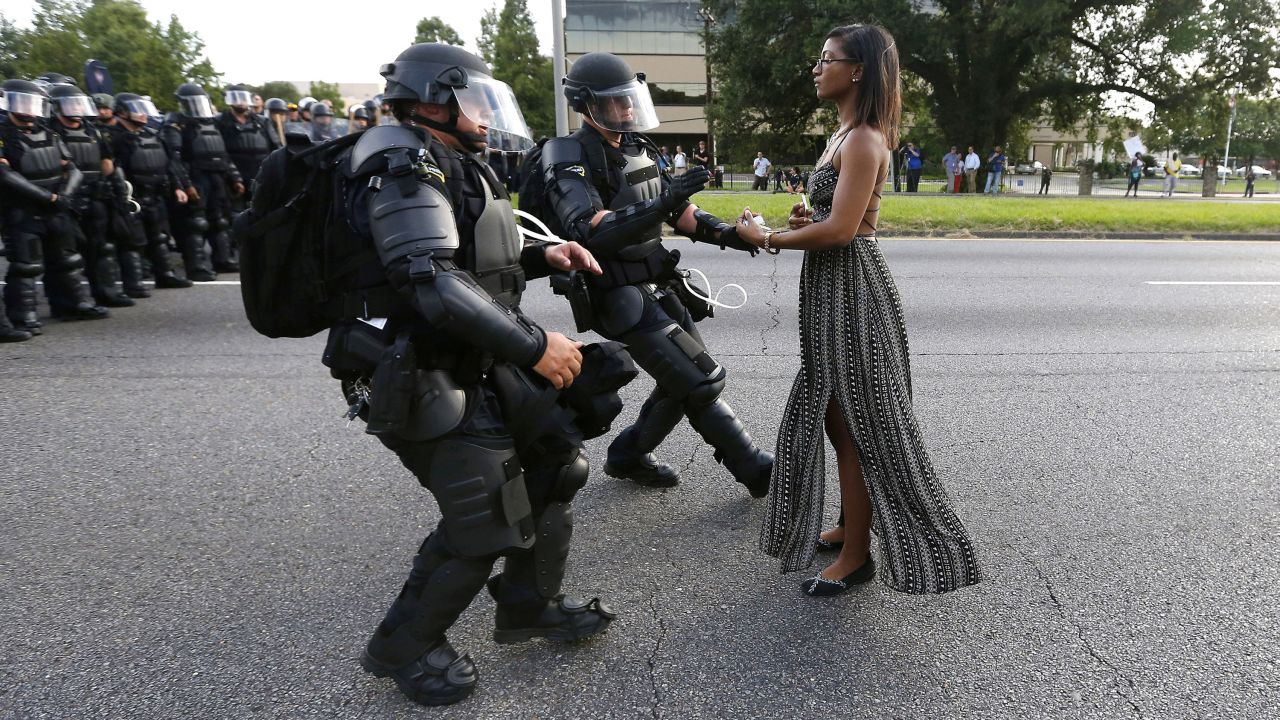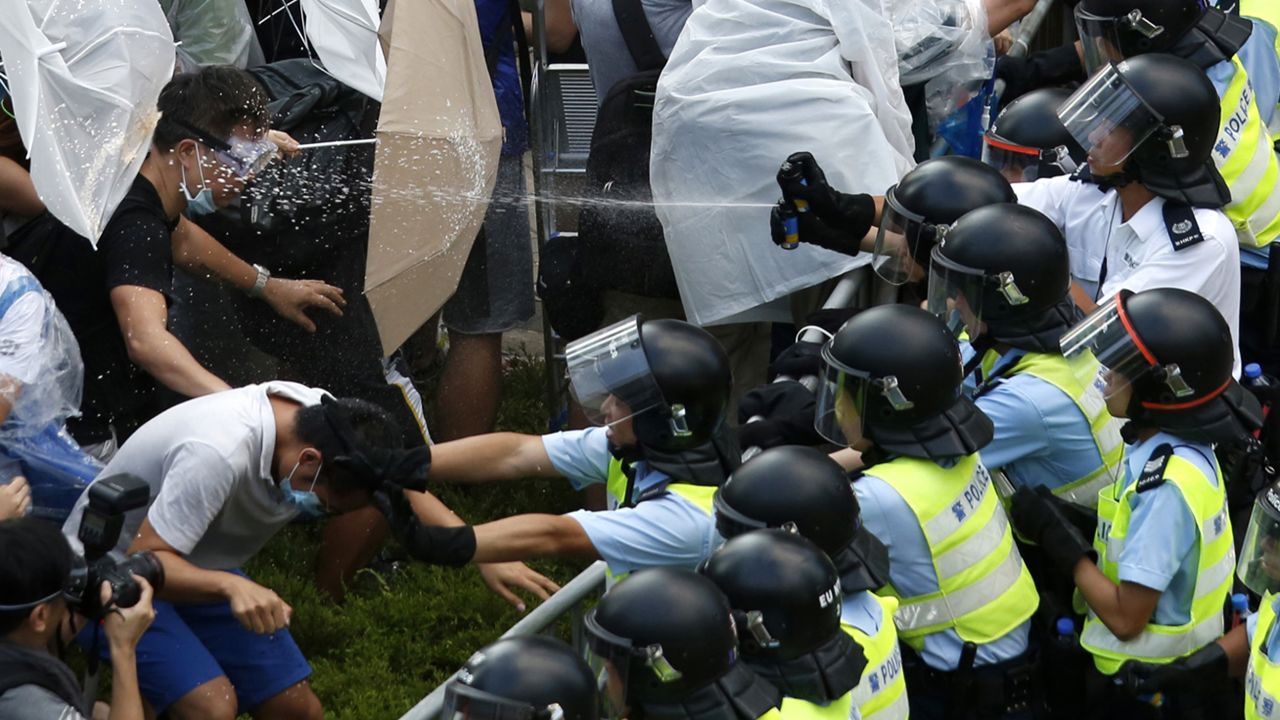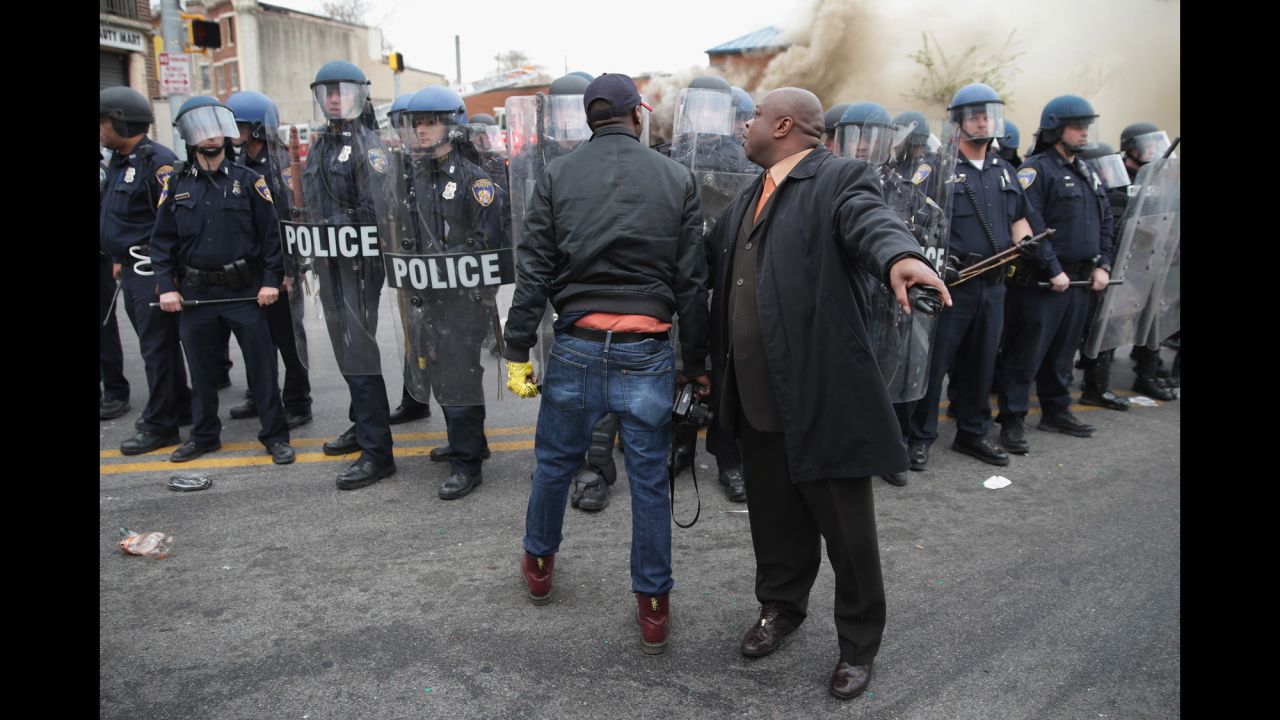 Protests past and present
"It was just impulse, to go in their middle. I remember standing there and one of the guys staring at me," Asplund told CNN in May. "When you have Nazis marching in the street for May 1, it's important to show that that's not okay. People in other countries can't understand how come Nazis are marching in Sweden."
Weekend of unrest
The Baton Rouge photograph was captured amid a weekend of intense, sometimes violent nationwide protests that culminated in the arrest of hundreds of demonstrators, angry at the latest killings of black men by police officers.
Despite pleas for calm from all sides, at least 312 people have been arrested at protests from New York to Chicago, and in St. Paul, Minnesota, and Baton Rouge, where two black men, Philando Castile and Alton Sterling, were shot to death by police.
Many of the protests against police violence have been peaceful. In Dallas – before a gunman killed five police officers at a Black Lives Matter rally last week – officers were even posing for photos with demonstrators.
Photographer in Dallas captures police bravery
Black Lives Matter protesters condemned the Dallas killings, calling the attack on law enforcement a tragedy not just for those affected but also for the nation.
"Black activists have raised the call for an end to violence, not an escalation of it. (Thursday's) attack was the result of the actions of a lone gunman," the group said.
"To assign the actions of one person to an entire movement is dangerous and irresponsible. We continue our efforts to bring about a better world for all of us."
CNN's Cristiana Moisescu and Falyn Page contributed to this report