Editor's Note: This story was updated after Potter was named in the USA women's sevens squad on July 18.
Story highlights
Jillion Potter broke her neck in 2010
She was diagnosed with cancer in 2014
Credits support of wife Carol for recovery
Named in U.S. rugby sevens squad
Jillion Potter is no ordinary rugby player.
The United States Women's Eagles star has both recovered from a broken neck and fought off cancer – and now she has won a place in the sevens team at the Rio Olympics.
"There is a picture of me a year ago, bald, standing with my teammates, and I think: 'Wow. How far have you come?'" she told CNN's World Rugby show after passing a significant milestone.
"It's pretty remarkable to think about when I look back. I'm one year cancer-free, so it's a big triumph."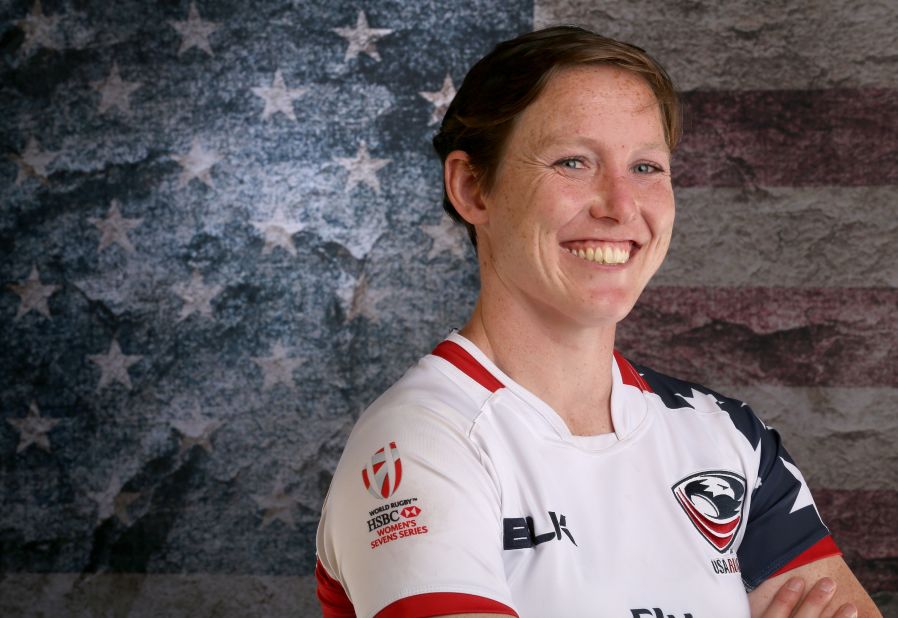 Jillion Potter: American rugby's great survivor
Now 30, Potter is one of the U.S. Women's Sevens captains (the team operates with a rotating leadership) and one of her sport's best-known figures.
And the Texan's love of rugby – along with the love and support of her wife Carol – have helped her overcome the adversities she has faced.
Read: The 19th-century girl who took on the boys
Potter was a student at the University of New Mexico when she became captivated by a sport she didn't even know existed.
"A couple of girls came up to me and said: 'Hey you! Do you want to come and play rugby?'" she recalls.
"I didn't even know what it was, but then it happened again the next day, and the next day. I thought I had headhunters or something."
Read: Australian women on top of world
Potter's first taste of the action was a tackling practice and running session – and that got her hooked.
"I remember thinking: 'This is the sport for me,'" she says.
"I didn't realize how physical I could be. I got knocked down by this girl, and I thought, 'Oh, this is how it's going to be. Let's go!' And I stuck with it."
What Potter soon found – as well as her natural flair for playing the game – was that rugby provided "a massive community."
Read: Super Bowl winner in U.S. Olympic team
But during those initial forays into playing, she never believed the sport could become a career.
"I had no idea there was a USA team," she recalls. "But about six months into my collegiate career, my coach was adamant that I should go on a USA under-19 developmental tour.
"I made the under-19 team, was recruited to the under-23 team, and it just went from there."
Read: Sister reveals Sonny Bill's secrets
But in the buildup to the 2010 Women's Rugby World Cup, Potter broke her neck while playing for her country in Canada.
"I don't think I've played there since," she jokes, but adds that the injury was "devastating."
"I was young, and it was about two months before the World Cup campaign," she recalls.
"When I was 19, I had gone to the 2006 World Cup and sat in the stands thinking that this is what I want to do. I want to be these women."
Potter feared she would never be able to play again – but only a year later, she was back on the pitch.
For that, she thanks a "great surgeon" but admits having thought for a while that she probably shouldn't risk a comeback.
"Because of my surgery, because it was only a level one fusion, it was safe to return to play," she adds.
"Doctors were like, 'You just have to wait until the bone fuses, and we'll unleash you.'"
Read: 'Out of 1,100 she was pretty special'
A year later, the unleashed Potter was contracted to play on the USA Eagles team.
In 2013, she played for her country in the Rugby Sevens World Cup, having tried that form of the game and found it "the best."
But with life and rugby seeming set fair, Potter discovered swelling underneath her jaw during the World Cup campaign in August 2014.
"I had been to Alaska with my wife Carol, and we went camping and did outdoor things," she says. "And I thought maybe I had got something from being in the wilderness and let it go, thinking it was an infection."
She took antibiotics but the problem failed to disappear. Then doctors discovered a tumor, but an initial MRI scan appeared to show it was benign.
"But it carried on growing," Potter says. "Intuitively, I knew something was wrong."
Her worst fears were realized when tests showed that she was suffering from synovial sarcoma, a soft tissue cancer.
"I was in shock," she says. "I had no idea that someone like me could get cancer. I eat well, I exercise, I take care of my body.
"I didn't have a lot of time to think, but we found the best cancer center and I started treatment immediately."
Read: England women's captain fantastic
Chemotherapy was tough, but Potter kept her spirits up by remaining active when she could, taking walks and doing yoga.
"I cried when I had to shave my head," she says. "I remember physically shaking. That was one of the first times I broke down, and then when I had to tell my mum and my family.
"To say: 'I have cancer' out loud is really hard. You don't want to say it because it makes it real."
Carol was instrumental in Potter's recovery process, encouraging her through the darkest times and boosting her belief that a place at the Rio Olympics was a dream that could still come true.
The couple met in 2011, and Potter describes her wife as "my biggest supporter."
"Not once did I see her falter – she was so strong for me and is the reason why I made it," she adds.
"She knew rugby was really important to me and that it was always my goal to get back.
"Beautiful, smart … they're not even good enough words for her. She's my hero and the best thing in my life."
Rugby itself was a big help, both for its values – "You get tackled, you always have to get up off the ground, just like in life" – and the resilience and discipline it instilled, virtues that helped throughout her treatment.
Today, Potter says, she "feels great."
"I am still progressing performance-wise, confidence-wise, speed-wise," she says. "Being patient with myself and recognizing where I am is important."
Potter was selected for each of the five Women's Sevens Series stops this season, playing in at least four of the matches in each tournament as the U.S finished sixth overall.
And what if her incredible comeback culminates in her picking up a medal in Rio?
"I will probably be bawling and crying," she says – but with a laugh.