Story highlights
Researchers are studying why some babies born to Zika-infected moms develop microcephaly
They hope to find a genetic explanation for why one twin has microcephaly and the other does not
Jacqueline Silva de Oliveira sits on the edge of her bed, holding her 6-month-old son, Lucas. He squirms in her arms before he finally screams out, hungry and demanding milk.
His twin sister, Laura, barely notices, just a slight nod and a twitch of her eyes. Half his size, she is quiet, asleep on the other end of the bed, as she often is. When she wakes, even her cries seem to struggle from her throat. She can't breastfeed. She can barely hold up her small head. She has microcephaly.
"We try to live in the moment with her," de Oliveira says of Laura. "Because we worry, what if she needs a wheelchair? How will she move around in this house? It's really complicated to think about the future."
It was only three months after she gave birth that de Oliveira found out that she'd had that Zika virus while pregnant. Her husband had Zika before her, with strong symptoms, and eventually she developed a rash.
"I thought it was allergies," she said. "And it only lasted a day, so I didn't even get tested or anything." She went to the doctor, thinking she had the dengue fever common in that area, and the doctor recommended that she go to the hospital. But it was very far away. "I didn't go because I was already feeling really bad," she said.
In this tiny house in the suburbs of Santos, Brazil, they're one family that could possibly help answer questions around the horror of Zika: What is its connection to the debilitating birth defect microcephaly?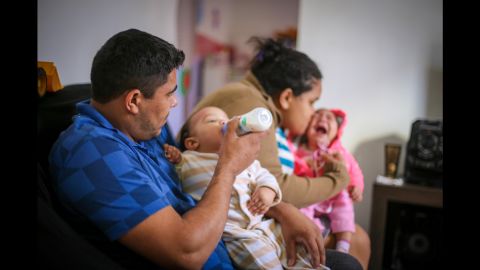 Lucas and Laura are one of six sets of twins in Brazil whom researchers are studying to see why one has microcephaly and the other does not. The answer may lie in the babies' respective genes: One twin is able to resist the virus while the other is more susceptible to it.
At that start, de Oliveira was reticent but soon decided she wanted to help. "No one asks God for a special-needs child. But, on the other hand, I feel privileged to know that if the protective gene is discovered, it will be able to free other children of this disease, this brain malformation."
The vast majority of people infected by Zika, about 80%, will never show symptoms. But its connection to microcephaly is most troubling to scientists, making pregnant women the focus of research and prevention campaigns.
Only after advising that pregnant women avoid travel to Brazil did the World Health Organization gave its OK to the upcoming Olympic Games in Rio de Janeiro.
Geneticist Mayana Zatz of the University of Sao Paulo is studying de Oliveira's twins and thinks one twin's genes make it more vulnerable to the virus, rather than one being better able to resist it. The hope is that they can detect this genetic difference and provide some relief for the now-harrowing experience of pregnancy in Brazil.
"If we can pinpoint what are the variants, what are the genes involved, we could have a genetic test that could test on others that are pregnant to say if they are at risk," Zatz said.
Peggy Honein, the U.S. Centers for Disease Control and Prevention's co-lead on the Birth Defects Task Force for the Zika response, says that studying twins would allow the researchers to isolate environmental factors from genetic conditions as the driving link between Zika and microcephaly.
"Certainly, it is consistent that not every woman infected with Zika will lead to a newborn with microcephaly," Honein said.
What is most crucial now, says Honein, is pinpointing the absolute risk of a fetus developing microcephaly and the period of greatest risk of exposure during pregnancy.
As the virus moves into the Northern Hemisphere summer, the CDC says the number of pregnant women infected with Zika in the continental United States has risen to 265 cases as of June 16.
It's unclear how many of those infections will lead to pregnancy complications.
A recent study in Rio de Janeiro found that nearly 30% of pregnant women infected with Zika had ultrasounds showing abnormalities. But Honein points out that in another study, just 1% of babies born to Zika-infected mothers showed complications. She says the true risk probably lies in between.
In late June, the National Institutes of Health announced that it would be monitoring about 10,000 pregnant women in Puerto Rico, Brazil, Colombia and other countries as part of a large-scale study to better understand the effects of Zika on pregnancy and newborns.
There is no crystal ball in the fight against Zika, Honein said. The research is still catching up with the true scope of the virus.
"Zika virus poses a unique challenge in terms of the critical need to protect pregnant women," she said.
In Sao Paulo, Zatz says that with every mother she visits as part of her study, the more desperate she is to find answers.
"The research that we are doing takes time. It's not something you can do quickly," she said. "We know there is a lot of pressure, but this is the best we can do."