Story highlights
Hundreds of millimeters of rainfall forecast as wind speeds top 200 kph
Taiwan and China to take the full brunt of the storm late this week
(CNN) —
Taiwan is bracing for the region's first super typhoon of 2016, which is expected to grow in speed and power before it hits the island around Thursday evening local time.
In just 48 hours, Nepartak has rapidly strengthened from a tropical storm with wind speeds of 110 kilometers per hour (70 miles per hour) to a roaring super typhoon with winds hitting 240 kph (150 mph) – and it could surge even higher.
Flooding rainfalls in excess of 100 millimeters are expected to fall across Taiwan when the typhoon makes landfall, which is already causing waves of up to 13 meters at sea, according to the Joint Typhoon Warning Center.
Food prices in Taiwan jumped ahead of the storm, local media reported, while transportation minister Ho Chen Tan promised Taoyuan International Airport would be able to withstand a direct hit from the storm.
The super typhoon originally developed on Sunday in the open waters of the Pacific, south of Guam, and has been steadily moving to the northwest – it's currently forecast to reach Taiwan by Thursday night or Friday morning local time, according to Taiwain's Central Weather Bureau.
Taiwan Central Emergency Operation Center spokesperson Li Wei-sen told CNN super typhoon Nepartak would probably make landfall on the east coast and the emergency center would be up and operational from 8 p.m. local time (8 a.m. ET) on Wednesday.
Nepartak is likely to maintain its super typhoon status and could reach the equivalent of a category 5 hurricane (253 kph or 157 mph).
Although the east coast of Taiwan isn't heavily populated, the rugged terrain of Taiwan enhances the risk of flooding and landslides during tropical cyclones.
The mountains stretch the length of the island from north to south, with some peaks reaching 4,000 meters (13,000 feet). These mountains could channel extreme amounts of water that can bring devastating landslides.
China braces for even worse flooding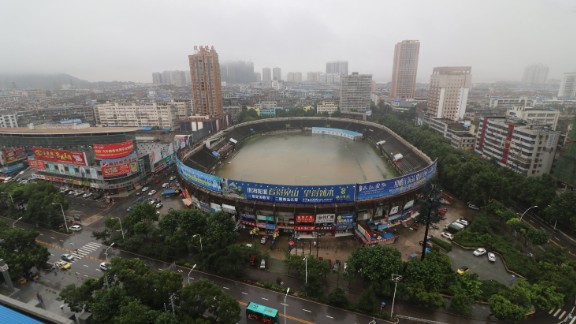 Nepartak is expected to bring further devastating rainfall to China, which is already reeling from its worst flooding since 1998.
At least 128 people have died across 11 provinces in China since June 30 as a result of heavy flooding, according to the country's Ministry of Civil Affairs.
An estimated 23 million people have been affected by floods, hailstorms and landslides, the Ministry of Civil Affairs said, while China's Flood Control Department said the country was experiencing its worst flooding since 1998.
Although super typhoon Nepartak will be slightly weaker due to land interaction when it reaches China, it will still be a formidable storm.
According to the Hong Kong Observatory, while Nepartak will have been downgraded to typhoon level by the time it makes landfall, wind speeds could still be up to 145 kph (90 mph).