Story highlights
One of the homeless men was found burned alive alongside the freeway
Someone is targeting and attacking homeless people while they're sleeping, police say
(CNN) —
Authorities in San Diego say there may be an assailant burning and attacking homeless people in their sleep.
Two men are dead and one is lying in a hospital bed with life-threatening injuries after a string of deadly attacks during a 25 hour period in San Diego County, authorities said.
On Sunday morning, police received several 911 calls from witnesses saying they saw a man on fire, running down the train tracks alongside Interstate 5, according to CNN affiliate KSWB. The charred body of a male was later found so badly burned that authorities couldn't tell whether he had suffered any trauma prior to being set ablaze, San Diego Fire-Rescue Department spokesman Lee Swanson said. At about the same time, witnesses reported seeing another man in his late 40s to early 50s darting across the freeway away from the train tracks carrying a gas can, said Lt. Manny Del Toro with the San Diego Police.
Two similarly brutal attacks took place early Monday morning, police say.
Authorities found two victims in different locations with severe trauma injuries to the torso, according to a San Diego Police Department statement. One of the two died before authorities arrived on scene.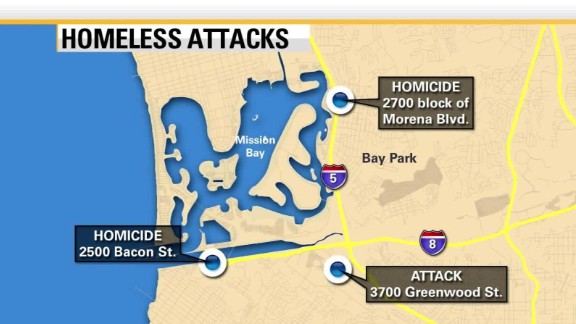 Police believe the victims are transients who attacked "most likely while they were sleeping," San Diego Police Lt. Ray Valentin said in a news conference on Monday.
San Diego police have released surveillance video of a man that they'd like to question in relation to the attacks. They are also asking for the public's help in locating him.
A history of homeless beatings
This isn't the first time San Diego County has seen violence targeting homeless and transient populations. Earlier this year, two brothers and a female teenager were accused of fatally beating a homeless man in El Cajon after one of the brothers allegedly got into a fight with some other homeless people in the area.
And the fatal beating of Kelly Thomas attracted national outrage in 2011. Security footage from the incident shows that Thomas was beaten, clubbed and stunned the night of July 5, 2011. In 2014, a jury acquitted two police officers charged with second-degree murder.