Libertarian presidential nominee Gary Johnson said Donald Trump says "racist" things and should be disqualified from becoming president for saying that he is "looking at" replacing employees of the Transportation Security Administration who are Muslim and wear hijabs.
"He has said 100 things that would disqualify anyone else from running for president but doesn't seem to affect him," he told CNN's Brianna Keilar in an interview aired Sunday on "State of the Union." "It's racist."
Johnson was referencing a recent Trump town hall in New Hampshire when a woman who, while pointing to her head, objected to the "heeby jobbies" worn by some employees at the TSA – an apparent reference to hijabs, or headscarfs that some Muslim women wear. She urged him to replace Muslims with veterans. Trump said: "And we are looking at that."
READ: Trump lets 'heeby-jobbies' comment slide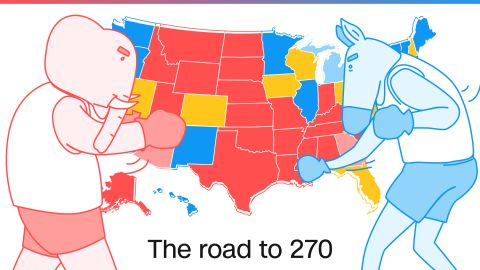 "The stuff he's saying is just incendiary," Johnson said of Trump, adding he's a "neo-isolationist."
READ: Where the Libertarian Party stands: 12 issues in 2 minutes
The former two-term New Mexico governor also said he is aware that Mitt Romney is considering voting for him over Trump in November, having told CNN's Wolf Blitzer last month that he wants to "get to know Gary Johnson better."
Johnson said he thinks there has been "some outreach" to the 2012 Republican presidential nominee but did not provide any specifics about steps he is taking to woo Romney.
Johnson also told CNN that he is considering "ending" the drone strike program if he is elected president.
"Look, if we're attacked, we're going to attack back, but these drone strikes do have the unintended consequences of killing innocent people," he said. "Try to put yourselves in the shoes of families that have been affected."
READ: 5 takeaways from CNN's Libertarian Party town hall
Johnson declined to criticize Hillary Clinton's use of a private email server while serving as secretary of state. She was interviewed by the FBI Saturday over the matter, her spokesman said.
"I'm not a stone-thrower when it comes to Hillary Clinton and her emails and her server," he said. "I don't think there has been criminal intent on Hillary Clinton's part. I don't see an indictment."
Asked about Trump's challenge this week to Clinton on whether she would be willing to withdraw from the Trans-Pacific Partnership trade deal on her first day in office, Johnson said if he were president, he'd sign the deal into action based on his advisers' recommendations.
"I'm being told that the Trans-Pacific Partnership would, in fact, advance free trade, and so I would support that document," he said.
Keilar asked Johnson to offer advice to "mere mortals" on how to be an "adventurer," because Johnson is well-known for his athletic exploits, which include scaling Mount Everest.
"One step in front of the other," Johnson said. "Anything that can go wrong, will go wrong."
Johnson did, however, want to correct the record on one thing: his claim that he biked 600 miles in 36 hours, which he told to CNN's Chris Cuomo in a town hall last week.
"I believe that was a mistake. I believe it was 485 miles in 36 hours, not 600," Johnson said. "I was embellishing and I was on the spot."
"Well, we certainly appreciate the fact check," Keilar said. "But I will say, 485 miles in 36 hours is nothing to sneeze at."