Story highlights
Val Lauder: Our founding fathers played a role in popularizing ice cream in America
She recommends prune and peanut butter flavors but draws the line at licorice and oyster
Editor's Note: Val Lauder, a former reporter for the Chicago Daily News and lecturer at the School of Journalism and Mass Communication at the University of North Carolina at Chapel Hill, is the author of "The Back Page: The Personal Face of History." The opinions expressed in this commentary are solely hers.
I don't have a lot in common with Thomas Jefferson. Or George Washington.
There's the matter of the different centuries. Not to mention career paths. Although, as a writer, I can identify with Jefferson's struggle – with a little help from John Adams and Benjamin Franklin – to put on paper the decision of the delegates to the Continental Congress gathered in Philadelphia that long ago summer to create a new nation.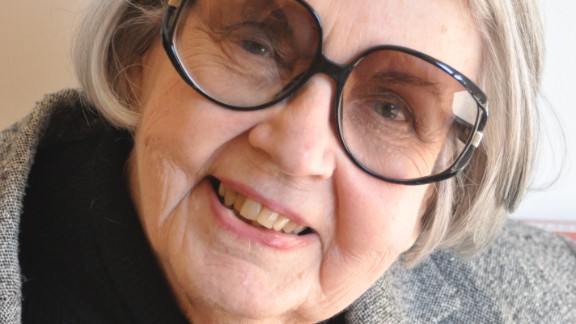 Courtesy Val Lauder
I have no career experiences in common with George Washington, being female and not having served in the military when I was of age, and being too old now.
But I do have something in common with Jefferson and Washington … and millions of Americans.
I like ice cream.
It is one of the great inventions in all of human history – OK, culinary history – to which we are indebted to the Chinese. As we are those other staples of the Fourth: fireworks and firecrackers.
Kublai Khan may be celebrated for his use of paper money – largely because of Marco Polo's account – but he also liked ice cream. He liked it so much he exercised his considerable prerogatives as the emperor to keep the recipe a secret. Then Marco Polo took it with him when he went back to Italy. And Catherine de Medici took it with her when she went to France to marry the future king, Henry II.
Ice cream – duly noted here as we observe the nation's 240th Birthday – has ties to the Founding Fathers as well, although it was only when I grew up and was researching the subject for a story that I learned of the links to Thomas Jefferson and George Washington.
I just liked it.
Summers and rainbow ice cream
When I spent childhood summers with my maternal grandparents at their cottage on a lake outside Ann Arbor, Michigan, Grandpa Mann would often take me down to the general store. Sometimes he drove but sometimes we went in his motor launch, pulling up to the pier. I'd jump out and run down the wooden planks, arms flapping in anticipation and excitement, to get a rainbow ice cream cone.
It's the only place in all the years I've encountered rainbow ice cream – a swirling mix of vanilla and chocolate and strawberry with streaks of orange that must have been orange sherbet. The man would scoop it out, press it into the cone, and then place a maraschino cherry on top.
When I celebrated the Fourth of July or Labor Day at my aunt's family cottage on a lake near Pontiac, Michigan, the ice cream was homemade. It was always vanilla. And when "Heck" and Uncle John finished turning the handle and packed it down with dry ice, as the only child there, I got to lick the "dasher" – the paddle the handle turned inside the ice cream maker – that came out coated in ice cream as soft as whipped cream.
I have these happy childhood memories of ice cream partly because Thomas Jefferson was sent to Paris by the Congress in 1784 to join American Ministers Plenipotentiary Benjamin Franklin and John Adams, representing the new nation in various matters of diplomacy. He would stay until 1789 and come to like what was then called "Ice." Sometimes "Ices."
Benjamin Franklin liked it, too. The idea that Jefferson brought ice cream back to this country has been discredited and there are those who say we are indebted to the Quakers. Some say the French. The precise story, as in so many matters of history, is open to debate.
History is less murky with George Washington.
While it's believed President Washington was a frequent customer of an ice cream shop in New York when it was the capital of the newly established United States, it is a matter of historical record that he and Martha had an ice cream maker at Mount Vernon. "George Washington Liked Ice Cream So Much He Bought Ice Cream Making Equipment for the Capital" was the title of a Smithsonian.com article in March 2014. And the Journal of the American Revolution titled its article "Washington: Father of Two Scoops."
Mount Vernon's favorite dessert?
The first article listed a number of ice cream spoons and pots – the way ice cream was made then – in inventories of Mount Vernon. Indeed, Mount Vernon research historian Mary V. Thompson says, "the large number of ice cream pots suggests that this was a favorite dessert at Mount Vernon."
The second noted that when the capital moved from New York to Philadelphia in late 1790, President and Mrs. Washington held events to meet those who wished to greet the first couple. Accounts of a social event in a "drawing room" noted that the ice cream was plentiful. And Abigail Adams, wife of then Vice President John Adams, in a letter to her sister twice mentioned the serving of ice cream.
Regarding Thomas Jefferson, the Monticello website credits him – the author of the Declaration of Independence putting quill pen to paper again – with the first known recipe recorded by an American for what we think of as ice cream. It is the one I used when, to celebrate the Bicentennial in 1976, I bought an ice cream maker like the one Heck and Uncle John had, and ice cream was made on my brick patio.
Jefferson also helped popularize ice cream when he was president and served it at the White House.
Dolley Madison may have, too.
She is known to have served ice cream at the second inaugural ball for President James Madison in 1813. Popular flavors were the natural vanilla-like cream, but fruits would often be blended in during the cooking. We hope that's what the First Lady served, because chef Walter Staib, host of the TV show "A Taste of History," has said Dolley's favorite was … oyster ice cream. (Yuck!)
Sorry, Dolley. A treat does not a tasty flavor make.
Prune, not licorice
I've encountered some out-of-the-mainstream flavors over the years. Prune ice cream, a signature dessert at the Griswold Inn in Essex, Connecticut, when I lived in the area. Licorice ice cream at a dairy shop in Merchant Square seemed worth a try on a visit to Colonial Williamsburg. And peanut butter ice cream at a dairy shop/dining room near Philadelphia that I frequented during a weekend stay and – its sign out front being a big Guernsey cow – remember as the Guernsey Cow.
The prune wasn't bad. Licorice should stay a candy. And the peanut butter was so good that when I was in the area years later and saw the Guernsey Cow sign I bought their last pint.
Whatever your favorite flavor – or flavors – the 18th century "Ice creem" is so popular today an estimated 1.53 billion gallons of ice cream and related frozen desserts were produced in the United States in 2013. And sales were $5.4 billion in the 52 weeks that ended August 10, 2014.
Cookies and Cream may not be up there with "We hold these truths to be self-evident, that all men are created equal, that they are endowed by their Creator with certain unalienable rights …." But like Thomas Jefferson and Benjamin Franklin and John Adams and George Washington – granted, he was already fighting the British up in Boston that long ago summer – we like our ice cream.
President Ronald Reagan on July 9, 1984, signed into public law a resolution that proclaimed the month of July 1984 as "National Ice Cream Month" and July 15, 1984, "National Ice Cream Day. Although it was intended for that year, it has continued to be observed. This year National Ice Cream Day – the third Sunday in July – is July 17.
But let's not forget that other date in July.
The Fourth.
Ice cream is part of the nation's celebration – there with the parades and floats, firecrackers and fireworks, brass bands playing "Stars and Stripes Forever."
It's the tastiest of our links to the Founding Fathers.
Join us on Facebook.com/CNNOpinion.
Read CNNOpinion's new Flipboard magazine.
Val Lauder, a former reporter for the Chicago Daily News and lecturer at the School of Journalism and Mass Communication at the University of North Carolina at Chapel Hill, is the author of "The Back Page: The Personal Face of History." The opinions expressed in this commentary are solely hers.