A motorist who struck a pedestrian drove almost a mile with the man's body lodged in the windshield, his head resting on the passenger seat, police in Oceanside, California, said Tuesday.
One witness told CNN affiliate KGTV he was changing the oil in his car when he witnessed the gruesome crash.
"There's no words to really describe it. I mean, just seeing that up close and personal, it's kind of traumatizing in a way," Edwin Esparza said.
Oceanside police said the woman, Esteysi Sanchez, 29, was driving home around 6:20 a.m. Monday after a night of drinking. She started to swerve on Mission Avenue and struck a pedestrian, police said.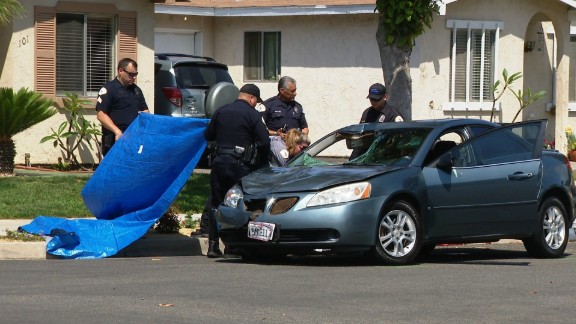 KFMB
The 69-year-old victim was believed to be walking to or from Brother Benno soup kitchen, KGTV reported. He has not been identified, police said.
"The force of the collision caused the victim to go through the windshield of the vehicle and become lodged in the front passenger seat," read the police report.
The man's leg detached from his torso and was propelled through the rear window, landing on the trunk of Sanchez's teal Pontiac sedan, KGTV reported.
She drove about a mile before pulling into a cul-de-sac two blocks from her home, police said.
Police said she abandoned the vehicle and walked home. She was arrested at her house after her boyfriend called police.
"Based on statements obtained from Sanchez and preliminary tests in the field, it was determined she was under the influence of alcohol at the time of the collision," the police department said.
Officers booked Sanchez into the Vista Detention Facility and charged her with felony DUI, felony hit-and-run and vehicular manslaughter.
Sanchez has not yet been assigned a defense attorney, court clerk Rebecca Jacka said. As per protocol, the judge will determine if she qualifies for one at the arraignment at 1:30 p.m. Wednesday at the San Diego North Division Court.
The San Diego County Public Defender's Office could not be reached for comment.