Story highlights
NEW: The leader of a group representing the Cubans says the legal battle isn't over
NEW: A devastated mother says she can't get out of bed and is praying for a miracle
(CNN) —
The lighthouse that a group of Cuban migrants scaled in an attempt to reach the United States isn't "dry land," a federal judge ruled Tuesday.
The decision means 24 migrants who've been detained for more than a month on a U.S. Coast Guard cutter will be processed for repatriation back to Cuba, the agency said in a statement.
Last month the migrants climbed the 136-year-old American Shoal Lighthouse, an iron structure about 6.5 miles south of the Florida Keys. The Coast Guard convinced them to come down after a standoff that lasted for hours.
Since then, the group has been the focus of a fierce legal battle that shines a spotlight on the U.S. immigration policy known as "wet foot, dry foot."
The decades-old policy gives Cubans who've set foot on American soil the chance to stay in the United States, while those intercepted at sea are sent back.
The approach has become increasingly controversial amid what officials say is a surge of Cubans trying to reach the United States. The spike, analysts say, is fueled largely by fears that U.S. policies that help Cuban migrants once they make it to the United States could disappear as relations between the two countries thaw.
Judge: Lighthouse landing like being intercepted at sea
In his ruling Tuesday, Judge Darrin P. Gayles sided with the U.S. federal government, concluding that the Coast Guard had made a reasonable decision when it intercepted the Cubans and treated them as "wet foot" migrants.
"As an abandoned—and dangerous—structure over seven miles from the closest dry land, no one today would live on the Lighthouse. It has never been connected to dry land, and even at the lowest tide the water is still at least four feet deep," Gayles wrote in his order. "Because the Migrant Plaintiffs here would necessarily require transportation from the Lighthouse to the mainland in order to survive, landing on the Lighthouse is essentially no different than having been interdicted at sea."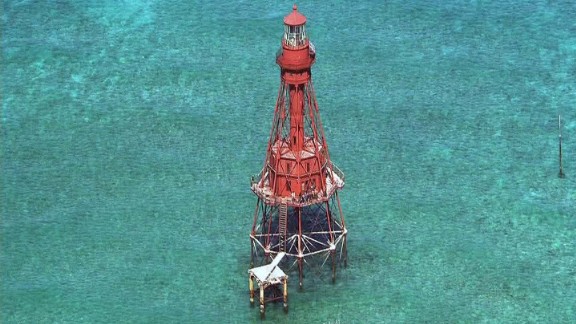 WSVN-TV/AP
Lawyers representing the migrants had argued they'd effectively landed on U.S. soil when they climbed the lighthouse, and therefore should be allowed to stay in the country.
"We are very disappointed," attorney Kendall Coffey said in an email after the judge's ruling Tuesday.
Gayles said in his order that human rights abuses exist in Cuba, and acknowledged that the migrants set out from the island with dreams of reaching freedom and opportunity in the United States.
But they didn't make it to dry land, he said, and it isn't the court's role to reshape immigration policy.
"The Court neither approves nor disapproves the Executive Branch's decision that the Cuban migrants in this case do not qualify for refugee processing as dry foot arrivals to the United States," Gayles wrote. "Developments and revisions of immigration and foreign policy are left to the political branches of the government."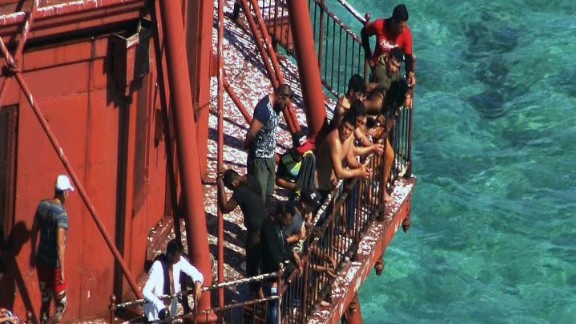 WSVN-TV/AP
Lopez says she's grateful the judge is taking time to weigh the case, but worried about her son.
Next steps
The migrants next "will be processed for repatriation under standard U.S. immigration policy," U.S. Coast Guard Petty Officer Eric Woodall said in a statement.
"Individuals must have a visa or other permission to travel to U.S. and anyone located at sea will be returned to their country of origin in accordance with immigration laws," he said.
But the leader of the Miami-based group that filed the lawsuit on behalf of the detained Cubans said he's still holding out hope.
Lawyers representing the migrants plan to file an emergency motion to block repatriation while they continue to fight the case in court, said Ramon Saul Sanchez, who leads Movimiento Democracia.
"We are disappointed with the ruling … but that is just one part of the case," Sanchez said. "We still have legal avenues at our disposal."
'I can't even get up'
Maria Elena Lopez started to read about the judge's decision Tuesday, but quickly pushed herself away from the computer.
"I couldn't finish reading the message. … I've been in bed since I heard about it," she told CNN. "I can't even get up."
Lopez lives in Jacksonville, Florida. Her son, Alexander Vergara Lopez, is one of the migrants who climbed the lighthouse last month. For weeks he's been held on a Coast Guard cutter. She doesn't know where he is and hasn't been able to speak with him.
But she's been shopping for clothes for her 26-year-old son and hoping the judge would give him and the other 23 migrants the chance to stay in the United States.
"I already had the suitcase ready. I already could see myself with him," she said Tuesday.
Lopez said now she's praying for a miracle.
"As long as they are not sent back to Cuba," she said, "we will still have hope."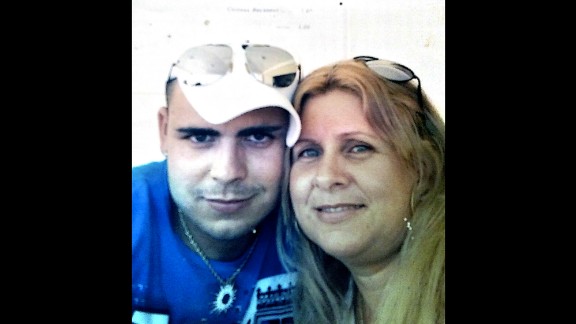 Courtesy Maria Elena Lopez
Setting a precedent?
The legal battle is bigger than the Florida courtroom where lawyers made their case, Muzaffar Chishti, director of the Migration Policy Institute's office at NYU School of Law, told CNN earlier this month.
"The U.S. government does not want this case to be a foothold for a surge in future migration," Chishti said.
The number of Cubans coming to the United States is already on the rise. Analysts say the spike is fueled largely by fears that U.S. immigration policies which favor Cubans could be on the verge of changing now that relations between the two countries are on the mend.
While immigrants from other countries seeking asylum in the United States often struggle to make their case in court, Cubans don't have to jump over the same hurdles. The Cuban Adjustment Act, passed in 1966, gives any Cuban who sets foot in the United States permission to enter. After a year and a day in the country, they're eligible to apply for a green card.
Other government policies grant them benefits like food stamps, Medicaid, housing assistance and work permits soon after their arrival.
"They never know when the door may close," Chishti said. "Many of them are not taking any chances."
More than 35,600 Cubans have arrived at U.S. ports of entry since October 1, and the numbers show no sign of slowing.
"There is a massive exodus taking place," Sanchez said.
The migration, he said earlier this month, is fueled by oppression in Cuba, not U.S. policies.
"They decided to risk their lives. Those risks are decided by thousands of people every year. It's not something to take lightly," he said. "People don't come here just to eat well. … There's a lot of other things that are happening there."
Last flight, first steps: 'Historic' surge of Cubans crossing into U.S.