Story highlights
Tim Tebow prayed with a family suffering a medical emergency on a recent flight, passengers say
Former NFL star also helped them with their luggage, one passenger says
Tim Tebow made a name for himself on football fields, but passengers on a recent Delta flight got a different glimpse of the former NFL star.
Tebow rushed to the aid of a family that was dealing with a medical emergency on a Phoenix-bound Delta flight Sunday, praying with them and helping them with their luggage, according to passengers on the plane.
As a man on the plane appeared to be experiencing heart problems, Tebow came down the aisle of the aircraft and joined them, passenger Richard Gotti wrote on Facebook.
"He met with the family as they cried on his shoulder!" Gotti said. "I watched Tim pray with the entire section of the plane for this man. He made a stand for God in a difficult situation."
Citing privacy restrictions, the airline declined to provide details about the passenger's medical emergency.
The plane's crew responded, consulting with doctors on the ground, Delta said. EMTs also met the flight when it landed as scheduled in Phoenix, the airline told CNN.
"Tim helped the family deplane with their baggage. So #compassionate," passenger Pamela Rainey said in an Instagram post.
Tebow did not immediately respond to a request for comment and has not released a statement on the incident. A spokeswoman for his employer, ESPN, confirmed the passengers' accounts.
It's unclear what happened to the passenger who suffered a medical emergency after he left the plane. Airport officials in Phoenix could not be immediately reached for comment.
There were 177 passengers and six crew members aboard the flight, which originated in Atlanta. And Tebow wasn't the only one who tried to assist, Gotti said.
"I watched strangers from all over the world and every ethnicity come to the help of this man for over an hour!" Gotti said on Facebook. "Whether it was chest compressions, starting an IV, helping breathe life into this man, or praying everyone helped."
"We can't say enough about the Delta professionals who care for our customers every day," Delta spokesman Michael Thomas said in a statement, "and we are grateful to our customers who are so often quick to extend kindness and care to one another."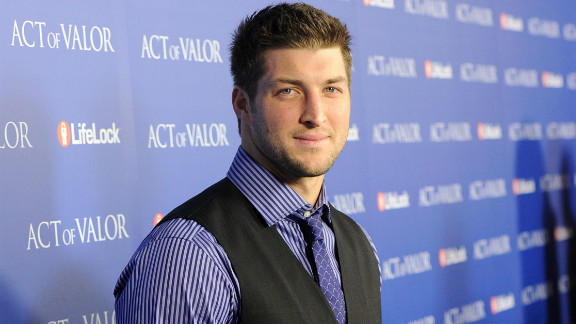 Getty Images
Tebow won the Heisman Trophy in 2007 when he was a quarterback at the University of Florida, then went on to play in the NFL for the Denver Broncos, the New York Jets, the New England Patriots and the Philadelphia Eagles.
Off the field, Tebow has been outspoken about his religious beliefs. It became such a common sight to see him praying at games that one fan coined the term "tebowing," which means "to get down on one knee and start praying, even if everyone around you is doing something completely different."
CNN's Quand Thomas and Steve Almasy contributed to this report.