Story highlights
British PM Cameron wants talks before starting separation process
19 senior Labour MPs resign in opposition party scandal
Not since World War II has Britain faced such an uncertain future.
A vote last week to pull out of the European Union has left Britain with a nasty hangover, sending the currency spiraling, dampening markets, creating a leadership vacuum and triggering talks of Scottish secession from Britain, forcing the government into damage control.
But the divorce is already looking messy, with Prime Minister David Cameron and key EU leaders in disagreement on how to even begin.
Cameron, who resigned after the vote and plans to step down in October, said he would not yet officially inform the EU of Britain's withdrawal from the bloc.
"Before we do that, we need to determine the kind of relationship we want with the EU," he said. "Any new negotiation to leave the EU will begin under a new prime minister."
But German Chancellor Angela Merkel made clear that Britain's official notice must come first, which involves invoking a clause in the treaty that binds the union.
"We cannot start some sort of informal talks without having received the notice from Great Britain. This is very clear to me," she told journalists in Berlin on Monday as EU leaders huddled ahead of a major meeting in Brussels. U.S. Secretary of State John Kerry will also attend, although Cameron is not expected to take part in much of the session.
She said the EU does "not want a stalemate." "But we have to be sure we are not hanging in the balance, and the first step must be taken by Great Britain," she said.
French President Francois Hollande and Italian Prime Minister Matteo Renzi agreed with Merkel, saying Britain must "waste no time" to get the separation started.
Opposition Labour Party leader Jeremy Corbyn, who backed Britain remaining in the EU, said stalling the announcement would leave Britain in "a state of paralysis," delaying for months what could be a two-year separation process, potentially followed by more years of trade talks.
But Corbyn faces political paralysis of his own, and his Labour Party is offering no more certainty to the British public than the ruling Conservatives.
Nineteen Labour Party MPs have resigned from senior posts in an act of no confidence in the divisive leftist leader.
Cameron was quick to jump on fallout from an attempted Labour Party coup, appearing chirpy despite the failure of his campaign to keep Britain in the European Union.
"And I thought I was having a bad day," he joked in Parliament of Corbyn's leadership problems.
Broken promises
Like the markets, Brits are jittery, not knowing who will lead their country come October or whether any of the promises made by the leave camp will even come into fruition.
Leave campaigners are already back-pedaling on their promises, and many who voted to leave say they feel cheated, and regret their vote.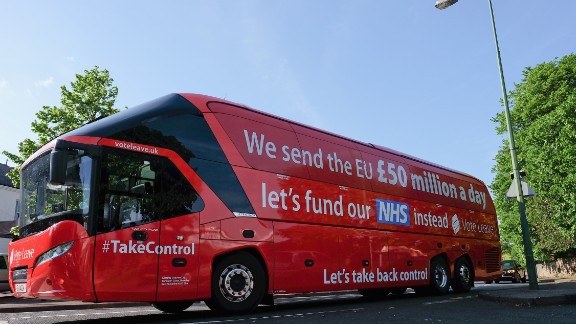 Ian Forsyth/Getty Images Europe/Getty Images
Brexit: Do you #Regrexit? UK voters voice doubt over referendum choice
The leave camp said pulling out of the European Union would save Britain £350 million a week, money that could be poured into the country's stretched National Health Service. Now they are saying they can't guarantee that would actually happen.
Brexit's broken promises: Health care, immigration and the economy
In fact, nothing will change until Britain invokes Article 50 of the Lisbon Treaty.
Who's in charge?
Cameron announced in parliament that a new unit would be established to deal specifically with the EU divorce in what he described as one of the "most complex" tasks assigned to the civil service in decades.
It would bring together members of various bodies and services, including the cabinet office, the foreign office and the Treasury, among others.
Earlier a spokeswoman from the prime minister's office said that Oliver Letwin, one of Cameron's influential policy advisers, would lead the unit.
Letwin is an old friend of Cameron's from Eton College. Cameron had come under criticism for peppering his cabinet with old school friends from the expensive institution.
U.S. Secretary of State John Kerry said that the vote would not change Washington's "unbreakable bond" with Britain.
"We believe our relationship remains as strong and as crucial as ever," he said at a joint press conference in London with British Foreign Secretary Philip Hammond.
Hammond said that vote was "damaging to Britain" but also "damaging for the European Union," arguing that both Britain and EU would have been enhanced if the people voted to remain in the bloc.
'Open for business'
Leaders are now trying to allay fears that Britain may be heading for recession and are trying to boost confidence in its markets and currency to avoid an economic meltdown.
Cameron reminded parliament that Britain has "one of the strongest major advanced economies in the world."
But the country just lost its top AAA credit rating with agency Standard & Poor's, which measures a country's ability to meet its financial commitments.
"In the nationwide referendum on the U.K.'s membership of the European Union (EU), the majority of the electorate voted to leave the EU. In our opinion, this outcome is a seminal event, and will lead to a less predictable, stable, and effective policy framework in the U.K.," S&P said in a staement.
"The vote for 'remain' in Scotland and Northern Ireland also creates wider constitutional issues for the country as a whole," it said.
But Cameron assured the world that Britain was "well placed to face the challenges ahead. The [central] bank's stress tests show that UK institutions have enough capital and liquidity reserves to withstand a scenario more severe than the country currently faces."
John Oliver on Brexit: 'There are no f—— do-overs'
Cameron's comments echoed those of UK Treasury chief George Osborne, who said earlier that the economy remained "fundamentally strong."
"To companies, large and small, I would say this: the British economy is fundamentally strong, highly competitive and we are open for business."