Story highlights
NEW: 25 people dead in the flooding
Flash flooding watch issued for most of the state on Monday
More than 17,000 customers without power, possibly until Monday or later
The floodwaters are receding in parts of West Virginia, and although Sunday's weather boded well for a region hammered by the nation's worst flash flooding in years, some have found coming home as jarring as being evacuated.
The state is bracing for more flooding. The National Weather Service has issued a flash flood watch for most of West Virginia on Monday, from morning to evening. Showers and thunderstorms are expected as a cold front slowly approaches from the northwest. Heavy rain combined with saturated soil could cause additional flooding, the weather service said.
Clendenin was one of the towns hardest hit by the flooding. Thick, slippery mud coated streets in the town of 1,200 residents, about 30 miles northeast of the state capital, Charleston.
Flash flooding washed a pickup truck into a bog, inundated homes and businesses and pushed a Dairy Queen right out from under its awning, one end of which sat Sunday on the knee-high parking barriers in the burger joint's parking lot.
Teresa Candler was allowed to return to her home Saturday, or what was left of it. Rooms in the house had been ripped apart, the refrigerator was flipped over and furniture had been tossed about the living room, according to CNN affiliate WSAZ.
Candler and relatives tried to salvage what they could, but even her family photos were covered in mud. Her daughter estimated it could take months to clean up.
"It's devastating," Candler told the station. "The last time I looked out I saw the roof of my house and that's all I've seen and it was gone."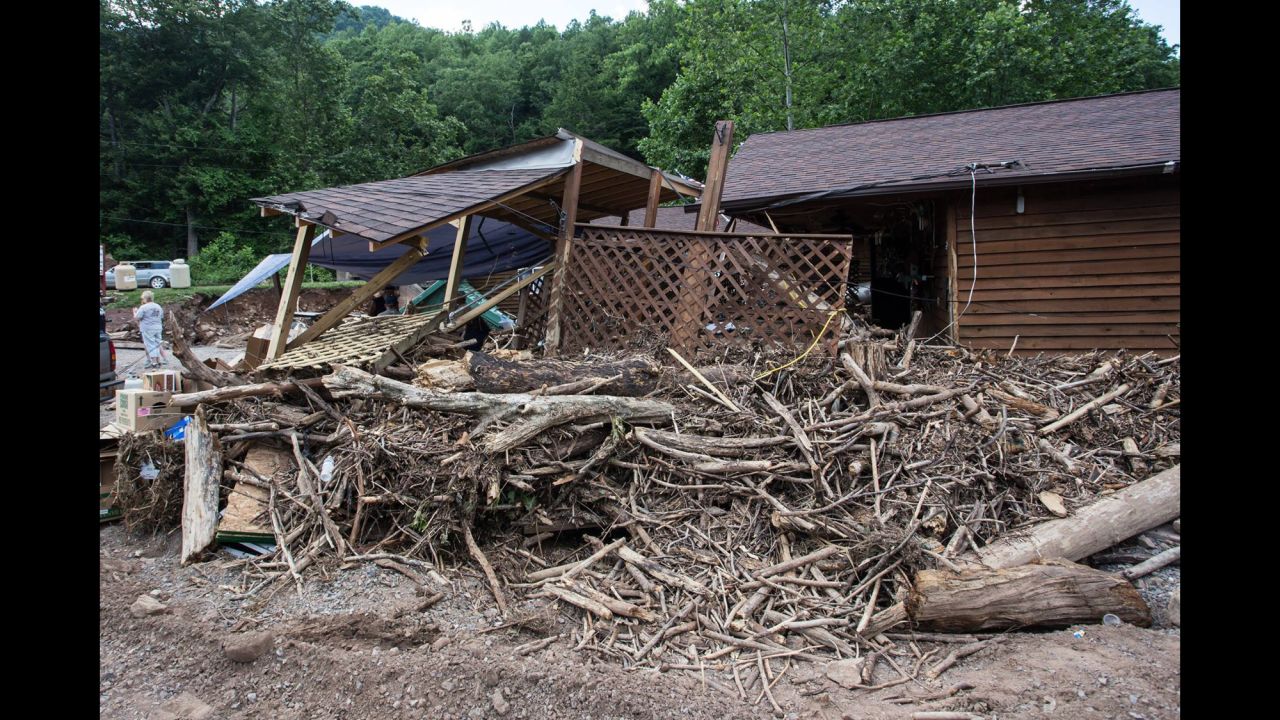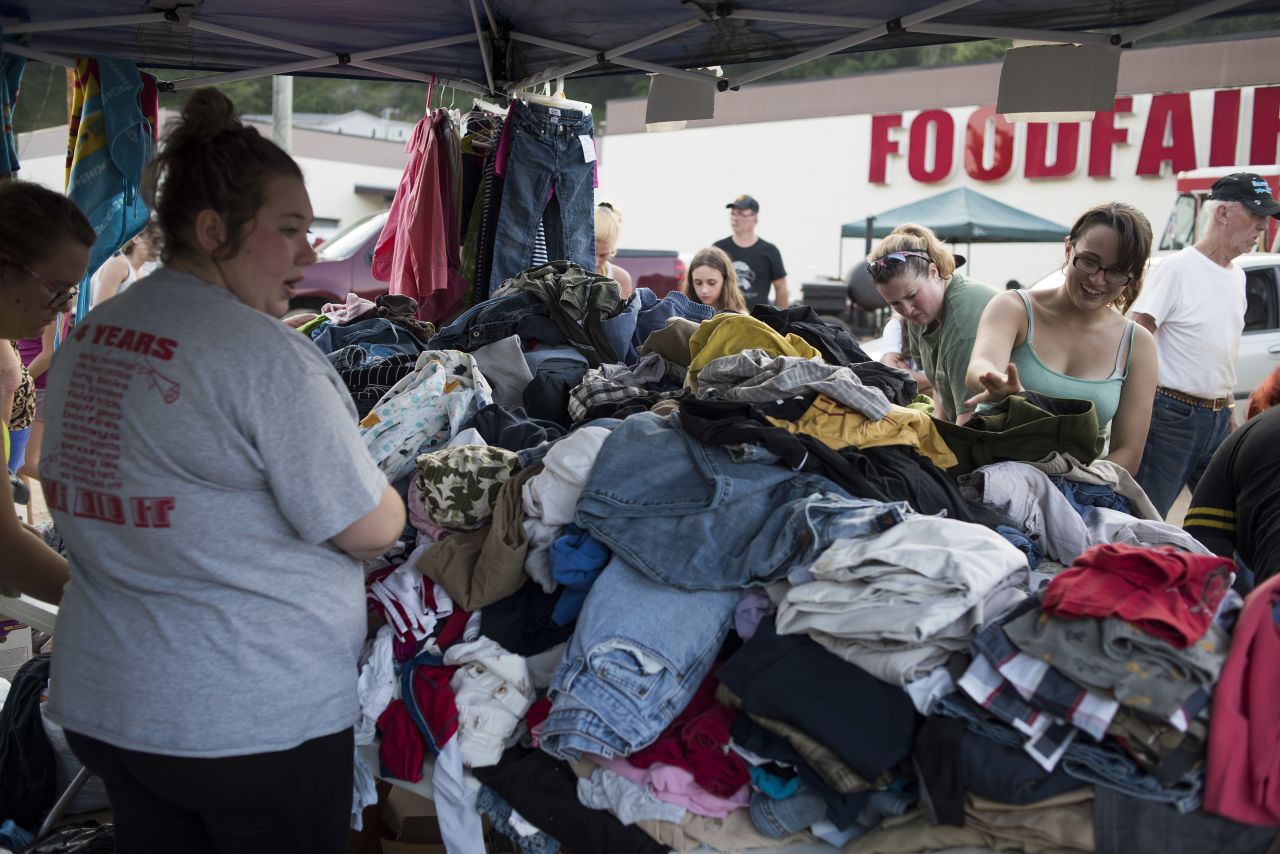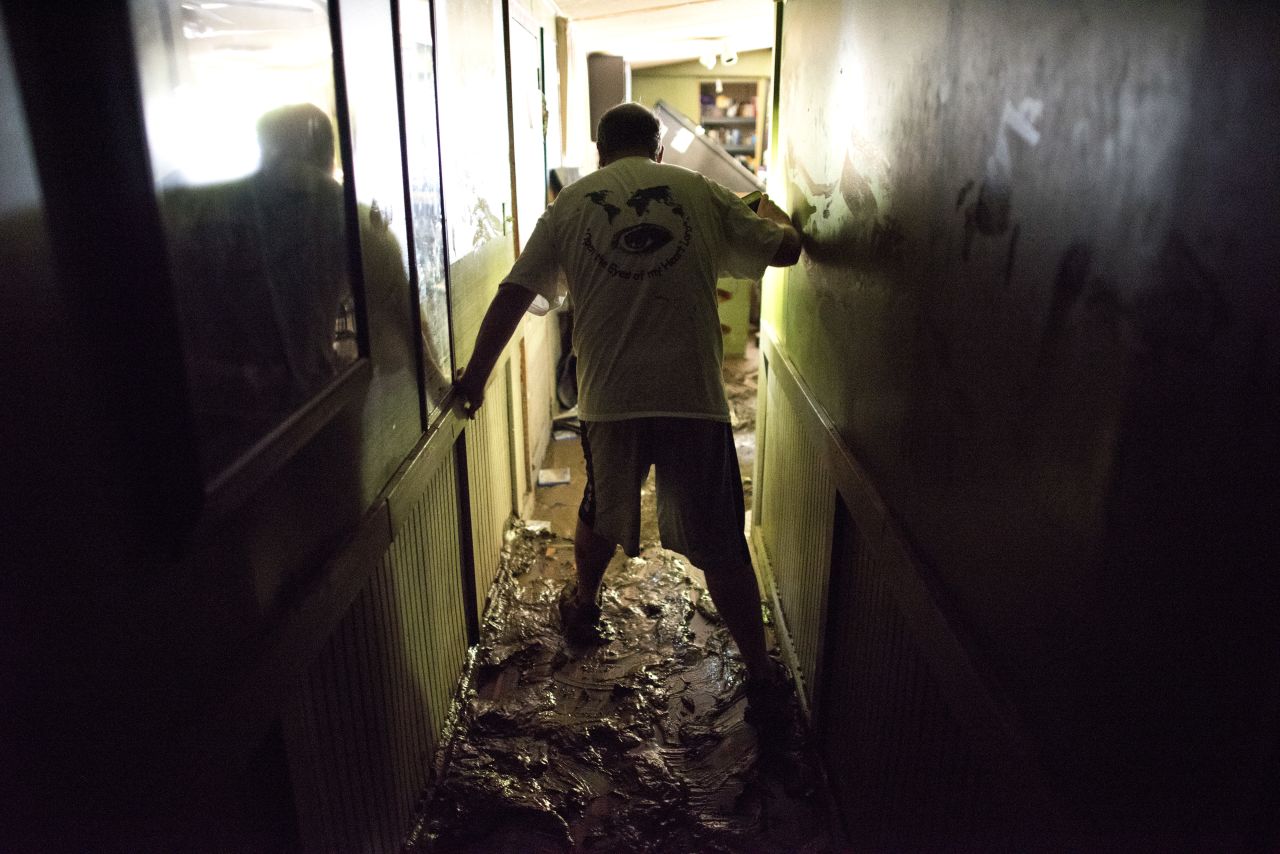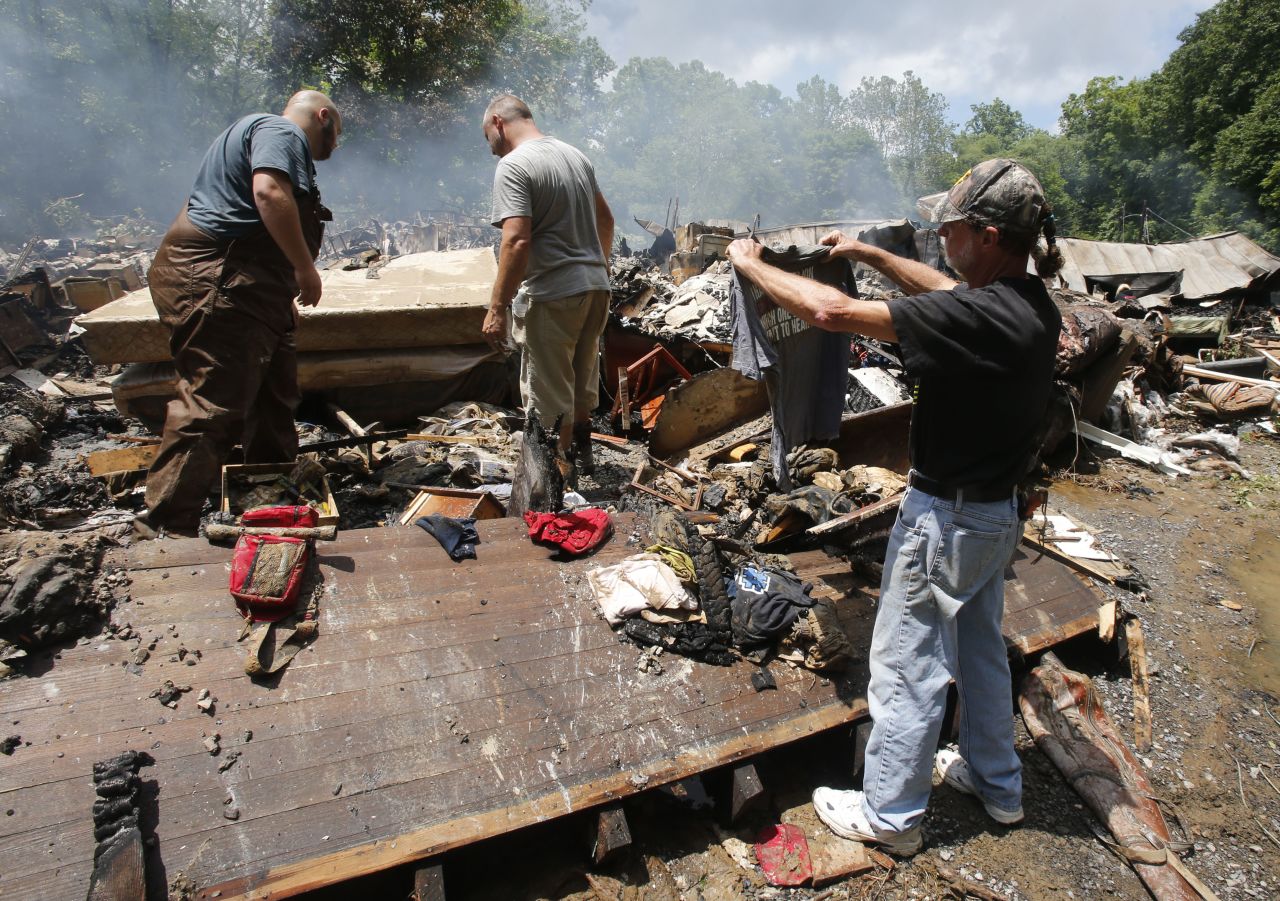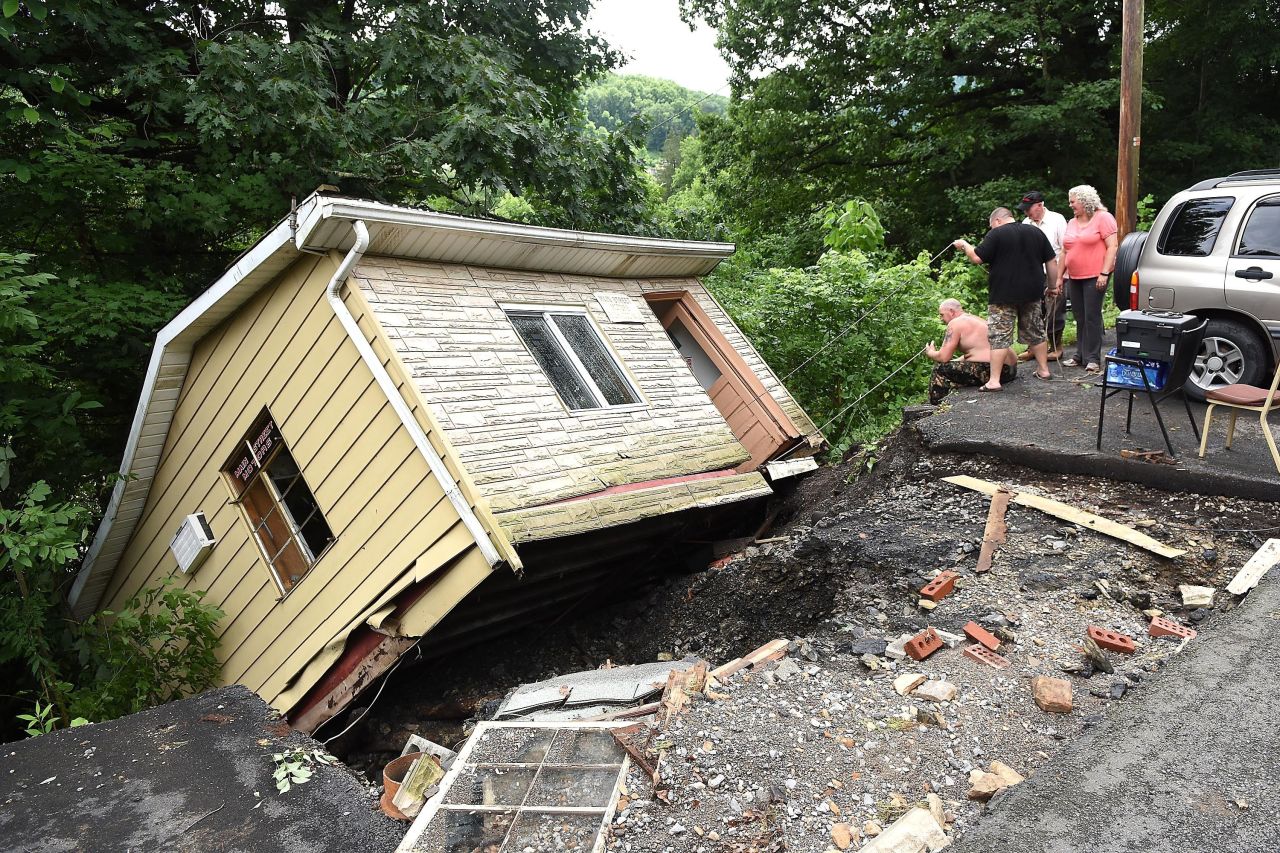 West Virginia flooding
'We ran out of time'
David Ross, whose family was forced to haul its valuables upstairs when floodwaters filled the home, said it's the worst flooding he'd seen in the state in almost four decades.
"We ran out of time," Ross said Saturday. "We couldn't get everything up, and when the water started coming into the house, it didn't stop until we had almost 4 feet of water on my main floor. And it's never been that way."
U.S. Sen. Joe Manchin told CNN he lived his entire life in West Virginia, and he'd never seen water rise this high so quickly. The priority now, he said, is locating the missing, restoring power and infrastructure, and making certain those in need of help receive it.
But some of those residents accepting federal assistance may be forced to relocate.
"To get assistance, they're gonna have to move out," Manchin said. "They can't rebuild back or be in the same area where it could happen again."
"When you get this much water, to hit for this long and this hard, for over a day, day and a half, two days, nothing can handle this. It's got to go somewhere, but we've never seen anything hit this hard and this quick. So yeah, you have to look and see what do we do now, how do we move people around, make sure it doesn't happen again, or protect them."
Power still out
As of Monday morning about 8,800 customers had no electricity, the area's two main power providers said. Appalachian Power, which serves the Charleston area, said it must make repairs to its infrastructure before it can restore electricity. .
The flooding inundated at least two substations and destroyed an access road.
Trees and power lines fell as heavy rains sent creeks and rivers out of their banks late Thursday and early Friday, leaving many stranded residents waiting to be rescued.
The West Virginia Division of Homeland Security and Emergency Management has reported 25 deaths: 17 in Greenbrier County, six in Kanawha County and one each in Jackson and Ohio counties.
Heavy rain battered much of West Virginia earlier this week, with as much as 10 inches of rain falling in a brief period Thursday. Water poured out of creeks and rivers, prompting scores of rescue calls.
Water poured out of creeks and rivers. The Elk River, which runs alongside Clendenin, crested at 33.37 feet Friday morning, meteorologists said.
The river rose more than 27 feet from Thursday afternoon to Friday morning, the highest crest since record-keeping began more than 125 years ago, according to the National Weather Service.
The high waters were receding Saturday, but officials, such as those in Kanawha County, are warning people to watch out for "flood debris, downed power lines and downed trees." CNN meteorologists said no more rain is expected until Monday.
A handful of people converged on the steps of the state Capitol on Saturday evening, writing messages for family and friends and lighting candles for those lost in the flooding, reported CNN affiliate WVAH. They ended by singing John Denver's "Take Me Home, Country Roads," the station said.
State of emergency
Getting help
Preliminary damage assessments for individual assistance will begin Monday, while assessments for public assistance are slated for Tuesday.
This is the first step in helping the state government gauge the scope of the damage, and determining if additional assistance is needed.
Individuals and business owners who sustained losses can register at www.disasterassistance.gov or call 1-800-621-3362.
Residents with speech or hearing disabilities can call 1-800-462-7585. Operators will field calls from 7 a.m. to 10 p.m. everyday, until further notice.
– West Virginia Division of Homeland Security and Emergency Management
President Barack Obama declared West Virginia a disaster area and made expanded funding available for three hard-hit counties: Kanawha, Greenbrier and Nicholas. Sen. Manchin said he expected that list to grow.
The cities of Frame and Elkview in Kanawha County suffered significant damage. Nearly 500 people were stranded at the Elkview Crossings Mall for more than 24 hours when rain washed out an access road, officials said.
Gov. Earl Ray Tomblin has called in 300 National Guard members to help in eight counties and could activate as many as 200 more.
Among the areas still reeling from the storms are Roane County, where 500 homes were severely damaged or destroyed, Fayette County, which doesn't anticipate being able to repair its water system until Monday or Tuesday; and Kanawha County, which is continuing its search-and-rescue operations as 90 displaced residents live in temporary shelter.
The governor declared states of emergency in 44 counties Thursday night. Eleven remaining counties, located in the northern and eastern panhandles, were excluded from the emergency declaration. The communities of Elkview, Clendenin and Frame, located in Kanawha County, were particularly hard hit.
Social media pages for the state emergency management agency offered links for assistance. And the West Virginia Department of Health and Human Resources is coordinating the delivery of tetanus vaccinations to several counties early this week.
The state Department of Environmental Protection is also working to assist with debris removal by extending landfill hours in affected counties. And the West Virginia Department of Health and Human Resources is coordinating the delivery of tetanus vaccinations to several counties early this week.
'My apartment is gone'
At least two children were killed in the deluge, including a 4-year-old boy who was washed away by floodwaters in Jackson County, officials said.
Homes and infrastructure across the state have been severely damaged or washed away. High terrain along rivers speeded the rapid floodwaters. As of 6:30 a.m., there were 158 emergency rescue calls in Kanawha County, located in the southwestern part of the state, the sheriff's office said.
Others saw a home that burned as it floated down Howard's Creek, having been washed away by floodwaters in the same Greenbrier County town.
"The house in front of where my apartment used to be is turned over. Some houses are totally gone," Agner told CNN. "My apartment is gone."
The PGA announced Saturday that the tournament is canceled because the course was badly damaged.
CNN's Sean Morris, Joe Sterling, Ralph Ellis, Farida Fawzy, Jareen Imam, Azadeh Ansari, Keith Allen, Joe Sutton, Kevin Liptak, Vivian Kuo, Taylor Ward, Scott McLean and Amanda Sansone contributed to this report.