Editor's Note:
Story highlights
Jeison Aristizábal knows the challenges of growing up disabled and lacking resources
ASODISVALLE provides therapies to young people living with a range of disabilities
Aristizábal was honored as a 2016 Top 10 CNN Hero and selected as CNN Hero of the Year in an online vote | Tribute Show video
As a young man with cerebral palsy, Jeison Aristizábal has fought his entire life to overcome the obstacles in his way.
"When I was a young boy, a doctor told my mom that I would amount to nothing," said Aristizábal, who grew up in one of the poorest areas in Cali, Colombia.
His family provided the support he needed to live an independent life. But early on he realized there were thousands of children with physical and cognitive disabilities in his community who weren't as lucky.
"Many families … are misinformed. They think that it's God's punishment," said Aristizábal, 33. "There are children who spend years in bed … because their families don't know how to care for them."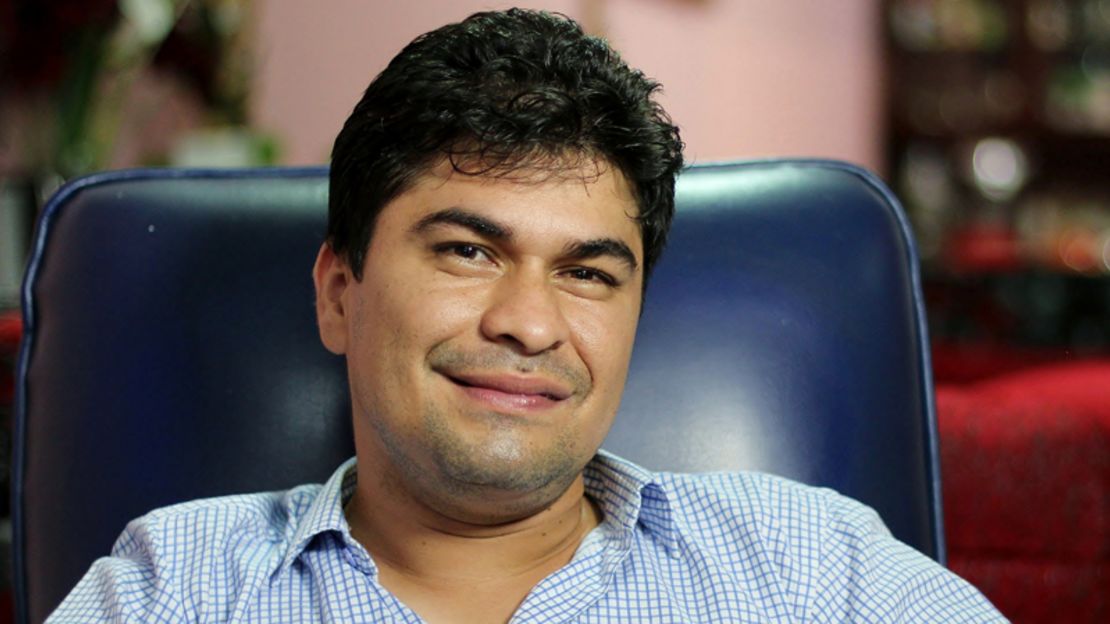 For the last 15 years, Aristizábal has been working to change perceptions and give young people with disabilities a brighter future.
His nonprofit, ASODISVALLE (an acronym that translates to Association of Disabled People of the Valley), offers a range of services that have helped transform the lives of more than 1,000 young people and their families — all for free.
CNN's Laura Klairmont spoke with Aristizábal about his work. Below is an edited and translated version of their conversation.
CNN: What struggles did you experience growing up?
Jeison Aristizábal: I had a difficult childhood that was full of doctor's appointments and surgeries. I had to witness my parents rummaging for money so they could take me to the doctor. On some occasions, my parents didn't have enough money to pay for surgery, so we had to wait.
When I was in a wheelchair, I would watch other kids running, playing and riding bicycles. I think that was one of my biggest motivations — I had to be able to be like them.
Top 10 CNN Hero Jeison Aristizábal
My mom started fighting against that initial diagnosis. She took me to physical therapy and to get many different kinds of treatments. I went to a regular school, and I kept pushing myself. I became class president, and I started proving to my friends, and myself, that I have many talents.
CNN: What inspired you to help other children with disabilities?
Aristizábal: I met a child in a very poor house, a boy who grew up on a bed for eight years, and I think that boy really touched my heart because he reminded me of when I was in that same situation. I started collecting and donating wheelchairs so that boy and many other children could at least move.
My next goal was to provide physical therapy. I asked my parents if we could work from their garage. I got a ball, a mat, and I found a girl who was finishing up her last year of physical therapy training. We started off with 20 kids, but children kept coming and coming. Eventually, we literally took over my parents' house. Now we have our own center.
CNN Hero Jeison Aristizábal: Wheels to go
CNN: What are the different programs that your foundation offers?
Aristizábal: We work with children who have a range of complex disabilities, including autism, Down syndrome and cerebral palsy.
The foundation runs a school. We have a medical clinic and give speech, physical and occupational therapy. We realized that many of the kids who came to the center were malnourished, so we provide healthy meals. We also have a job training program for the older kids.
This place has become the second home for thousands of children and their families. The most special thing about the foundation is the love and care that we give to the children. We fight for their happiness.
CNN: You also strive to change the way society views people with disabilities.
Aristizábal: Around the world, when families have a kid with a disability, they think that child won't be capable of much. We have to change that idea completely. We have to tell these families that their child may have a disability, but that doesn't mean that person doesn't have talents that will enable them to succeed in life.
Sometimes families are the first ones to get in the way of their kid's progress. So we work with them and strive for them to be the main engine to move their kids forward. We educate these families through psychologists and through each of our own personal stories. We've changed the way of thinking here.
Fifteen years ago in Aguablanca, disabled children were kept hidden because their families didn't know how to care for them. Today, they go outside, they study, they are becoming independent.
CNN: What are your future goals?
Aristizábal: I am in law school right now. My greatest hope is to change laws and the way in which the government treats people with disabilities. I'm trying to learn as much as I can about the legal system in Colombia in order to help many more families and children.
Every day there is someone waiting for our help. I have made an effort for many people to be able to study, have a family, go for a walk, have fun, move forward, and most importantly, to dream.
Want to get involved? Check out the ASODISVALLE website and see how to help.
To donate to ASODISVALLE, click the CrowdRise widget below.
Donations are accepted via Caring for Colombia, a U.S. 501(c)(3) nonprofit.