Story highlights
Social media users express support with #GaysBreakTheInternet, #LoveWins, #OrlandoStrong
World and religious leaders send messages of condolences
The mass shooting at a gay nightclub in Orlando, Florida, has prompted an outpouring of sympathy across the globe, with people unfurling rainbow flags and holding vigils in tribute to the victims.
Many of the most passionate reactions to the deadly attack have come from gay social media users.
In a flurry of posts, gay people around the world have shared pictures of themselves posing, kissing and holding their partners' hands in a celebration of their sexuality, using the hashtag #GaysBreakTheInternet.
Authorities probe ISIS ties to Orlando massacre
The worst mass shooting in U.S. history, which left at least 49 people dead and more than 50 wounded, has been described as both a terror attack and a hate crime by leaders and experts.
In a riposte to the attack, Twitter user @norlicious of Sweden posted pictures of herself kissing other women, saying "because our rights aren't a debate issue."
Instagram user epyloniana from Germany posted a picture of herself and another woman wearing pink tank tops with "legalize gay" across them.
Others used #LoveWins and #OrlandoStrong to show their support.
'We're queer, we will not live in fear'
A massive crowd gathered Monday outside London's the Admiral Duncan pub, one of the city's best-known gay bars, which was the site of a bomb attack in 1999. Three people died and scores were wounded when neo-Nazi David Copeland detonated a nail bomb in a sports bag.
In the packed street, people held up rainbow flags and umbrellas, bouquets of flowers and balloons to show their solidarity with victims. Banners and signs read "Love Wins," "Not afraid" and "Love Trumps Hate."
"We're here, we're queer, we will not live in fear," the crowd chanted.
A minute's silence was followed with a round of cheers and applause as helium-filled balloons in rainbow colors were released, floating off into the skies above Soho.
The London Gay Men's Chorus burst into song, serenading the crowd with renditions of "Bridge Over Troubled Water" and "Somewhere Over the Rainbow."
"There are no words to articulate the horror of what has happened to these people," said Jerzy Kierkuc-Bielinski, who was at the vigil with his partner, Don Lickley.
"It's all the more poignant that we're standing here with our brothers and sons, sisters and daughters outside the Admiral Duncan on Old Compton Street, which has experienced the horror of this kind of attack in the past, on people who were just meeting with friends, having fun – just existing, not provoking."
Edwin Sesange, originally from Uganda, said the attack was a "wake-up call … to remind us that we need to do more to change attitudes, to reach out to people." He added, "if something like this can happen as a reaction to seeing two boys kiss, then it shows more work needs to be done."
'Cancer of radicalization'
World and religious leaders were also quick to stand in solidarity with the United States, as the nation reeled from its worst terror attack since 9/11.
Omar Mateen, the U.S.-born gunman, pledged allegiance to ISIS in a 911 call during the attack.
Queen Elizabeth II, who celebrated her 90th birthday this weekend, led tributes in the UK, saying on Twitter that both she and Prince Philip were shocked by the events in Orlando.
And British Prime Minister David Cameron said he was "horrified" by reports of the shooting.
German Chancellor Angela Merkel said in a statement to President Obama that "we are connected in deep mourning."
"But even in the face of such cruelty, we will stick to our values and beliefs … We will not give up our freedom, our lives rooted in humanity and charity and our enjoyment of the community. Our open societies are stronger than any rabid hatred," Merkel said.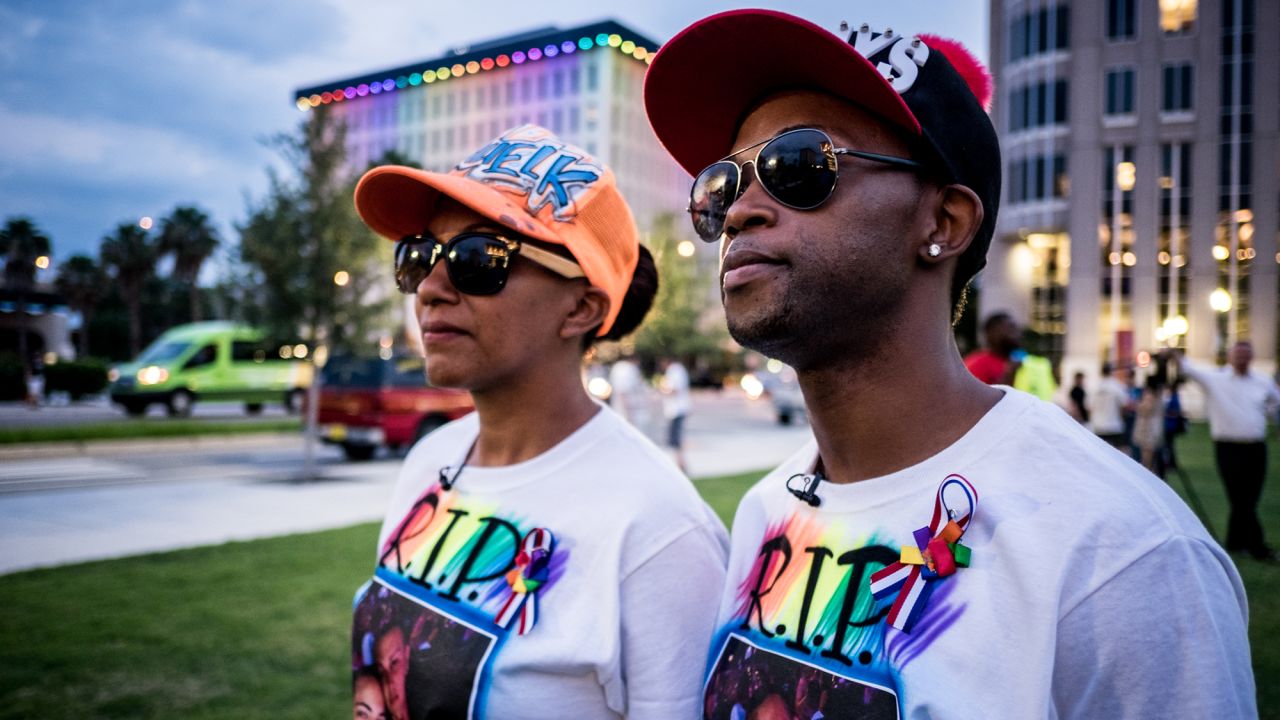 Orlando vigil for shooting victims
Pakistan's Prime Minister Nawaz Sharif said that shooting didn't "represent the will of a vast majority of Muslims."
"It is just another representation of a cancer of radicalization – one that we promise to fight every day of our lives," he said in a statement.
What we know about the attacks.
Chinese President Xi Jinping, India's Narendra Modi, former Afghan President Hamid Karzai and Singapore President Tony Tan were among the leaders that expressed their condolences and offered sympathy to the victim's families.
Days after a terror attack in Tel Aviv, Mayor Ron Huldai tweeted an image showing City Hall lit up in rainbow colors and the colors of the U.S. flag. In Seattle, a rainbow flag flew at half-staff on the Space Needle, while the One World Trade Center in New York was among a number of U.S. buildings lit up in rainbow colors.
In France, members of the lesbian and gay community gathered at an art center in downtown Paris on Sunday, placing burning candles in the shape of a heart and draping themselves in rainbow flags.
"We are here to express our solidarity with the victims and their families, with all the victims who were injured," one woman who attended the vigil told CNN affiliate BFM TV.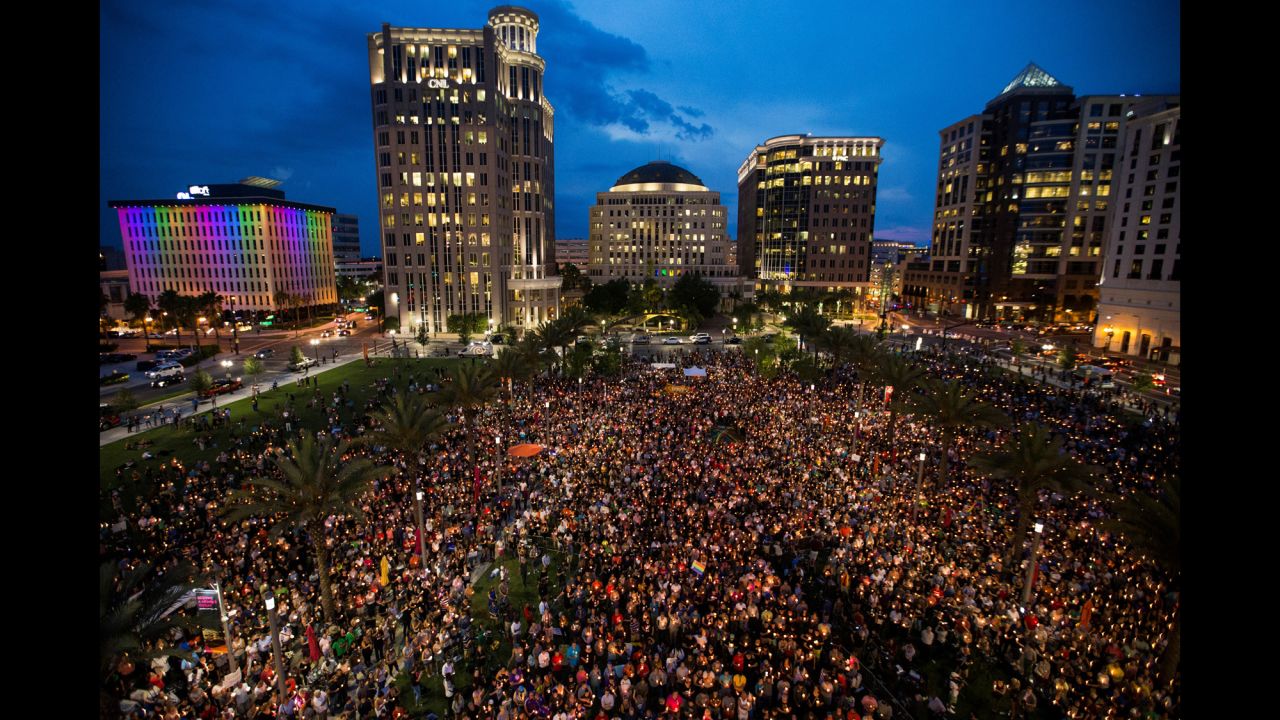 World reacts to Orlando attack
"We have a lot of solidarity as well as a lot of sadness."
The attack took place during Pride month – "a time of joy and celebration" for the gay and lesbian community – said the International Lesbian, Gay, Bisexual, Trans and Intersex association (ILGA), which advocates for equal rights and represents 1,100 groups worldwide.
"It is hard not to fear that this was a targeted attack against a community, and this is a dreadful reminder of the price far too many LGBTIQ persons, all around the world, have to pay simply for being who they are," the ILGA said in a statement.
In China, 51 LGBT groups issued a collective statement expressing "condolences, solidarity and love." Blued, China's largest gay dating app, changed its loading screen to honor the Orlando shooting victims.
Gay and lesbian groups planned a candlelight vigil for Monday evening in Seoul, the capital of South Korea.
Pope's 'horror'
In unusually vivid language, the Vatican said Sunday that Pope Francis reacted in "horror" and "condemnation" after learning of the nightclub massacre.
"We all hope that ways may be found, as soon as possible, to effectively identify and contrast the causes of such terrible and absurd violence which so deeply upsets the desire for peace of the American people and of the whole of humanity," the Holy See Press Office said in a statement.
Australian Prime Minister Malcolm Turnbull offered condolences to the bereaved and sought to reassure his own countrymen and women, saying that Australian intelligence and security agencies "had the tools" they need to keep people safe.
"We are rigorous in our efforts to ensure that guns are not illegally imported into Australia and that our strong gun control laws are strictly enforced," Turnbull said.
From Sydney, Australia, Twitter user @sethdarby posted a picture of a vigil from Taylor Square, the heart of the city's gay community and nightlife.
The Sydney Harbor Bridge was lit up in rainbow colors, while Australians in Melbourne also attended vigils.
"I just feel incredibly sad about what has happened," one woman told CNN affiliate Sky News Australia in Melbourne. "I was meant to be going into work and I thought, nah, I need to come here and spend time with my community."
CNN's Amir Ahmed and Marilia Brocchetto in Atlanta, Shen Lu in Beijing and Chieu Luu in Hong Kong contributed to this report.