They range in age from 18 to 50. A barista, an accountant, a recent high school grad.
While different in so many ways, they have one thing in common: They lost their lives in the deadliest mass shooting in the United States.
Authorities have released the names of the 49 people who were killed in a massacre early Sunday at a gay club in Orlando.
Edward Sotomayor was a popular travel planner nicknamed "top hat Eddie" for the black hats he always wore. Cory Connell was a student who dreamed of becoming a firefighter. Eddie Justice was an accountant who loved living in downtown Orlando. The youngest killed was Akyra Murray, a star athlete who had just graduated from high school.
Here's what we know so far about the victims:
Edward Sotomayor Jr.
The 34-year-old Sarasota resident was an avid traveler and easily made new friends.
Friends paid tribute on social media using emojis of black hats.
"Eddie was one sweetheart and I will miss talking and working with him. That smile and top hat is burned in my memory," Nikki Stjames posted.
"He was a kind and loving man. A man that lit up the room with his great smile," said friend Jason Howell. "Always there to try and solve a problem whether small or big. Just the posts on all of the social media sites show how much he is loved and how he touched so many lives … he will truly be missed."
Sotomayor worked at a travel agency that catered to the gay community, and made his mark on clients as well.
"He was one of our tour leaders, known for wearing his top hat, and for being a really nice guy," Robin Ziegler Suess posted on social media. "He was also a tour leader on our recent Caribbean cruise in January, where I had the honor of wearing his top hat."
Al Ferguson, owner of Al & Chuck Travel where Sotomayor worked, described Sunday as "one of the saddest days" of his life.
Stanley Almodovar III
The 23-year-old pharmacy technician loved his family. And the feeling was mutual.
When he went out on that tragic night, his mother, Rosalie Ramos, made him a tomato and cheese dip, and put it in the refrigerator, she told the Orlando Sentinel.
But he never got to eat it. She got a phone call about the shooting in the middle of the night and rushed to the nightclub.
The last video he posted on social media showed him laughing and singing on the way to the club, Ramos told the paper.
Luis Omar Ocasio-Capo
The 20-year-old was one of the youngest killed in the shooting.
He was a dancer and a barista, according to a local blog dedicated to the victims.
The Cleveland Scene noted he was a former resident of the Ohio city, where his mother still lives. The Scene noted that Fusion spoke to Leonarda Flores, Ocasio-Capo's cousin, who said of the victim: "He did not care, he loved himself, and he loved others. He was very open, he lived who he was. He knew he was beautiful, he knew it, and he flaunted it."
It's also reported that Ocasio-Capo used the French flag filter on his Facebook profile photo after the terror attacks in Paris.
A former co-worker of Ocasio-Capo's, Claudia Mason, who worked with the victim at Target, said, "He lit up any area he worked in. … So sad that his life was cut so short by such an evil person."
Akyra Monet Murray
Murray was just 18 and in Orlando on a family vacation, visiting her brother after finishing high school in Philadelphia.
(She was a) dream child. Couldn't ask for a better daughter. Perfect. She did everything for us except for clean her room. Outside of that, (she was) outstanding," said her mother, Natalie Murray.
Murray said her daughter wanted to go to college to study why violent criminals behave the way they do and what causes them to commit evil.
She had just graduated from West Catholic Preparatory High School and had signed a letter of intent to play basketball at Mercyhurst University, according to the high school.
"Akyra was a superstar who was a leader amongst her classmates and teammates. She was an honors student who graduated third in her class, and a 1,000 point scorer on the Lady Burrs basketball team," the school said in a statement.
Luis S. Vielma
Vielma, 22, worked at Universal Orlando, where he had devoted fans.
One of those mourning his death is J.K. Rowling, creator of the "Harry Potter" book series. The author said Vielma worked on the Harry Potter ride at Universal.
"I can't stop crying," she tweeted.
According to his Facebook profile, Vielma was studying to be a physical therapy assistant at Seminole State College of Florida. It said he worked as a production assistant at Disaster Studios, as a rides attendant at Harry Potter And The Forbidden Journey and attractions operations at Universal Orlando Resort.
Juan Ramon Guerrero
The 22-year-old worked as a telemarketer while attending the University of Central Florida.
"He was always this amazing person (and) he was like a big brother to me," his cousin Robert Guerrero told CNN affiliate WESH-TV.
Guerrero came out to his family this year, and was afraid they would not accept him, his cousin said.
But he had no reason to be. They not only accepted him, but they also embraced his boyfriend, Guerrero said.
"As long as he was happy, they were OK with it," he told the TV station.
Christopher Andrew Leinonen
Leinonen, 32, was Guerrero's boyfriend. He was known as Drew. His mom said he established the Gay-Straight Alliance at his high school. "He was fun, he was happy, he was Orlando's child." his mother told CNN's Anderson Cooper. "He was a genuinely good person. He was fun. He was happy."
She said her son went to the University of Central Florida and also attended graduate school there. He had roots in Detroit, but he moved to Florida with his mother and attended Seminole High School. He became a practicing psychologist after getting a master's degree, the Detroit News reported, quoting a letter from his father.
Eric Ivan Ortiz-Rivera
The 36-year-old moved to Florida from Puerto Rico for a chance at a better life, the Orlando Sentinel reported.
Ortiz-Rivera rarely went out but decided to attend a friend's housewarming celebration at the nightclub early Sunday.
"I am really in shock that he was in the club, because he was not usually a club-scene person," former roommate Abismel Colon Gomez told the paper.
The Napa Valley Register reported Ortiz-Rivera worked in merchandise management for Toys R Us and Ross, had earned a degree in communications from a university in Puerto Rico and came to Florida to advance his career.
Peter O. Gonzalez-Cruz
At 22, he was among the youngest victims.
He worked at a UPS Store and was known for memorizing the names of regulars, according to customers.
ʺSuch a happy soul, so hilarious, and made anyone's frown turn upside down," a friend wrote on Facebook.
He was known among family and friends as "Ommy," and was always the life of the party.
"Peter makes a difference everywhere he goes. He was a happy person. If Peter is not at the party, no one wants to go," said his aunt, Sonia Cruz, the Daily Herald reported.
The Orlando Sentinel reported he attended Colonial High School and Aloma Charter High School in Winter Park.
Kimberly Morris
The 37-year old bouncer at Pulse nightclub always had a smile on her face.
She moved from Hawaii to Florida a few months ago to help her mother and grandmother.
She enjoyed mixed-martial arts fighting and basketball, according to the Orlando Sentinel.
It has been years since she ran down the court at Torrington High School in Torrington, Connecticut.
But the school's former athletic director said he can still remember Morris, who graduated in 1996.
She was a "scrappy player," Charlie McSpiritt said, who "played the game to her fullest."
Eddie Jamoldroy Justice
The 30-year-old accountant lived in downtown Orlando.
Before he was identified as among those killed, his mother spent an agonizing day looking for him after he texted her from the club, according to CNN affiliate WFTV-TV.
"Mommy I love you," he said in his first message. "In club they shooting."
His mother, Mina Justice, tried to call him, but he did not answer. She sent him a series of text messages, trying to reassure him that she had called 911 and help was coming.
After they exchanged more messages, including one where he said the gunman was in their bathroom hideout, he suddenly went quiet.
Enrique Rios
A relative said the 25-year-old was an angel to most people who knew him.
Erick Leon, who described himself as Rios' cousin, said their ties go beyond family.
"My heart is heavy, we grew up together and now he is gone," Leon posted on Facebook. "God took someone who was already an angel for so many people."
Rayvon Murray Johnson said they used to work together at LaGuardia Airport in New York.
"Was such a funny and cool dude. He used to tell me, 'don't let world hold you back from your dreams,' " he posted on Facebook. "We use to talk about curry and God. … My heart is heavy, sleep well my brother. "
Rios' partner and a relative confirmed his death to CNN.
Anthony Luis Laureano Disla
Born in San Juan, Puerto Rico, he had settled in Orlando, according to his Facebook profile.
Friends described him as "an amazing person," "a special guy" and a talented dancer.
The Sun Sentinel reported that his family said, "It didn't matter the style — salsa, mambo, tango, or ballroom dancing — Anthony was filled with joy when he was on the dance floor."
Laureano Disla studied communications at Universidad Del Sagrado Corazon, the Orlando Sentinel reported
But a few credits shy of graduating, Laureano Disla packed a few belongings and moved to Orlando about three years ago to pursue a career as a dancer and choreographer.
"I want people to remember Anthony as someone who was very happy and very kind," his cousin Ana Figueroa told the Sentinel. "This is just devastating for our family and his friends."
Jonathan Antonio Camuy Vega
A photo of Camuy shows him smiling and flashing his fingers in a "V" as he sits in a big red chair on the set of "La Voz Kids," the Telemundo show where he worked.
Camuy worked in audience management for the current season of the singing competition show.
The Puerto Rican journalist got his start at a Telemundo station in San Juan before moving to work for the network in Orlando, his cousin told CNN.
"He was a great assistant producer. … Jonathan will be missed dearly," NBCUniversal Telemundo Enterprises Chairman Cesar Conde said in a statement the National Association of Hispanic Journalists released.
In a letter to members of the journalist group, President Mekahlo Medina said the organization is heartbroken over his death.
"Please join me in remembering Jonathan and the other victims taken so early in life by a senseless, horrible act," he wrote.
Camuy would have turned 25 at the end of June.
Yilmary Rodriguez Solivan
Rodriguez Solivan, 24, was friends with Jonathan Antonio Camuy Vega, and the two were at Pulse with Solivan's brother-in-law, William Sabad Borges, who snapped a photo of the trio inside the club. Only Borges survived the shooting.
"I was telling my mom (Monday), how could my sister-in-law, who had two children, die … and I'm still alive? That's what I really can't comprehend," he said.
Rodriguez Solivan was married to race-car driver Juan Borges and her children included a 3-month-old son, Sergio. She worked at a Wendy's in Puerto Rico before moving to Florida. She lived in Kissimmee, the Orlando Sentinel reported.
Cory James Connell
The 21-year-old was leaving Pulse with his girlfriend when the gunman walked in, his family said.
His girlfriend survived the attack, but Connell didn't make it.
"Cory's a good guy," his father, James Connell, said as he awaited word of his son's fate over the weekend. "He loves everybody."
At the entrance of the family home, the family had childhood pictures of Cory in his football uniform. After graduating from Edgewater High School, he graduated from Valencia College. He was training to be a firefighter, CNN-affiliate WPLG reported.
He worked at a local Publix and was also an assistant coach for Orlando's Women's Football Alliance. His girlfriend, Paula Andrea Blanco, who was one of the 53 wounded in the shooting, plays for one of the teams, WPLG reported.
Mercedez Marisol Flores
Cesar Flores is heartbroken that his 26-year-old daughter was killed. She was a happy girl, he said, who had just decided to go out with some of her friends.
But he told reporters he would forgive the gunman.
"I forgive the boy because I cannot take that hate in my life. My life is more important than hate. … It hurts so much," Flores said.
Mercedez Flores was born in New York.
"She had so many dreams," her father said.
He said he has a message he wants to share: "We must all come together, we must all be at peace, we must all love each other, because this hatred cannot continue for the rest of our lives."
Deonka Deidra Drayton
The 32-year-old was a bartender at Pulse, her family wrote on Facebook.
Kareem Gray, her cousin, said family called her "Dee Dee."
Gray remembered watching her grow up.
"She used to dribble the basketball around me," he wrote.
Drayton was raised in Eastover, South Carolina, in the Midlands, where her father is the director of God Cares Charities. a nonprofit organization with several thrift stores, CNN-affiliate WIS reported.
Drayton's girlfriend told WIS the couple met in South Carolina and moved to Florida. Emmy Addison said Drayton was texting her during the shootings and said the gunman held her and others hostage in a bathroom. She said the last text she received from Drayton was at 2:34 when the gunman was in the bathroom. It said, "if I die call my mom."
Addison said their 2-year-old son keeps asking here where his mommy is.
Miguel Angel Honorato
Honorato, 30, lived in Orlando with his family and managed a Mexican restaurant in Sanford, Florida.
ʺWe don't know what happened,ʺ colleague Jonny Reyes said. ʺHe was an excellent person, boss and friend.ʺ
The Orlando Sentinel described him as a 30-year-old father of three children who lived in Apopka and went out with some friends Saturday night to Pulse. Univision said he was originally from Guerrero, Mexico. His family immigrated in 1991 and he was the manager of the family business
"In the world of hospitality with shops and restaurants and Latino Mexican products," Univision said.
He was the third of seven brothers and one sister.
Honorato's Facebook page was last updated on May 12 when he changed his profile picture to show his support for Club America, a Liga MX soccer team. His profile states he worked at FajitaMex Mexican Catering in Orlando.
Jason Benjamin Josaphat
Josaphat was a 19-year-old student at Southern Technical College in Orlando.
ʺHe was a sweet, sweet kid that had a bright future ahead of him,ʺ Southern Technical admissions representative Fechete Mundo wrote on Facebook.
His family said he was computer savvy, loved to work out and had an interest in photography, the Orlando Sentinel reported.
His uncle Christopher Long said Josaphat had recently graduated from high school and had begun classes at Valencia College. He was studying computer science, the Sentinel reported.
Less than two weeks ago, he graduated from Southern Technical College's business office specialist program, according to Martin Levert, the college's executive director. The Sentinel reported that Levert called Josaphat "an exceptional student."
Darryl Roman Burt II
The 29-year-old was an employee on the Jacksonville campus of Keiser University, the school said.
"Darryl was a highly respected member of the KU team, and his contributions to our students and his colleagues will not be forgotten," the university said.
In addition to his work as a financial aid officer at the school, he was also a dedicated community volunteer, according to the Orlando Sentinel.
Jacksonville Jaycees President Shawn DeVries told the newspaper he was "personable, social and easygoing."
"He was the type of person that was always willing to help," DeVries said.
CNN-affiliate WIS reported that Burt called South Carolina home for at least two years as a student at Claflin University in Orangeburg, according to school officials. Burt, Claflin officials said, majored in English and is a native of Avon, Indiana.
Jean Carlos Mendez Perez and Luis Daniel Wilson-Leon
Mendez, 35, was the best salesperson his co-worker had ever met, according to the Sentinel.
"He laughed with the people and would make jokes," Claudia Agudelo, who worked with Mendez at Perfumania, told the newspaper. "He was always happy."
One customer he charmed at the Orlando outlet mall, according to the Sentinel: Wilson-Leon, 37, who became his longtime partner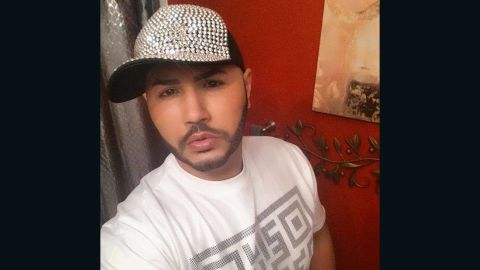 Family members shared word of their deaths on Facebook, posting photos of them over the years – smiling in front of a Christmas tree, posing in a photo studio, standing beside newlyweds at a wedding.
Siclaly Santiago-Leon, who described herself as Wilson-Leon's cousin, said she was heartbroken, devastated and broken.
"I love you my love, Dani. I love you my love, Jean," she wrote. "You are together. Rest in peace. Kisses always."
Oscar A Aracena-Montero and Simon Adrian Carrillo Fernandez
Last month Carrillo Fernandez, 31, and his partner, Aracena-Montero, 26, had something to celebrate.
They'd purchased a home together in Orlando, friend Danny Velazquez told CNN.
The couple both studied business administration at the Universidad de Turabo in Puerto Rico, the school said.
Carrillo, a fast-food restaurant manager, was originally from Venezuela but became an American citizen after living in the United States for eight years.
Carillo's family said he felt uncomfortable in Venezuela, which is a country that does not recognize same-sex marriage.
"My brother came (to visit) about three years ago and he only lasted 10 days here," his sister living in Venezuela said. "Seeing the situation here, he was desperate to leave."
Shane Evan Tomlinson
The 33-year-old performed with his band Frequency at another Orlando nightclub hours before the shooting, according to the Orlando Sentinel.
While attending East Carolina University, he was known "for his high intensity personality and impressive singing voice," the university said.
It only took one interaction with him to see how special he was, one school official said.
"He was a great person," Lathan Turner, associate director of student transitions at the university, said in the school's statement. "If you met him once, he became a part of who you are."
Tomlinson was funny, outgoing and the life of the party, said his friend Javan Jones, who worked with him at Disney. "You look at him and say he's just Shane," he said.
Amanda Alvear
Alvear was at Pulse with a group of friends and on Snapchat when the gunshots erupted. She looked into the camera, then looked away confused. The video ended there.
The 25-year-old loved her nieces, Bella, 12, and Zatanna, 8, and had gone shopping with them Saturday, her brother told the Orlando Sentinel.
"People got caught in her wake," her brother said. "Whatever she was doing, that's what they were going to do and have fun doing it."
She was a pharmacy technician who planned to become a nurse, according to her obituary. One of her closest friends, Mercedez Marisol Flores, was at the club with her and was also killed.
Martin Benitez Torres
Martin Benitez Torres had recently moved to Orlando from Puerto Rico and was studying to become a pharmacy technician at Ana G. Méndez University, according to spokeswoman Mayra Ramos. The 33-year-old was studying at the Tampa Bay campus.
"He was a diligent and extremely hardworking student; thankful for the opportunity to advance his career and hopeful to make his dreams a reality," said Carlas Zayas, his Spanish professor.
Gilberto Ramon Silva Menendez
Silva Menendez was from Manati, Puerto Rico, and worked at a Speedway convenience store, according to his Facebook profile. The 25-year-old had studied health care management at Ana G. Mendez University in Orlando.
"He was a dedicated man, with great dreams of helping people in need, and the desire of becoming a health care professional. He carried a positive and contagious attitude toward life," said counselor Maricelly Alomar.
Javier Jorge-Reyes
Jorge-Reyes, 40, was from Guayama, Puerto Rico. He was a supervisor at a Gucci store in Orlando. On its Facebook page, the company expressed solidarity with the victims and their families. "Our special thoughts are with Javier Jorge-Reyes, who lost his life, and all of our colleagues in Orlando," the post read.
Tevin Eurgene Crosby
Crosby was ambitious and goal-oriented, his brother told the Orlando Sentinel. The 25-year-old had a marketing company called Total Entrepreneurs Concepts. He graduated from West Iredell High in Statesville, North Carolina, in 2010.
His English teacher, Jacqueline Scott, told The Charlotte Observer she was still in shock. "I remember his smile, his love of life. … I want people to know the laughter and the joy he spread."
Franky Jimmy Dejesus Velazquez
A professional dancer, Dejesus specialized in traditional folk dancees of his native Puerto Rico. He was 50. He was a visual merchandiser at Forever 21, according to his obituary. His Facebook page said he designed displays for the Orlando clothing store.
He posted inspirational and funny messages on his page, including a T-shirt that read: "Never underestimate an old man who is also a visual merchandiser."
Xavier Emmanuel Serrano Rosado
He was a dancer. Those how knew him said he was hardworking and friendly. And he was proud of his son. He was 35.
Joel Rayon Paniagua
Paniagua grew up in Veracruz, Mexico. He lived near Tampa and worked long hours in construction. He "worked day and night to send all his money to his family," a friend wrote in Spanish on Facebook.
A friend from church remembered Paniagua: "He was the best. He was loyal. He was always trying to do stuff to make you feel better," according to his obituary.
He went back to his home state of Veracruz for several years to live with his family but returned to Tampa less than a year ago and sent money back to family regularly, Wiscnews.com reported.
"We came here for a better life," his cousin Jose Paniagua told Newsday. "We came because here in the United States there are many opportunities here and because we were fleeing because in our country there was a lot of crime, violence and death … and we expect it should be more peaceful here."
Juan P. Rivera Velazquez and Luis Daniel Conde
Velazquez, 37, and Conde, 39, were partners. Velazquez was a hairstylist and Conde a makeup artist, and they owned a salon together.
Wanda Merced, a patron at the salon, told CNN affiliate News 13 Orlando that she always felt right at home there. When she came in, she was greeted with a hug and a kiss from the both of them.
"It's like I lost my family," she said.
Juan Chevez-Martinez
Friends told CNN affiliate Bay News 9 that Chevez-Martinez was originally from Huichapan, Mexico.
His co-workers at a hotel said he was a kind and loving person. He was 25.
Jerald Arthur Wright
He was a cast member at Disney, according to Walt Disney World Resort President George Kalogridis. A co-worker said he was wonderful with the guests and always smiling.
"Jerry was a great presence to be around and could always make you feel welcome," it says on a GoFundMe page set up in his honor.
He was 31.
Leroy Valentin Fernandez
The 25-year-old leased apartments for a living. A co-worker said he sang Adele in the office until they couldn't take it anymore.
Jean C. Nives Rodriguez
Rodriguez bought his first home a little more than a month ago, the Orlando Sentinel reported. He wanted his mom to live in a nice place.
His sister, Valeria Monroig, told Bay News 9 that he "cared more about others than about himself."
"He was just a caring, loving guy – just like a big teddy bear," his friend Ivonne Irizarry told the Sentinel.
He was 27, according to Bay News 9.
Rodolfo Ayala-Ayala
The 33-year-old had worked at OneBlood, a blood donation center, since December 2011. He started as a biologics assistant, rose to team leader in 2015 and was most recently platelet supervisor. He was Puerto Rican and loved dancing. On Tuesday, OneBlood put out the following statement.
"Rodolfo was a highly respected member of the OneBlood family. He was passionate about saving lives and took great pride in the lifesaving work he performed. Rodolfo was often called upon to share his knowledge and best practices with many of the people in his department and was an intricate part of a team of people who work diligently to help save lives. He was a caring and friendly person and will be greatly missed by everyone who had the honor of knowing him."
Brenda Lee Marquez McCool
She had 11 kids, beat cancer twice and often went dancing at Pulse with her gay son. Her son survived the shooting. She was 49.
Angel L. Candelario-Padro
The 28-year-old had recently moved to Orlando and had started a job as a technician at the Florida Retina Institute.
He came from Chicago because he wanted to be closer to family, Bay News 9 reported.
The station says he served in the National Guard.
Frank Hernandez
He worked at a Calvin Klein store and had "love has no gender" tattooed on his arm.
Hernandez loved fashion, according to Bay News 9.
"He liked the good stuff. And he worked hard for it," said Jessica Leal, 19, one of his five siblings.
He was 27.
Paul Terrell Henry
Henry's boyfriend, Francisco Hernandez, said he plans to go back to school, according to the Orlando Sentinel. "He knew I had potential for greater things," Hernandez told the paper. "I had three years of college but didn't finish. He wanted the best for me, to succeed and to help me make something of myself.
"I am definitely going to do that for him. I am going to make something of myself."
Henry was from Chicago, loved to dance and have fun. And he was an excellent pool player, his boyfriend said.
Henry had two children. His daughter, Alexia, recently graduated high school.
Antonio Davon Brown
The 29-year-old was a captain in the U.S. Army Reserve and a graduate of Florida A&M University.
He studied criminal justice and was a member of the ROTC while in college, according to Bay News 9.
Brown's loved ones remember him as a guy who could make anyone laugh.
"Every now and then, I think of the fun memories and how crazy, humorous Tony was," his mother told CNN affiliate WFTV. "And when I get quiet and have nothing to think about, it keeps coming to my mind and it just hurts."
Christopher Joseph Sanfeliz
He worked at a bank and was said to be the most positive guy around. He was 24.
Alejandro Barrios-Martinez
Martinez, 21, grew up in Cuba. He lived in Candelaria before moving to Orlando in 2014 to live with his father, cousin Alvaro Alvarez said. His cousins and sister also live in Orlando.
"Alejandro was a happy young man with a lot of energy for doing things," said Alvarez, a journalist in Chile.
"He had anxiously awaited his father's claim. He wanted to build a life outside of Cuba with his father and his sister, whom he loved dearly. He had a great character, committed to life."
His mother, Orquidea Martinez, lives in Cuba and is waiting for authorization to travel to Florida.
"This is a difficult time for the family. Our family is physically apart, some are in Cuba, others Florida and Chile," Alvarez said.
"They tell me from his hometown in Cuba that his community is devastated. They came together [Monday] for a vigil. They will remember him with a lot of love."
Geraldo A. Ortiz-Jimenez
Ortiz-Jimenez, 25, known to his friends as "Drake," was a native of Santo Domingo, Dominican Republic, according to his Facebook page. It also says he studied law at the Universidad del Este in Puerto Rico and worked as an actor, dancer and in a cafe in San Juan.
His friend Zay Rodriguez said he was very family-oriented and very respectful toward his peers and family. Ortiz-Jimenez was living in New York when they met several years ago before Ortiz-Jimenez moved to Puerto Rico. He was either vacationing or living in Orlando, according to friends.
CNN's AnneClaire Stapleton, Ashley Fantz, Jeffrey Acevedo, Sonia Moghe, Hilary Whiteman, Tiffany Ap, Katie Hunt, Paul Armstrong, Leslie Rivera, Joshua Berlinger, Yilber Vega, Ann Roche,Kay Guerrero and Steve Visser contributed to this report.