Story highlights
Type 45 destroyers are unable to operate continuously in warm waters, MPs were told
MPs fear the failures are placing British Navy officers at risk
Britain's £1bn ($1.4bn) warships are losing power in the Persian Gulf because they cannot cope with the warm waters, MPs have been told.
Six Type 45 destroyers have repeatedly experienced power outages because of the temperatures, leaving servicemen in complete darkness.
During the Defence Committee hearing on Tuesday, MPs questioned company executives about the warship failures.
"The equipment is having to operate in far more arduous conditions that were initially required," Rolls-Royce director Tomas Leahy said.
Managing director of BAE Systems Maritime, John Hudson, supported Leahy's comments, adding: "The operating profile at the time was that there would not be repeated or continuous operations in the Gulf."
Waters in the Persian Gulf can get as hot as 90 degrees F (32 degrees C).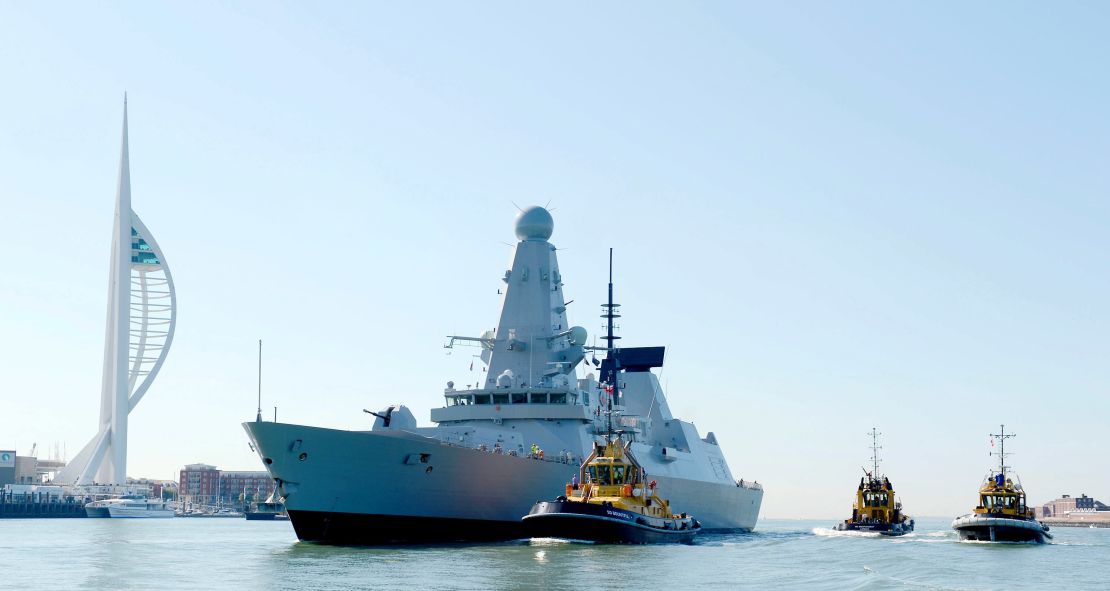 Leahy told MPs that turbines do not generate as much power when they run in a hot environment, which is not recognized by the system.
"This is when you get your total electrical failure," Leahy explained.
"Suddenly, you have lost your main generator on your system and you are plunged into darkness."
However, a spokesperson from Britain's Ministry of Defence (MoD) denied this, telling CNN: "The Type 45 was designed for world-wide operations, from sub-Arctic to extreme tropical environments, and continues to operate effectively in the Gulf and the South Atlantic all year round."
MPs were shocked when they heard about the failures.
"I'm just absolutely stunned," said Douglas Chapman from the Scottish National Party.
"It's a £1 billion asset that you're putting into a war zone, and we don't know if these people will go in there and come back out alive because there might be a problem with the power system on the ship. I'm just astounded."
The British MoD says Type 45 destroyers are the most advanced warships ever built by Britain and are the backbone of the Royal Navy's air defense capability. They first went into service in 2006, and are due to last 30 years.
The committee also raised fears about the cost of repairing the ships and whether it would delay the release of Type 26 frigates which are to replace older vessels.
"If this were a major war, our 19 destroyers and frigates are effectively 13," Former First Sea Lord Alan West explained in the meeting.
"I think that our nation is making a terrible error in allowing this to happen … I understand they have a program for resolving it, but it should be being done much more quickly."
West warned further delays would leave the UK "grossly inadequate" for required tasks.
"There is almost no extra money available this year, and we are really strapped next year. The Government aren't coming clean about that," West said.
"We have run out of money, effectively. Therefore, they [MoD] have pushed this program to the right and that is bloody dangerous."
CNNMoney's Alanna Petroff contributed to this report.