Story highlights
Libyan Red Crescent volunteers recover 117 bodies from a Libyan beach
More than 300 missing after boat capsizes off Greek island of Crete
(CNN) —
More than 100 bodies believed to be migrants from capsized boats washed up on a Libyan beach, while hundreds of others are missing in a separate sinking off Greece, officials said Friday.
The bodies of 117 people were recovered from a beach near Zwara, Libya, by Libyan Red Crescent volunteers, Stephen Ryan, a spokesman for the International Federation of Red Cross and Red Crescent Societies, told CNN. He said the dead included 75 women, 36 men and six children.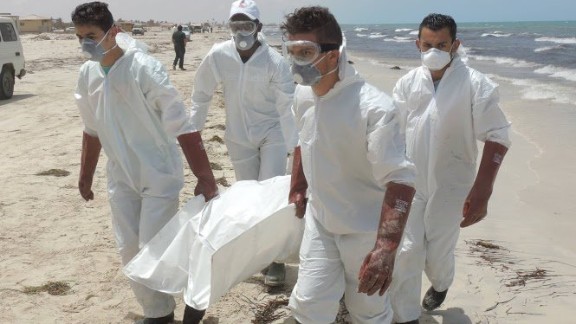 Libyan Red Crescent/IFRC/Libyan Red Crescent/IFRC/Libyan Red Crescent/IFRC
Meanwhile, a boat carrying around 700 migrants capsized 75 nautical miles off the Greek island of Crete, prompting a major rescue operation for hundreds still missing. So far, 340 people have been rescued, and nine bodies recovered, according to the Greek coast guard.
The bodies found in Libya are possibly from a capsize off the same stretch of Mediterranean coast on Thursday but could also be from other sinkings recently reported in the area. Boats are leaving the Libyan coast in large numbers for Europe, usually docking in Italy as an entrance point into the European Union.
"Considering the deaths in the last days in the Mediterranean, and indeed with the summer season having arrived … the numbers taking to unsafe and overloaded boats to cross the sea to Europe is likely to increase," Ryan said.
The events are among the latest tragedies to hit Europe as the continent deals with its most desperate refugee crisis since World War II.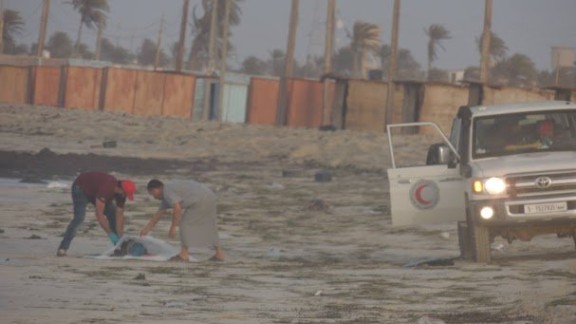 Libyan Red Crescent/IFRC/Libyan Red Crescent/IFRC/Libyan Red Crescent/IFRC
More than 2,500 migrants have drowned in the Mediterranean this year attempting to cross into Europe, the U.N. refugee agency said this week, with many from war-torn Syria.
The Greek coast guard told CNN that the number of migrants on board the boat that sank off Crete was likely less than the estimate from the immigration organization. It also said the boat went down in Egyptian waters, while the immigration group said it was in international waters.
A coast guard spokeswoman said that five ships in the area came to the migrants' aid and that the Greek coast guard has deployed two ships and two helicopters to help.
The spokeswoman said the weather was clear for the search and rescue operation.
CNN's Milena Veselinovic, Peter Dailey, Lindsay Isaac and Sebastian Shukla contributed to this report.