Watch part two of CNN's series with Pamela Brown on AC360, at 8 p.m. Wednesday
Story highlights
ICE agents go searching for undocumented immigrants
In this two-part series, CNN's Pamela Brown takes a look at both sides
As the debate over how to handle illegal immigration fires up both sides of the presidential election, CNN takes you on an exclusive ride along with a team of federal immigration agents in Chicago and surrounding Cook County.
The Immigration and Customs Enforcement agents go searching for undocumented immigrants who have been convicted of crimes while in the U.S. illegally. It's part of President Barack Obama's initiative to focus on deporting convicted felons, threats to public safety and anyone who crossed the border into the U.S. illegally since January 2014.
But there are more than 300 so-called "sanctuary cities" in the nation where local leaders have created laws limiting – and in some jurisdictions prohibiting – local police and jail officials from cooperating with federal immigration officials. As a result, ICE officials say thousands of undocumented convicted criminals are released onto the streets every year.
ICE officials say they are asking local officials to at least notify ICE before releasing criminal undocumented immigrants from custody.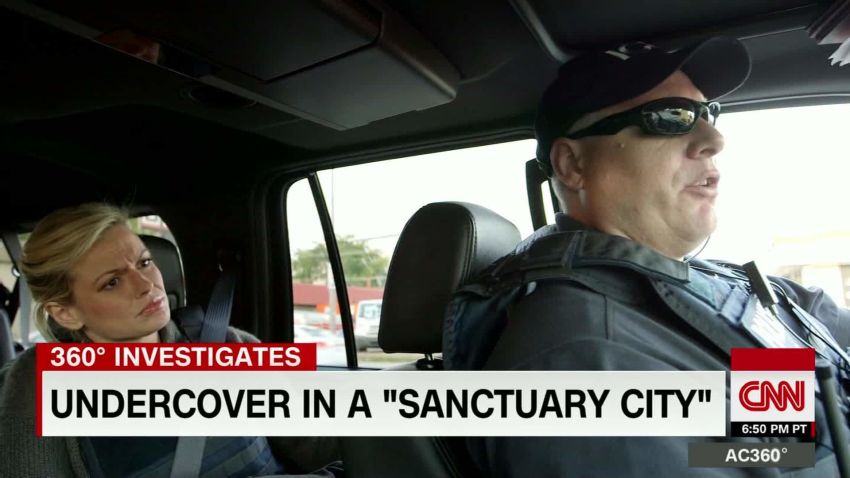 ICE officers arrest undocumented immigrants
Local officials argue that cooperating with ICE without a court order violates the rights of the immigrants and makes their cities legally liable.
In this two-part series, CNN Justice Correspondent Pamela Brown takes a look at both sides of the issue, talking to ICE officials, local leaders and even one undocumented immigrant who was temporarily detained and then released.