Editor's Note: Julian Zelizer is a professor of history and public affairs at Princeton University and a New America fellow. He is the author of "Jimmy Carter" and "The Fierce Urgency of Now: Lyndon Johnson, Congress, and the Battle for the Great Society." The opinions expressed in this commentary are his.
Story highlights
Julian Zelizer: Donald Trump is the reality TV antihero of U.S. politics
We love to watch characters who take everything to the moral limit, he says
Americans no longer expect virtuous protagonists. For almost two decades, Americans have been tuning in to cheer on the antihero on television, on acclaimed series from "The Sopranos" to "Breaking Bad" – and dozens more. We watch characters who do whatever is necessary to make things happen. They are not pleasant, they are unethical, they are mean and nasty, and they cheat and steal to get their way. Some even resort to torture and murder. Yet we have urged them on with our fandom and our excitement.
Donald Trump's candidacy is a product of this era. Part of his success has been to play to type. When he demeans his opponents and spews hateful words, commentators have predicted that those ugly remarks or a story about his background would somehow turn people against him. It never happened.
Trump has thrived as he has done whatever he deemed necessary to win – inflaming social tensions, making false and misleading statements about his opponents and taking cheap shots to get media attention. His unfavorable ratings have skyrocketed, yet the polls with Hillary Clinton are narrowing.
From mob dads to terrorist heartthrobs
This success should not surprise us; characters who are unlikable but emotionally relatable have long been the heart and soul of popular culture. We've always had antiheroes, such as J.R. on "Dallas," but starting in the late 1990s, they became the norm.
With the premiere of "The Sopranos" in 1999, Americans were riveted by the story of Tony Soprano, a brutal New Jersey mob boss and father who liked to kill people with his bare hands. In one of the most famous episodes, while visiting colleges with his daughter, he sees a former colleague turned informant and finds some time to kill him.
On "House," we followed the life of Dr. Gregory House – an abrasive, arrogant and narcissistic drug addict. Yet every week viewers waited to see how he would use his brilliant medical mind and detective skills to save the day.
Jon Hamm's Don Draper on "Mad Men" captivated audiences while being absolutely brutal with the people who worked under him. "Dexter" viewers were rooting for a psychopathic serial killer. In "Nurse Jackie," Edie Falco gave a mesmerizing performance as a brilliant nurse in New York who cheated on her husband and was addicted to Vicodin to the point of self-destruction.
In this season of "Gotham," Ben McKenzie's Jim Gordon, who is the only saving grace of the city of young Bruce Wayne, slowly descends into a dark place, employing the tactics of the villains to save the city and even depending on the Penguin. From the moment the show started, we have been meant to love some of the main villains who hold the esteemed place that superheroes usually fill in the comic books. (Bruce Wayne is just a kid, so there is no Batman yet.)
Spacey: Underwood would shove Trump
Frank Underwood in "House of Cards" is as villainous as they come. He literally kills his way to the presidency of the United States. Yet we watch to see how he will get out of the latest jam, and we root for him to defeat his adversaries. "If a hero is someone we want to and should, within the structure of the story, root for, a villain is someone we want to and should root against, an anti-hero is someone a show succeeds in making you want to root for, even though, by all conventions of morality, we know we shouldn't," noted critic Alyssa Rosenberg in a review of the popular show "The Americans" – which features two 1980s-era Soviet spies who are also a strong married couple and devoted parents to two children.
Other antiheroes have done what "The Americans" does – ask viewers to relate to characters who inhabit familiar and taboo types simultaneously. In "Breaking Bad," Bryan Cranston delivered an award-winning performance as a high school chemistry teacher who becomes the nation's biggest meth kingpin. He was not the only family drug dealer whom we loved. In "Weeds," Mary-Louise Parker played Nancy Botwin, a soccer mom who like Walter White starts the show as a regular suburbanite and who by circumstance turns into a major drug kingpin – even dragging her children into the business.
Americans' love for the TV antihero shows that even terrorists can win our hearts. In the first season of "Homeland," Damian Lewis played Nicholas Brody, a prisoner of war who returns to the United States as a trained assassin for overseas terrorists. In an unexpected twist, the character was sexy and powerful, not shady and scary.
Is Trump our next TV antihero?
There are many more examples, on the small and big screen. In films, superheroes such Batman and Iron Man have been depicted as troubled individuals whose heroism comes out of deep personal background, and the lines between good and evil are often hard to see.
(2016) Former 'Apprentice' star defends Donald Trump
Trump is the real life incarnation of the characters we love to watch in fictional shows. He perfected this character – the boss who "tells it like it is," whose tactics make us cringe but whose results keep us hooked on what happens next – on his reality shows "The Apprentice" and "Celebrity Apprentice." He fired and insulted people with an unsympathetic directness and dynamic charisma that fit into this antihero mold. We loved him not because we liked him, but we wanted to see how far he would go to get the job done.
What does this say about us, or about the GOP candidate? Quite a lot, as it turns out. Popular culture spotlights a clear appetite for bad behavior as a way of building trust among a public that has become cynical about their leaders. In an era when so many institutions have become broken, from the economy to our politics, we find some kind of comfort in the person, no matter how ruthless, who shows the drive to get things done – no matter what – without letting that brokenness stand in his way.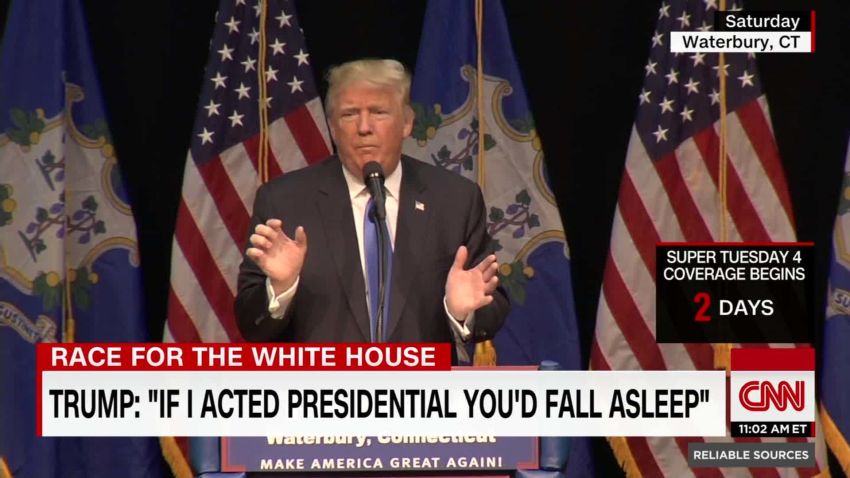 Trump: from "reality show" to "scripted drama?"
As one fan of "The Apprentice" – who prefers Trump even though he doesn't support many of his policies – recently told The New York Times: "A dark side of me wants to see what happens if Trump is in (the White House) … It's like reality TV. You don't want to see everybody be happy with each other. You want to see someone fighting somebody."
The success of the pop culture antihero shows that this country is clearly comfortable with, even enthusiastic about, broadcasting nasty into its living rooms. More than any other candidate, Trump has understood how deeply rooted these feelings have become and he has successfully built an entire campaign around them. If Democrats think they will have an easy time stopping him in the fall, they might want to take a closer look at the characters who have been attracting the masses in recent years.
Join us on Facebook.com/CNNOpinion.
Read CNNOpinion's new Flipboard magazine.
Julian Zelizer is a professor of history and public affairs at Princeton University and a New America fellow. He is the author of "Jimmy Carter" and "The Fierce Urgency of Now: Lyndon Johnson, Congress, and the Battle for the Great Society." The opinions expressed in this commentary are his.