Story highlights
Five people die when a ship capsizes in the Mediterranean
International migrants organization says fewer dying en route to Europe this year
The delicate balance of an overcrowded boat carrying hundreds of migrants turned into a frightening roll as an Italian navy ship approached Wednesday.
Passengers had rushed to the port side, a shift in weight that proved too much. People began tumbling into the Mediterranean Sea.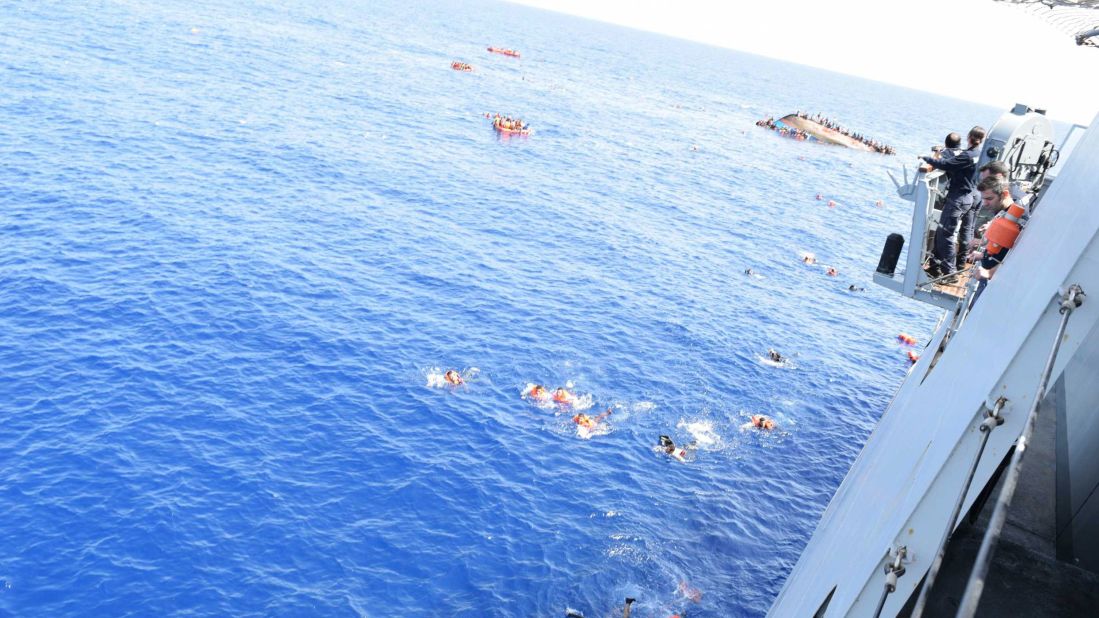 Italian Navy saves migrants after boat overturns
Images taken by Italian sailors showed people clinging to the rails of the teetering ship, while others grabbed the closest person to them.
Read: How ISIS is infiltrating the migrant route
As the ship was on its side, some of those in the water seemed to sense the danger and began to swim away. People still on board climbed to the starboard side, now the highest point.
There was no stopping the momentum and the ship capsized, sending the rest of the migrants fleeing the Mideast into the sea off the coast of Libya.
The Italian crew threw life jackets and rings into the churning water.
About 562 migrants were rescued, but five people died, the navy said. The number of dead initially was given as seven. Rescuers used dinghies, a helicopter and a second navy ship.
Seas were calm as the boat capsized. Water surface temperatures were around 20 degrees Celsius (a chilly 68 degrees Fahrenheit), according to the U.S. National Oceanic and Atmospheric Administration.
Risky voyages
Thousands of people fleeing civil war in Syria and religious and sectarian conflict across the Mideast have risked their lives by crowding onto ships and boats leaving ports for Europe.
Some of the vessels are not seaworthy and sink or break apart.
There have been more than 2,700 migrants and refugees rescued in the past few days, according to the International Organization for Migration's Rome office.
The IOM's headquarters in Geneva said that recorded deaths on all routes to Europe have been down this year.
In 2015, more than 3,700 migrants died crossing the Mediterranean in attempts to reach Europe, the organization said. So far this year, 1,370 people have perished – 24% lower than during the same period a year ago (1,792 deaths).
The number of migrants headed to Europe picked up recently, in part due to better seagoing weather.
Many of the ships are heading toward Italy and the Italian navy has been involved in rescue operations on a regular basis.
Record number of people seek EU asylum
Livia Borghese in Rome and Sarah Faidell in Atlanta contributed to this report. Steve Almasy and Ralph Ellis wrote and reported from Atlanta.