Football reigns supreme in Alabama, where teams from the state have won five of the last nine national college championships.
The bare-knuckled bloodsport that is state politics, however, is producing an equally remarkable if more shameful record. A rare convergence of events has led to the state's three most powerful public officials – Gov. Robert Bentley, House Speaker Mike Hubbard and Chief Justice Roy Moore – each embroiled in scandals.
Bentley, the embattled second-term governor, is facing calls for his ouster over an inappropriate relationship with a former aide. Moore, chief of the state's supreme court, has been suspended over his flouting of federal law allowing same-sex marriage. Hubbard, meanwhile, goes on trial this week on felony corruption charges.
Three state leaders. Three branches of state government. Three potential stains on Alabama's image and history. It's enough to make Alabamans weep into their Crimson Tide towels.
"It's not every day that you see three of the most powerful elected officials in a state come under fire like this at the same time," said Jordan Libowitz, communications director for Citizens for Responsibility and Ethics in Washington, a government ethics watchdog. "Citizens need to know that their elected officials are acting in the public interest, not for their own personal gain."
In Alabama, however, political scandals are not unusual. Two recent governors, Don Siegelman and Guy Hunt, were convicted of crimes committed during their terms. Hunt, Alabama's first Republican governor since Reconstruction, was forced to resign in 1993 after being found guilty of using funds inappropriately, while Siegelman, elected to a single term in 1999, was convicted of bribery and sentenced in 2012 to almost seven years in federal prison.
Last year, before this three-headed monster consumed chatter in Montgomery's halls of power, the Center for Public Integrity published its State Integrity Investigation, a corruption report card for each of the 50 states. Alabama's grade was a D+. This year, it could be even worse.
"Had you told me when I ran for a seat in the legislature that two years later I'd be looking at all three branches of the state's leadership on the verge of being removed from office, I'm certain I wouldn't have believed you," state Rep. Chris Pringle told Lagniappe, a newspaper in Mobile. "Just think of the sheer magnitude of that."
Opening statements in Hubbard's trial were scheduled for today.
Can't keep your Alabama scandals straight? Here's a breakdown.
Sex, lies and audiotape
Bentley's scandal features salacious hints of sex, lies and audiotape – along with drier accusations of misusing state resources.
In March, audio recordings from 2014 surfaced of a sexually explicit conversation, reportedly between Bentley and one of his former aides, Rebekah Mason.
Bentley, whose wife of 50 years left him in 2015, has been dogged by allegations that he not only had an affair with Mason but used public funds to facilitate and hide it.
Both Bentley and Mason deny having a physical relationship. Although the governor said in March that "I want to apologize to the people of Alabama," he has maintained he did nothing illegal and that he won't resign.
In April, a bipartisan group of state lawmakers moved to impeach the governor, but because Alabama currently lacks the legislative mechanism to do so, their effort was largely symbolic.
Legislators will have to wait until they reconvene next year to begin the impeachment process.
Ethics and embezzlement
If Bentley were to eventually be impeached by state lawmakers, it would largely be up to one person: Mike Hubbard, the powerful house speaker.
But that's only if he's still around. Hubbard is facing 20 years in prison over 23 felony ethics violations.
Ironically, according to acting Attorney General W. Van Davis, most of those charges "involve violations of the ethics reforms (Hubbard) championed in 2010."
That was the year Hubbard was elected speaker, but also the year he was laid off from his job at sports marketing behemoth IMG, which has an office in Auburn.
In court filings, prosecutors paint a picture of a desperate, down-on-his-luck man who used "the mantle of office" to embezzle over $1 million to Hubbard's printing and media businesses.
"Hubbard was motivated by his financial problems, including the loss of his employment with IMG, to solicit lobbyists and principals for things of value," prosecutors say in court documents.
Hubbard has denied any wrongdoing and blames his prosecution on politics.
His trial was set to begin Tuesday in Opelika. Hubbard will be forced from office if convicted on any of the charges.
A defiant judge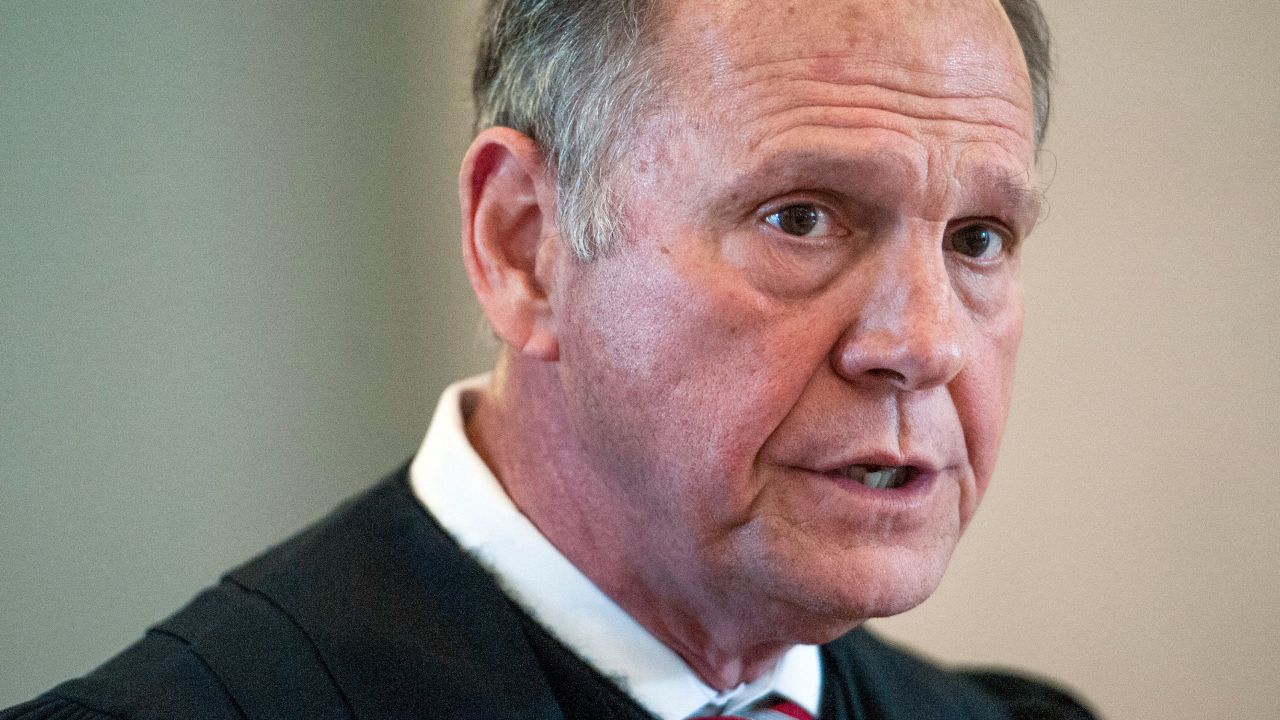 Then there's Moore's scandal, which feels a lot like deja vu.
The chief justice made national headlines in 2003 when he defied a federal court order to remove a Ten Commandments monument from a public judicial building on the grounds that it was an unconstitutional endorsement of religion.
His defiance cost him his job. But nearly a decade after being booted by the state's judicial commission, Moore recaptured the top judicial post in a statewide election in 2012.
In January of this year, Moore ordered Alabama's probate judges to ignore the federal ruling allowing same-sex marriages and refuse to issue licenses to same-sex couples. Just as it did in 2003, the move made him a hero to evangelicals, enraged liberals and again caught the attention of the judicial commission – which, just as it did in 2003, suspended him for his recalcitrance.
The commission suspended Moore with pay after finding that he had "flagrantly disregarded and abused his authority."
Although he's facing six ethics charges and the prospect of being ousted from the bench for a second time, Moore remains as defiant as ever.
"We intend to fight this agenda vigorously and expect to prevail," he has said.