While he didn't find a water route to Asia, Christopher Columbus encountered beautiful islands in the New World, populated by fruit trees, delectable honey and birds of all kinds. He wrote that he took possession of them for the Spanish monarchy without resistance from the inhabitants.
The explorer's 1493 account of his discoveries was rushed to printers, and copies of the letter spread across Europe. Only about 80 copies of all editions survive.
It was with acknowledgment of the rarity of the document that the United States on Wednesday returned an eight-page copy that was stolen from a library in Florence, Italy, and later donated to an unsuspecting U.S. Library of Congress.
Photos: U.S. returns 1493 Christopher Columbus letter to Italy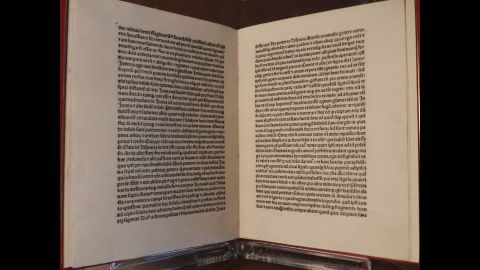 Photos: U.S. returns 1493 Christopher Columbus letter to Italy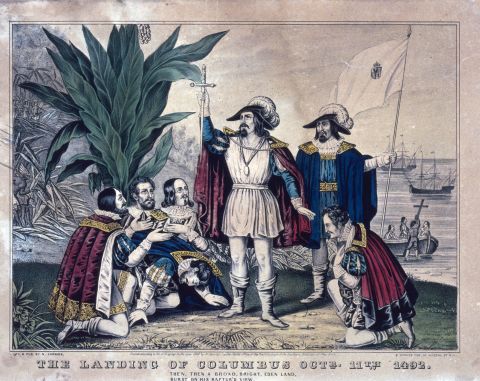 Photos: U.S. returns 1493 Christopher Columbus letter to Italy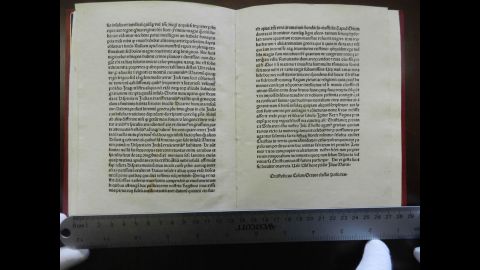 Photos: U.S. returns 1493 Christopher Columbus letter to Italy
Photos: U.S. returns 1493 Christopher Columbus letter to Italy
"It's a document of undisputed historical value, said Fulvio S. Stacchetti, head of the Riccardiana library in Florence. "This letter has done a unique two-way trip … five centuries after its writing. And now it's back home."
A news conference in Rome celebrated the return of the copy printed in Latin by Stephan Plannck in Rome. It's a story of forgery and theft, with a continuing investigation by U.S. and Italian authorities.
U.S. Ambassador John R. Phillips said an arm of the U.S. Immigration and Customs Enforcement since 2007 has repatriated more than 7,500 items to more than 30 countries. That can include stolen art and other antiquities.
Phillips said items often end up in the United States because of well-heeled collectors willing to skirt the law.
"We are vigilant and we are going to make it clear that if you possess such articles that were stolen from a country like Italy, you are going to have to return it and face any consequences of violations of criminal law," the diplomat said.
Stacchetti said Columbus' letter is a resume of his trip. A translation by the Gilder Lehrman Institute of American History details the cultures of inhabitants of present-day San Salvador, Haiti and Cuba.
Columbus wrote that they "might become Christians and inclined to love our King and Queen and Princes and all the people of Spain."
A fake and switch
The investigation began several years ago when U.S. agents, working with the Italian Carabinieri art department, received a tip that the Plannck letter at the Florence library had been replaced with a forgery.
"The inspection determined, among other things, that the text of the forged letter was a high-quality photocopy, that there was no original library stamp from the Riccardiana Library, and that the stitching patterns did not match original stitching patterns for known 'Plannck II' Columbus letters," The U.S. Justice Department said.
Stacchetti said investigators now believe it's likely the letter was stolen and replaced with a forged copy in about 1950.
In a U.S. District Court affidavit, an ICE special agent said investigators learned the stolen letter, later bound in a volume, might be at the Library of Congress.
Authorities determined the document was consigned in late 1992 to a New York auction house by a rare-book dealer who purchased it two years before "from an unknown entity." A private buyer paid $300,000 in November 1992 and donated the item to the Library of Congress in 2004, where it remained.
'It's a priceless artifact'
Federal investigators took custody of it in March 2014 and had further testing conducted. It showed a chemical was also used to bleach the ink of the Italian library's stamp. The US returned the document, which was a copy printed in Latin by Stephan Plannck.
Officials are continuing to investigate how the letter, which was addressed to King Ferdinand and Queen Isabella of Spain, was donated to the Library of Congress. According to media reports, U.S. officials believe the final owner also acquired the letter in good faith.
'It's a priceless artifact that returns to its owner, the Italian people and it shows the close cooperation between investigative forces of Italy and the United States," said Phillips.
He stressed that American museums and individuals in recent decades have become more reluctant about purchasing or taking cultural artifacts from other nations.
ICE has returned more than 11,000 artifacts to over 30 countries, the agency said.
Italian culture officials announced earlier this year that hundreds of items handled by a London dealer were returned, The New York Times reported. The newspaper reported in 2014 that U.S. authorities returned stolen antiquities to India.
CNN's Livia Borghese reported from Rome. Phil Gast reported and wrote in Atlanta. CNN senior research librarian Amy Roberts contributed to this report.