To fliers who travel infrequently, it may appear that the long lines at U.S. airports popped up out of nowhere.
It's not true.
The country's busiest airports and U.S. airlines have been warning federal lawmakers and the Transportation Security Administration for months about security-screening bottlenecks this summer.
It just happened a little earlier than expected.
While the TSA has proposed some solutions, they won't kick in until mid-June at the earliest.
TSA airport checkpoints: 6 ways to beat the lines
Airports in New York and Atlanta have even threatened to privatize screening to alleviate the problem. But that move would still require TSA approval.
Here's why your wait in the security lines could be longer than ever.
There aren't enough screeners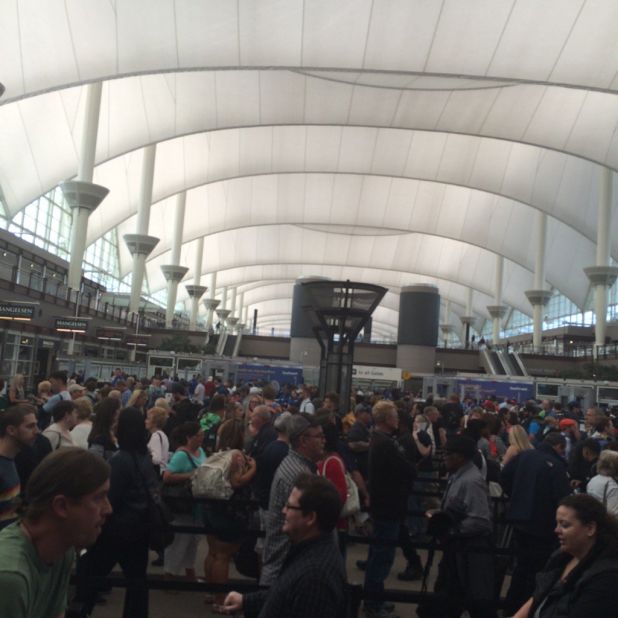 Travelers face long waits for security at U.S. airports
The TSA has 42,525 frontline staffers this year, a 10% drop since fiscal year 2013, according to the agency. The staffing numbers are what the TSA says it can afford based on Congressionally-approved appropriations.
Long TSA lines: How long will this go on?
The TSA is trying to have 768 new security officers in place as early as mid-June, Department of Homeland Security Secretary Jeh Johnson said last week.
Existing officers are being offered overtime to help shorten the lines.
Passenger volume is up
More travelers flew this spring than ever before, according to estimates by Airlines for America, an industry trade group.
About 140 million passengers (2.3 million per day) were expected to fly on U.S. airlines during March and April, a 3% increase over 2015's peak.
People are filling up their carry-ons
Most U.S. airlines charge a fee to check bags, so passengers are packing more in their carry-on bags than ever. Every bag that gets flagged for additional screening or stopped for oversized shampoo bottles delays the security line for everyone else.
The TSA is asking the airlines to help with reducing the size and number of passenger carry-on bags and with "nonsecurity" work such as moving bins at checkpoints.
U.S. air traveler patience with TSA at 'breaking point'
It's going to get worse
The TSA says it expects to screen 740 million passengers this fiscal year, a 15% increase since fiscal year 2013.
Over the same time period, the TSA lost more than 4,000 screeners.
The pressure is worldwide
Global passenger numbers are expected to reach 3.8 billion this year, up 6.9% over last year, according to the International Air Transport Association.
By 2034, the number of passengers globally is expected to double from 2015 levels, from 3.5 billion estimated passengers to 7 billion.