Story highlights
English professor Rezaul Karim Siddique was killed by machete in Rajshahi
ISIS claimed responsibility for the killing
Four professors have been killed at the university since 2004
Rajshahi, Bangladesh
CNN
—
"Remember the day – 23rd April," reads graffiti on the roads of Bangladesh's Rajshahi University.
It's the day prominent English professor Rezaul Karim Siddique was hacked to death in broad daylight in the city of Rajshahi, in the country's north-west.
Siddique was waiting for a bus that would take him to the university when he was attacked with machetes. He died on the spot.
Days later, more than 400 students and teachers gathered at the campus to protest against the murder. Students shouted and incited the crowd: "Light the fire. Rise brothers; rise sisters."
ISIS claimed responsibility for the killing, according to Amaq, the terror group's media agency.
On Tuesday, four people were arrested in connection with Siddique's death, bringing to seven the total number of people detained in the case since April, according to Deputy Police Commissioner Sadhir Haider Chowdhury.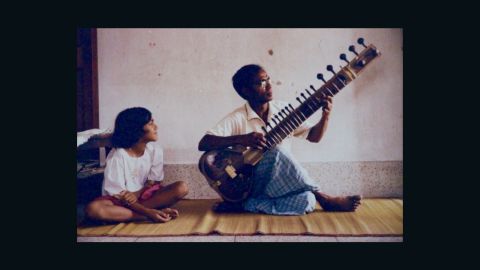 Blood on the wall
We visit the professor's home, around two kilometers from the university.
As we walk through narrow alleyways, we notice blood splattered on the wall where Siddique was killed – a swarm of flies congregates in the area.
A team of policemen greets us at the entrance to Siddique's home. They've been guarding the two-story town house around the clock since his killing. Outside the house, a placard still reads, "A F M Rezaul Karim Siddique, Professor of English, Rajshahi University."
Siddique's daughter, Rizwana Hasin, 23, welcomes us with a sad smile. Her mother, Hosne Ara Sheera, doesn't really want to speak. Rizwana's 21-year-old brother, Riyasat Imtiyaz Sourav, a final-year civil engineering student at Rajshahi University, is not home.
Rizwana says it is a lot to comprehend but she remains strong. "I will fight until the last to get them [the attackers] what they deserve for their deed," she says.
"How can they do this? How can anyone do this? I can't express my emotion as a daughter, seeing his picture, seeing him lying on the road. Three hours he laid there, slaughtered," she says angrily.
Rizwana was a student of her father and is pursuing a Master's degree in English. She has just finished the final exam of her final semester at Rajshahi University.
"He couldn't even see my Master's result," she says.
Sons follow murdered father's footsteps
'He loved music'
Why Siddique was killed remains a mystery to his family and students.
A statement from ISIS blamed the deceased professor of "calling to atheism," but the family refutes the claim. According to his daughter, he was not an atheist. "Who could kill him? Why should they kill him?" she asks.
Student detained in professor's hacking death
The police have not yet found evidence that the professor wrote or spoke against Islam.
The 58-year-old was active in cultural activities and wanted to open a music school in nearby Bagmara village, a hotbed for the banned Islamic militant group, Jamatul Mujahideen Bangladesh. Four of the suspects arrested in his death are members of the group, Chowdhury said.
"He loved music. A concept is growing in Bangladesh these days that those who are interested in music, culture, are not believers in religion," says Rizwana.
Since the killing, Rajshahi city has seen protests every day, with professors and students traveling from other parts of the country to join in.
"The murderers didn't imagine such things would happen after killing him. He didn't have a political background," says Rizwana.
"He used to live alone in his own world. Now he is the symbol of honesty, purity. They cannot be murdered. Wherever he is, he [must be] feeling very proud," she says.
Bangladeshi bloggers: What the the world should know
Four professors murdered
Home to more than 40,000 students, Rajshahi University is one of the country's largest.
According to Rajshahi police, four professors have been killed in the university since 2004. Rajshahi police say the previous deaths were local crimes and Islamist militants were not involved.
"Rajshahi is safe. Yes, one incident happened. But there are bad guys everywhere in the world," said Additional Commissioner of Police Sardar Tamizuddin Ahmed.
But the climate of fear is palpable amongst the university's students and faculty.
"Professors getting killed is not new for us here," business student Anwar Zahid tells CNN. "But this one is different, this one is worrying."
Is there a way to protect Bangladeshi writers?
"Some of our professors and students received threats recently. I'm very nervous," says sociology student Habibul Islam.
"The only thing I should be nervous about is my exams. But these days, exams are least of my worries. It shouldn't be this way."