Story highlights
Kevin Edwards, 23, was arrested two hours south of Chicago in a routine traffic stop
He was the last of three suspects authorities were seeking
A third person has been arrested in the murder of Tyshawn Lee, 9, who was gunned down in Chicago last November in a gang retaliation killing.
The boy was targeted because his father was a ranking member of a rival gang, authorities say.
Vermilion County Sheriff
Chicago Police Department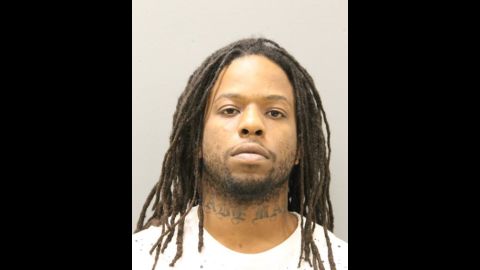 Chicago Police Department
Kevin Edwards, 23, arrested following a "traffic violation stop," two hours south of Chicago on Saturday evening, Vermilion County Sheriff Captain Michael Hartshorn told CNN. He was the last of three suspects authorities were seeking.
Vermilion County is in east-central Illinois and borders Indiana.
Edwards, who was a passenger in the car, ran from police before being taken into custody. He also provided a fake name to police, Hartshorn said.
Edwards will soon be transferred to the Chicago Police Department.
"We are coordinating with the Sheriff to send CPD resources and bring him back to Chicago," Chicago Police Communications Director Anthony Guglielmi told CNN.
The other suspects, Corey Morgan, 27, and Dwright Boone-Doty, 22, were charged with first-degree murder in Tyshawn's death.
John Escalante, interim superintendent of Chicago police, said that even in a city that has witnessed numerous gang-related killings, the slaying of Tyshawn "was something far more sinister."
CNN's Brad Parks contributed to this report.