Story highlights
The college offers free tuition for employees
His mortar board read: "Old dog has new tricks"
Michael Vaudreuil is used to picking things up at school. He's a custodian at Worcester Polytechnic Institute in Massachusetts.
But over the weekend, he picked up something he'll definitely want to keep: a college degree.
Vaudreuil, 54, graduated with a mechanical engineering degree from the same place where he's cleaned and emptied the trash for the past eight years.
His mortar board read: "Old dog has new tricks."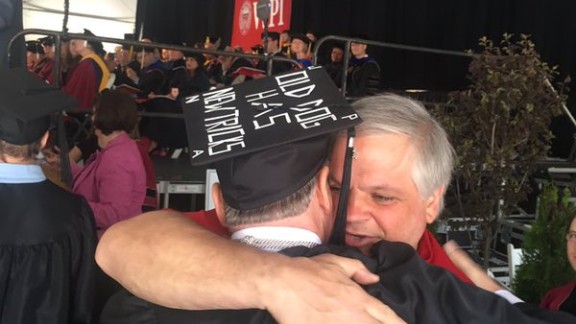 Worcester Polytechnic Institute
"Graduation was a crowning achievement. One of the best days of my life," Vaudreuil told CNN.
Vaudreuil took the custodian's job after his plastering biz went under in 2007 and took most of his life with it.
He'd lost his house, his business and his hope.
"I was just a shell of a person at that time," he told CNN affiliate WBZ.
So he got the custodian's gig at Worcester Polytechnic Institute, which just so happened to have tuition-free classes for employees.
This was his last chance.
After dabbling in some psychology classes, Vaudreuil got serious and took on mechanical engineering, which was a natural fit because he's more of a hands-on kind of guy.
He found the classwork challenging and said he loved "being stretched" intellectually.
And being a student of a certain age in class wasn't a burden at all.
"I was never once made to feel uncomfortable; never felt like I was getting any easy pass," he told CNN. "My presence (as a nontraditional student) didn't attract a lot of attention."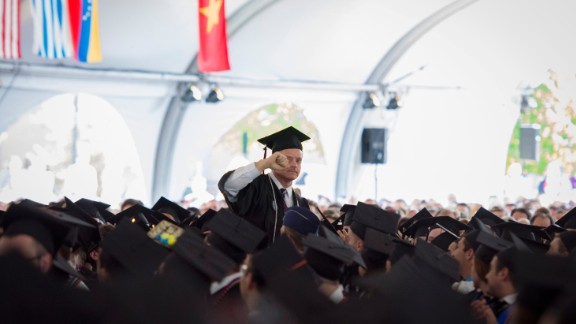 Worcester Polytechnic Institute
Or so he thought.
With all of the media attention his graduation has attracted, Vaudreuil said he's heard from several students he had classes with through the years. They told him they found him to be an inspiration even back then.
Now that he's picked up his degree, the custodian-turned-mechanical engineer has one more thing he wants to pick up: a new job.
"I've got plenty of gas in the tank," he said. "I'm chomping at the bit to get to work."
CNN's Justin Lear contributed to this report.