Story highlights
Prince's bodyguard, "Romeo," tells CNN entertainer wasn't addicted to painkillers
Romeo called Prince's private memorial Sunday "beautiful"
As details eke out about Prince's last days, the people closest to him have mostly kept away from the spotlight and kept quiet, until now.
Prince's bodyguard, who says he's been working for the megastar since 2012, spoke to CNN Sunday as he came out of an invite-only memorial for Prince. The service was held at the Jehovah's Witness Kingdom Hall where Prince worshiped in Hopkins, Minnesota, near Minnetonka.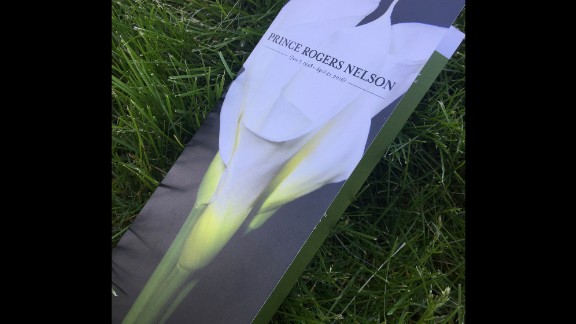 Sara Sidner/CNN
"I was Prince's bodyguard up until the day he died," said Chris Gaither, who goes by the name "Romeo."
He is certainly built for the job. Gaither is a towering figure. Dressed in an electric blue suit, he was one of the last to leave the private memorial attended by a few hundred people.
"It was truly beautiful, fitting for someone as well known as Prince. We acknowledged his memory and his presence and everything that he's done for this world and for generations to come," Gaither said softly.
But his tone quickly changed when the question of Prince, painkillers and addiction came up. Gaither said he wanted to set the record straight and dispel "all the lies" out there.
"I packed this man's bag on the daily. I have been on tour with him for months. So if anybody had an addiction that would be something you would see. That would be something that you would know," he said.
Did he see anything at all that pointed to even a dependency? "No, no," Gaither said forcefully.
Bodyguard was in Texas when he got call
Gaither said Prince had sent him home to Texas for a week. It was something Prince would do when he wanted to rest. Gaither said he was helping out a friend when he received a phone call that shook him to his core. The person on the other end of the line told him Prince was dead. He says he found out just minutes before breaking news bulletins flashed around the world.
READ: Nudity, androgyny and the color purple: in fashion, Prince reigned supreme
"I immediately stopped what I was doing. I couldn't concentrate on anything I was doing after that," he said. "I went all over the world with him. And suddenly he was just gone."
In the three weeks since the singer's death, Gaither says he's been frustrated with all the "talk" accusing Prince of being addicted or even dependent on drugs of any kind.
Emergency landing after Atlanta concert
That talk began when Prince's plane made an emergency landing in Moline, Illinois, six days before his death. Unnamed sources told several media outlets that Prince was treated for a possible overdose.
Then law enforcement sources told CNN opioid painkillers had been found on Prince's body and in his home when he was found unresponsive in an elevator at his Paisley Park complex April 21 in Chanhassen, Minnesota.
On May 6, an attorney came forward saying that he represented pain and addiction specialist Dr. Howard Kornfeld in California. Kornfeld had sent his son Andrew "on a life-saving mission" to evaluate Prince's health.