Manila, Philippines
CNN
—
Rodrigo Duterte, who is set to clinch the presidency of the Philippines, said he will be a "dictator" against evil and vowed to step down in six months if he failed to fulfill his promise to stamp out corruption.
"I will be strict. I will be a dictator, no doubt it. But only against forces of evil – criminality, drugs and corruption in government," Duterte said Tuesday morning in his hometown of Davao City in the southern Philippines. Duterte is mayor of the city.
"My message to all government employees – the police, the military, everyone, including Cabinet secretaries – stop. You just stop (corruption)," he said.
But Duterte also offered a slightly more self-effacing tone Tuesday, saying he would humbly serve the people of the Philippines.
"If I get to live to the day (of) my oath of office, I don't have other desires than to serve the interests of the people of the Philippines. Nothing follows," he said, promising to focus on improving education, health and agriculture.
Duterte was also seen getting emotional early Tuesday when he sobbed over his parents' grave. According to Edith Ging Caduaya, who posted a video to Facebook, he asked his parents to guide him as he prepares to lead the country.
Top rival's concession
Duterte's closest rival, Mar Roxas, conceded defeat Tuesday, following Grace Poe, a senator who had exited the race earlier. Official results have yet to be announced.
"It is clear that Mr. Rodrigo Duterte will be the next president of the Philippines. Digong, I wish you success," Roxas told supporters, using Duterte's nickname.
Rodrigo Duterte: From 'Punisher' to Philippines President?
According to election officials cited by CNN Philippines, 40 million of the nation's 54 million registered voters endured the hottest day of the year so far to vote Monday. With more than 90% votes counted Tuesday, Duterte was in the lead with more than 38%, according to an unofficial tally from the PPCRV poll monitor.
Duterte, known for his inflammatory comments, was long the front-runner in a campaign dominated by the economy and corruption.
In Davao City, where Duterte has held office for decades, he has long been dogged by allegations of ties to death squads and extrajudicial killings.
He has vowed to execute 100,000 criminals and dump them into Manila Bay and has suggested he has killed people before.
In April, a YouTube video surfaced appearing to show him joking about the 1989 rape and murder of an Australian missionary in Davao City, saying as mayor he should have been first in line. He later described it as "gutter language" but refused to apologize.
In his last campaign speech before the election, Duterte told a crowd to "forget the laws of human rights."
"If I make it to the presidential palace, I will do just what I did as mayor. You drug pushers, hold-up men and do-nothings, you better go out. Because as the mayor, I'd kill you," Duterte said.
Duterte also has not been afraid to upset the Roman Catholic Church in a nation where more than 80% of the people identify as Catholic, vowing to push ahead with birth control methods the Vatican frowns upon.
"We must go back to family planning," Duterte said. "As for myself, I am no longer a Catholic but a Christian. And I have this deep, abiding faith in God to guide all of us, and for me, to have a clear mind."
Marcos loses lead in VP race
Tens of thousands of elected positions were at stake in the national elections, including the presidency, vice presidency, half the Senate, all of the House of Representatives and many local posts, ranging from governors and mayors to members of provincial councils.
In the vice presidential race, Leni Robredo has pulled ahead of rival Ferdinand "Bongbong" Marcos Jr.
The lone female candidate surpassed Marcos, the perceived front-runner and son of former Philippines dictator Ferdinand Marcos, taking 35% over Marcos' 34.59%.
Why some voters in the Philippines want another Marcos
A lawyer and social activist, Robredo rose to political prominence after the death of her husband, Interior Secretary Jesse Robredo, in a 2012 plane crash. While campaigning, Robredo positioned herself as a defender of women, children and the poor, noting her past work as a public attorney and with a legal support group.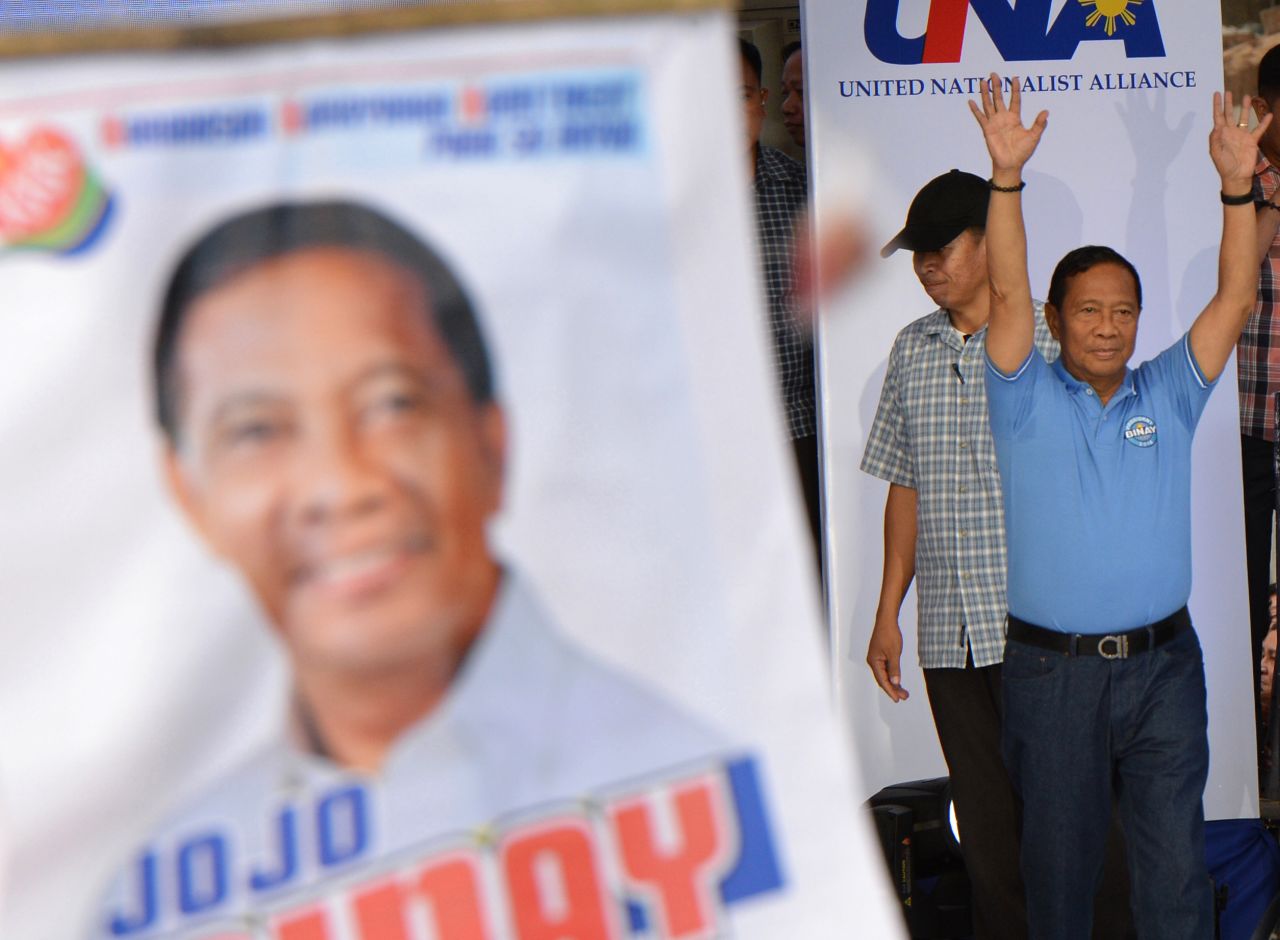 Voters also appear to have elected the country's first transgender legislator, Geraldine Roman, to the House of Representatives.
What's at stake for Filipinos?
The Philippine economy has steadily grown since the early 2000s, earning credit ratings upgrades, with spending power fueled by money sent home by an army of overseas workers.
On the political and diplomatic front, the government has been feted for standing up to China over a row in the South China Sea.
Why fatigued Filipino voters yearn for a 'strongman' leader
Maria Ressa, executive editor of Rappler, a social news network, said it is Duterte's authenticity that is responsible for his popularity.
"He is who he is. Unapologetically so and he comes with a track record," Ressa said.
"I think part of what led to his win in these elections is social media. It plays to his strengths moving away from authority to authenticity."
Richard Javad Heydarian, a political science professor at De La Salle University, said Duterte now faces the challenge of transitioning from the campaign trail to the country's highest office.
"He can no longer act as a loose cannon," he said.
"(Mistakes could) make markets more nervous and alienate key international allies."
He said that Duterte may surround himself with local business luminaries in his Cabinet or other competent officials such as Gilbert Teodoro, a former defense minister who enjoys "robust ties" to the United States.
But Heydarian called Duterte's promise to rid high crime in half a year impossible. It "runs against the grain of empirical evidence and scholarship," he said.
Jason Gutierrez reported from Manila; CNN's Tiffany Ap and Rob Sawatzky wrote from Hong Kong.