Editor's Note: Now you can get "5 Things You Need to Know Today" delivered to your inbox daily. Sign up here.
It's Friday, and here are five things to know for your New Day.
WINTER STORM
Snow em gee: Monday morning commutes are always a pain. Throw in icy, snowy roads and you have the makings of a real fiasco. That's what awaits the East Coast after the weekend's monster blizzard. The storm left at least 16 dead, tied up traffic for miles on interstates and cancelled thousands of flights. And the snowfall totals are epic: 31 inches in New York, 29 inches in Baltimore, 28 inches in Washington and Newark. But the Blizzard 2016 snowfall champion is little ole' Glengary, West Virginia, which got socked with 42 inches!!!.
CAMPAIGN 2016
Politicking: The candidates are set for CNN's debate next week, which will feature 11 people instead of 10 to account for the rise of Carly Fiorina. But no candidate on the GOP side of things is rising as high as Donald Trump, who surges to 32% support in the latest CNN/ORC poll. Things aren't quite so rosy for Hillary Clinton. The Democratic frontrunner's support continues to fade, and she is now at 37% support, only 10 percentage points ahead of Bernie Sanders. Her advantage in hypothetical general election matchups against the top Republican contenders has also vanished.
ISIS VIDEO
Terror TV: ISIS put out another video, and you know that's never good news. The 17-minute long production features the nine killers from the Paris attacks. In portions apparently recorded before Paris, the attackers give their "final words" and execute some prisoners. The video ends with footage of the British parliament voting to join the anti-ISIS coalition - an obvious warning the UK may be ISIS' next target.
MIGRANT CRISIS
Resettling: The United States has been criticized for the low numbers of Syrian refugees it has taken in during the current crisis. Now something is being done about it. Yesterday President Obama called for his administration to prepare for at least 10,000 Syrian refugees to be admitted to the United States in the coming year. But that probably won't be enough. Secretary of State John Kerry reportedly told a group of lawmakers yesterday that "an additional increase beyond that" number would be sought.
JAMES BLAKE
Apologizing: We're sorry. That's what New York City Police Commissioner William Bratton said he told former tennis star James Blake yesterday, a day after New York cops slammed him to the ground and handcuffed him in a sting operation gone wrong. It was a case of mistaken identity; Blake wasn't the man the police were looking for. Bratton said the "incident should not have happened," race wasn't a factor and a review would determine if the amount of force used against Blake was appropriate. "It may not have been," Bratton conceded.
The grab bag: So much to report, so little space. Here we go:
BREAKFAST BROWSE
People are talking about these. Read up. Join in.
If this doesn't melt your heart, you don't have one. A sloth in Ecuador was found holding onto a guard rail for dear life near a busy highway. Police rescued it, a vet made sure it was OK and it was released back into the wild.
Somebody's gettin' paaaiid! Only one ticket was a perfect match for this week's Powerball – which means the winner will keep the entire $429.6 million jackpot!
Army 'Formation?'
Graduation celebration or political statement? West Point is investigating this pic of a group of female cadets with their fists raised in a "black power" salute.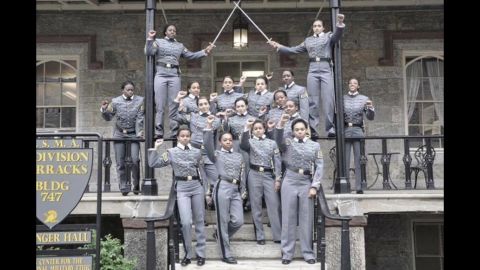 Twitter/AP
Axl's back in black
Guns N' Roses frontman Axl Rose took the stage this weekend in Portugal for his first show with AC/DC. And you can watch the whole show here.
The problem with numbers
Add this to the list of things that'll get you thrown off a flight: Intensely working on math problems.
Prom problems
Add this to the list of things that'll get you tossed out of your prom (if you're a girl): Wearing a tux.
WHAT'S FOR LUNCH
Here's what's happening today.
What we've got here is a failure to communicate
The Ferguson, Missouri, police department will swear in its first African-American police chief today at 4 p.m. ET.
Deadline day
North Carolina has until the end the day to respond to the Justice Department, which said NC's transgender bathroom law violates the Civil Rights Act.
What lurks beneath
Number of the day
$136 million
The number of small earthquakes that have trembled beneath the surface of Mount St. Helens in the past eight weeks.