Manila, Philippines
CNN
—
Rodrigo Duterte, whose outspoken commentary – including joking about the rape of a missionary – drew international attention to the Philippines' national elections, appeared poised to win his country's presidency Monday after a top rival conceded.
Grace Poe made the concession Monday night, according to CNN Philippines, even though formal results will not be announced until June.
Early exit polls had shown Duterte, the mayor of Davao City, leading with 38.92% of the votes counted, compared with Poe's 22.14%, according to the Commission on Elections.
Rodrigo Duterte: From 'Punisher' to Philippines President?
"I congratulate Mayor Rodrigo Duterte, and I promise to join in the healing of our nation and to unify our countrymen for our country's progress," Poe said, according to CNN Philippines. Poe is a popular senator who was challenged over her citizenship.
Earlier Monday, Duterte – who sparked outrage at home and abroad over rape jokes and threats to kill criminals – didn't appear worried about the election results. He boasted he hadn't even been following the race and instead had been fast asleep.
"You know, a lesson in life (is) there are things beyond your control," he said. "You can't control buying (of votes) and intimidation, we'll just leave it up to the police," he told reporters in a mix of Filipino and English.
Voters – 55 million of the 100 million-strong population registered for the pivotal election – braved stifling heat to cast their ballots.
Why some voters in the Philippines want another Marcos
Marcos loses lead in VP race
Tens of thousands of elected positions are at stake, from the presidency and his or her deputy as well as half the Senate and all of the House of Representatives to a huge number of local posts, ranging from governors and mayors to members of the provincial councils.
Who were the main candidates?
Besides Duterte, 71, and Poe, 47, other presidential candidates include Miriam Defensor Santiago, 70, a longtime lawmaker and legal expert who contested the presidency in 1992; Vice President Jejomar Binay, 73, a close friend of former President Corazon Aquino's; and Interior Minister Mar Roxas, 57.
Sen. Ferdinand Romualdez "Bongbong" Marcos, son of the late dictator Ferdinand Marcos, is running for vice president.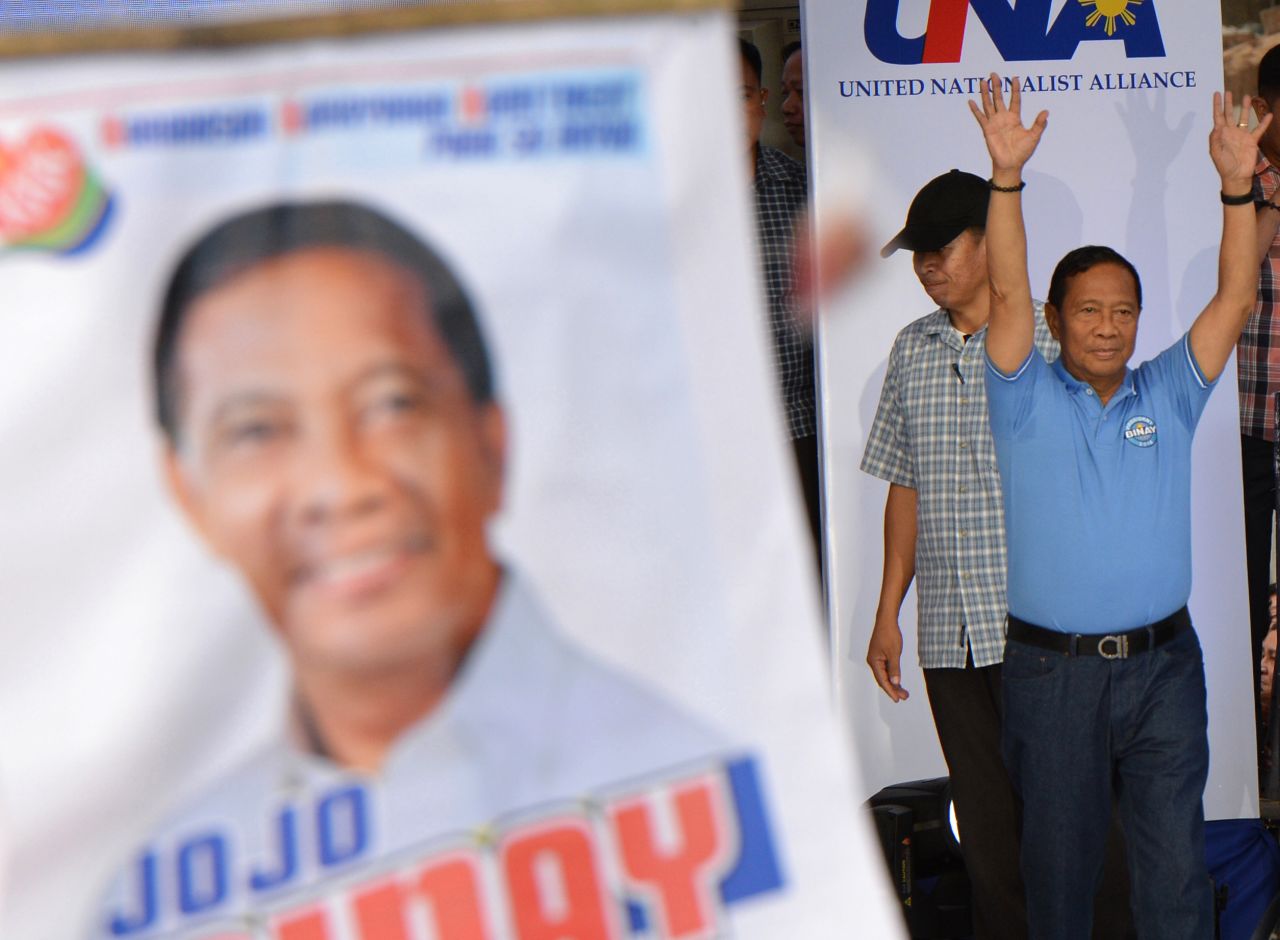 Why is Duterte so controversial?
Dubbed "Duterte Harry" and "the Punisher" by the local press for his exploits, Duterte is a colorful and controversial figure known for his inflammatory comments on a gang rape, his sexual conquests and tough stance on crime.
In Davao City, where Duterte has held office for decades, he has long been dogged by allegations of ties to death squads and extrajudicial killings.
He has vowed to execute 100,000 criminals and dump them into Manila Bay. He's also suggested that he has killed people before.
In April, a YouTube video surfaced appearing to show him joking about the 1989 rape and murder of an Australian missionary in Davao City. He later described it as "gutter language" but refused to apologize.
In his last campaign stump Saturday, Duterte played his role to the hilt and again vowed to butcher criminals as he told thousands in central Manila: "Forget the laws of human rights."
"If I make it to the presidential palace, I will do just what I did as mayor. You drug pushers, hold-up men and do-nothings, you better go out. Because as the mayor, I'd kill you," Duterte said to wild cheers from supporters.
He's threatened to bypass or even shutter Congress, leading to outgoing President Benigno Aquino calling for all the candidates to unite against Duterte, warning of uncertainty and the "specter of dictatorship" if he won.
Duterte has also promised to jail the corrupt, along with rogue members of the police and the military.
What's at stake for Filipinos?
The Philippine economy has steadily grown since the early 2000s, earning credit ratings upgrades, with spending power fueled by money sent home by an army of overseas workers.
On the political and diplomatic front, the government has been feted for standing up to China over a row in the South China Sea.
Ramon Casiple, a political analyst and head of the Institute for Political and Electoral Reform, said Duterte is "a protest vote."
"He is a symbol for the people. Nothing happened for many people in the past six years, and he has capitalized on his image as the folk hero here," Casiple told CNN.
Why fatigued Filipino voters yearn for a 'strongman' leader
How did voting progress?
Allegations of cheating were rampant around Manila and its southern suburbs.
One woman voter, who declined to be identified, said people representing themselves as allied to a certain politician offered her up to 3,000 pesos ($64) for a vote.
"I declined politely but I know of some who took the money. They were supposed to report back (to the people who offered the bribe) to collect the money," the woman said.
Scattered incidents of election-related violence caused five deaths in the southern province of Maguindanao, the Army's Sixth Infantry Division told the country's state-run Philippine News Agency.
Capt. Jo-Anne Petinglay said the polling remained generally peaceful and civilian casualties were low compared with past elections in the province.
Jason Gutierrez reported from Manila, and CNN's Tiffany Ap wrote from Hong Kong. Toni Macolino also contributed to this report.