The massive wildfire that forced almost 90,000 people to evacuate in Alberta is growing and approaching the neighboring province of Saskatchewan, Canadian officials said.
Dry, windy conditions are fueling the blaze, which has already raged over 1,010 square kilometers (389 square miles). By Saturday, it might be twice as big.
"The situation remains unpredictable and dangerous," he told reporters.
Alberta is "tinder dry," he said, adding there was a possibility of a drop in temperature and a slight chance of rain early next week.
A downpour is needed to tame the fire that is the size of Hong Kong and almost 25% bigger than New York City. It has displaced about 88,000 people, wiped out at least 1,600 structures and sent plumes of smoke as far away as Iowa. The fire may double in size, Goodale said.
The blaze is moving in a northeast direction and could reach the border with Saskatchewan by the end of Saturday, Alberta Premier Rachel Notley said.
The response has been massive. Notley said more than 500 firefighters are battling the blaze around Fort McMurray, with the help of 15 helicopters and 14 air tankers. More than 1,400 firefighters and 133 helicopters are fighting blazes across the province.
Notley said the Suncor and Syncrude oil companies to the north of Fort McMurray are evacuating personnel. Officials stressed that the company properties don't appear to be in danger from the fire.
The premier said the human suffering is heartbreaking.
"I met families who had picked up and evacuated on a few hours' notice, who are understandably worried and anxious about what is going to happen next, about their children's schooling, about their belongings," she said.
One bit of good news: No fatalities directly related to the fire have been reported.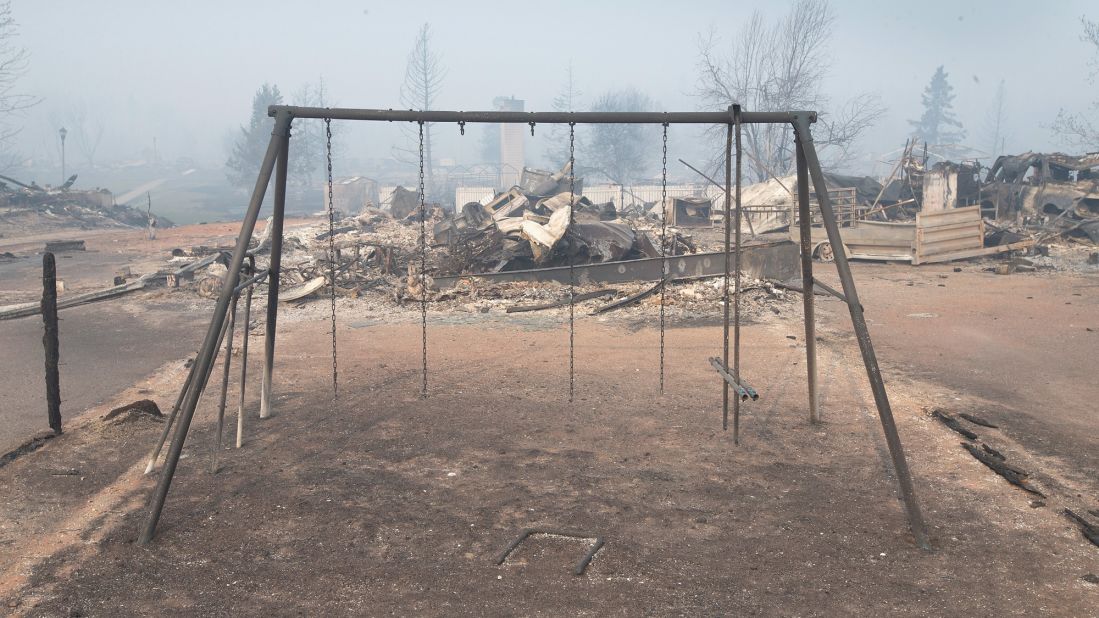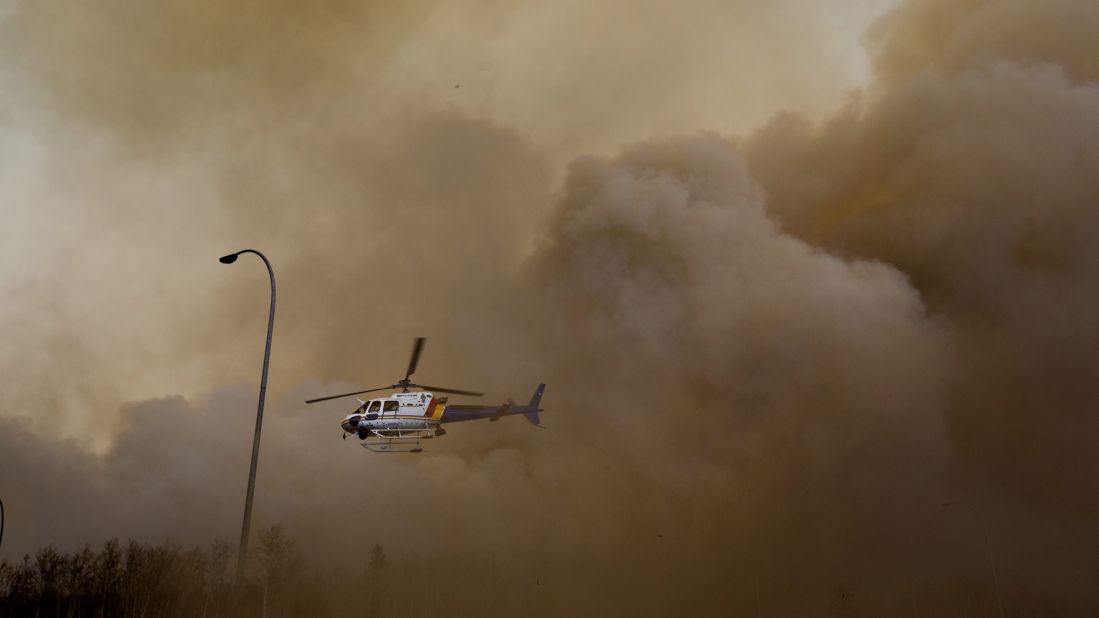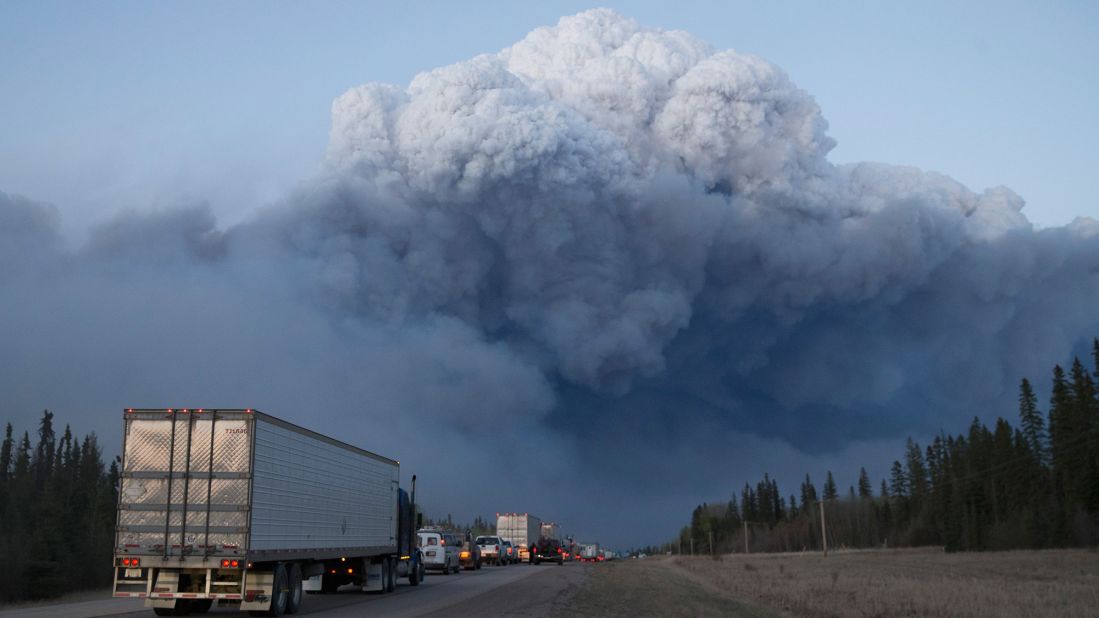 Wildfire forces Canadian city to evacuate
The monster fire – which is the size of Hong Kong and is almost 25% bigger than New York City – has displaced about 88,000 people and wiped out 1,600 structures.
The city of Fort McMurray has been devastated, damage witnessed by thousands of people who drove through Friday in evacuee convoys headed to Edmonton and other cities. More than 1,200 vehicles headed south down Highway 63, the lone road open for people relocating to emergency shelters and the homes of friends or family.
"I want to underline again that no one who is not a trained first responder with a specific job to do should be in Fort McMurray," she said.
Many Fort McMurray residents first evacuated north of the city to oil company camps. They were forced to move again as supplies ran low and the oil companies decided to evacuate their own employees.
Thousands of people who drove through Fort McMurray on Friday and Saturday in evacuee convoys headed to Edmonton and other cities witnessed the devastation.
"It was something like Armageddon," said Morgan Elliott, who traveled with his fiancee, Cara Kennedy, and their baby, Abigail. "Everything was burnt, houses gone. Leaving the city, it was like a scene out of a movie. It reminded me of the TV show 'The Walking Dead' where you're going on the highway, and there's just abandoned vehicles everywhere; hundreds of cars, just abandoned vehicles."
The convoys will continue as long as it's safe to run them, which for about an hour on Friday it wasn't.
Notley said 12,000 people have been airlifted over the past two days and 7,000 were able to drive out. Some 15,000 people remain stranded north of the devastated city, but not all will leave, she said.
READ: How wildfires create their own weather
Canada wildfire: By the numbers
1,600: Structures destroyed 88,000: People evacuated1,010: Square kilometers burned250: Firefighters12: Firefighting helicopters0: Reported fatalities
Morrison warned of "extreme fire behavior" in the following days as the blaze pushes into heavily forested areas.
Many evacuees are expected eventually to wind up in Edmonton, the provincial capital some 379 kilometers (236 miles) to the south, or Calgary, where residents and officials were working to set up accommodations for the influx of temporary residents.
The fire is so large that once brought under control it will burn in some places for "weeks and weeks," said Chad Morrison of Alberta Wildfire.
Notley said a great deal of rebuilding work will follow the end of the fire.
"This is Canada," she said. "Canadians work together in the face of a disaster like this."
How to help victims of the Fort McMurray fire
CNN's Dan Simon, Amanda Watts, Mallory Simon, Keith Allen, Faith Karimi, Chuck Johnston, Dave Alsup, Justin Lear, Holly Yan and David Williams contributed to this report.