The Fort McMurray wildfire in Canada is massive. And it could get a lot worse.
Dry and extremely windy conditions are fueling the blaze, which has scorched more than 1,560 square kilometers (602 square miles) and ravaged the city of Fort McMurray, Public Safety Minister Ralph Goodale said Saturday.
"It's extremely dry out there. Wind continues to push from the southwest, to push the fire to the northeast into the forested areas," Alberta Wildfire official Chad Morrison said Friday afternoon. "There is a high potential that this fire could double in size by the end of the day tomorrow."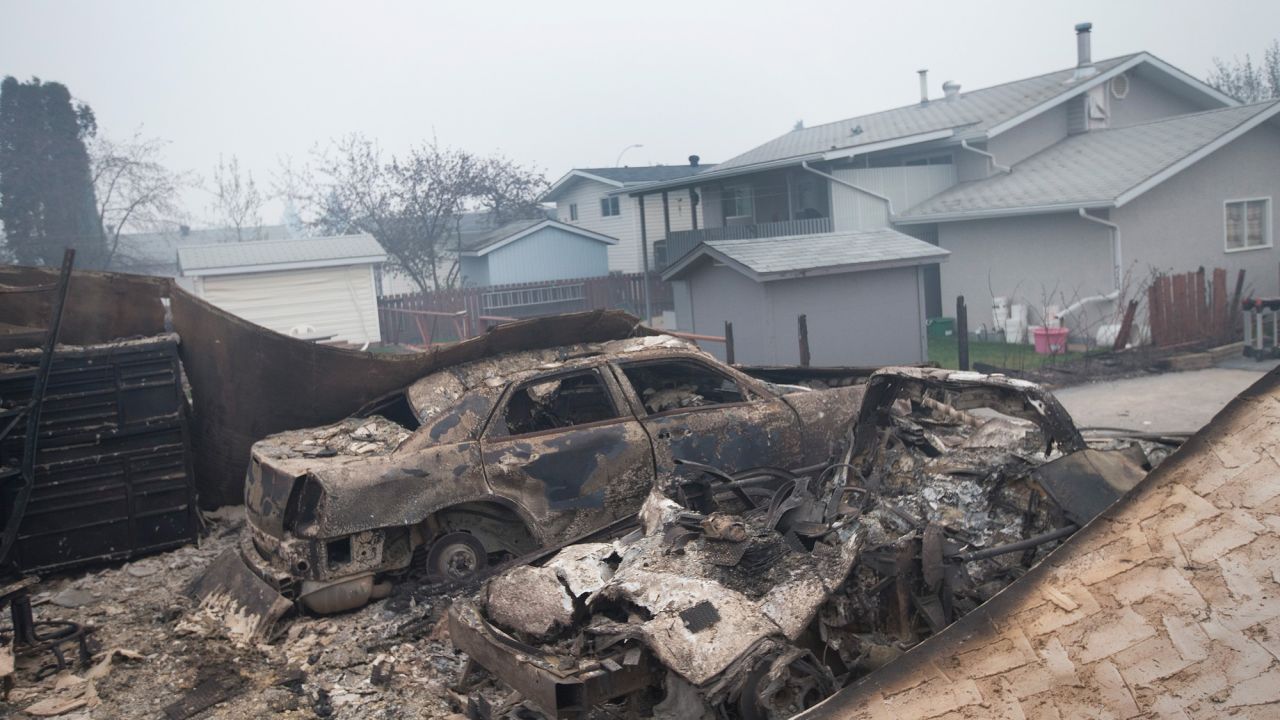 Wildfire forces Canadian city to evacuate
READ: Is this what climate change looks like?
READ: Is this what climate change looks like?
Fort McMurray has been devastated. Besides the fire damage to structures, the power grid has been damaged, and the water is currently undrinkable, Notley said.
Vehicles headed south down Highway 63, the lone road open for people relocating to emergency shelters or the homes of friends or family, the Regional Municipality of Wood Buffalo reported.
One of the fleeing residents told CNN near Fort McMurray that the past few days have been like "hell on Earth. Just like hell."
Other residents had already made it to safety at the Edmonton Expo Centre.
Morgan Elliott and fiancée Cara Kennedy fled first to the Syncrude oil sands camp north of Fort McMurray with their baby, Abigail, but not much else. Then Friday it was time to try for Edmonton.
What they saw along the way was jaw-dropping.
"It was something like Armageddon," Elliott says. "Everything was burnt, houses gone. Leaving the city, it was like a scene out of a movie. It reminded me of the TV show 'The Walking Dead' where you're going on the highway, and there's just abandoned vehicles everywhere; hundreds of cars, just abandoned vehicles."
Edmonton resident Bill Glynn, who was working in Fort McMurray when the fire broke out, was in a convoy and told the Edmonton Journal newspaper that the scene was "like a war zone."
"There were times you came over the hill and you couldn't see anything and just hoped the person ahead knew what they were doing," the newspaper quoted Glynn as saying.
"We had only gone two or three klicks," he said, using a term for a kilometer, "and there was the fire right at the side of the road. It was coming towards us."
READ: How wildfires create their own weather
Canadian military helicopters hovered overhead to look out for smoke and flames along the evacuation route, while emergency gas stations were set up to keep the convoy moving.
CNN partner CTV posted photos it said were taken as the convoy drove through the northeastern Alberta city. Flames and towering columns of smoke filled the sky.
Other people likely wil be airlifted out of the fire zone, as 7,000 were Thursday, according to authorities.
Some 15,000 people remain stranded north of the devastated city, but not all will leave, Alberta Premier Rachel Notley said.
Some remain behind
Some hardy souls working for the oil industry will remain behind to tend to facilities there, authorities said. The region is known for its massive oil reserves – the third-largest in the world.
But officers are going into accessible areas and looking for signs of others, Sgt. Jack Poitras, a spokesman for the Royal Canadian Mounted Police, told reporters Thursday.
"We still have some people who have been hanging around," he said.
Overnight, the fire's footprint grew, racing up to the doorstep of the community of Anzac before firefighters beat it back.
Winds were expected to shift and push the fire away from developed areas.
Canadian wildfire: What we know
The fire will likely burn for "weeks and weeks," he said.
"There's no tankers we can put at this thing to stop it," he said, noting the fire was so large and aggressive it's jumped a 1-kilometer wide river and created its own lightning.
The cause remains unclear, Morrison said.
But the region is in the midst of a drought, he said. Two months without appreciable rain has left vegetation dangerously dry.
Forecasters think Saturday will be dry and windy again, but there is a 40% chance of showers on Sunday and Monday.
Canadian wildfire: What we know
'The damage is extensive'
Canada wildfire: By the numbers
1,600: Structures destroyed 88,000: People evacuated850: Square kilometers burned250: Firefighters12: Firefighting helicopters0: Reported fatalities
Many evacuees are expected eventually to wind up in Edmonton, the provincial capital some 379 kilometers (236 miles) to the south, or Calgary, where residents and officials were working to set up accommodations for the influx of temporary residents.
Across the region, residents held food and clothing drives and raised money for victims. Others offered to put up families displaced by the fire. Restaurants gave out free meals. The Edmonton library system is allowing full use of its facilities and services, while Edmonton schools scrambled to welcome students.
Labatt Breweries of Canada is donating more than 69,000 cans of drinking water to firefighters and evacuees. A truck carrying more than 2,880 cases of water canned left the brewer's Alberta distribution center on Friday.
Some 14,000 families had registered with the Canadian Red Cross, authorities said.
They won't be able to go home anytime soon.
"It will not be a matter of days," Notley said Thursday. "The damage is extensive."
CNN's Dan Simon, Amanda Watts, Mallory Simon, Keith Allen, Faith Karimi, Chuck Johnston, Dave Alsup, Justin Lear, Holly Yan and David Williams contributed to this report.