Sometime Friday morning, Canadian officials will give the signal and a convoy of hundreds of vehicles will roll south, through the battered city of Fort McMurray, as evacuees try to get away from the flames of a massive wildfire.
Officials said the effort will involve 400 cars and a helicopter that will fly ahead to make sure the path is safe.
On Thursday it wasn't safe, and thousands of people who lived north of the city had to be flown over the fire that has torched 850 square kilometers (328 square miles).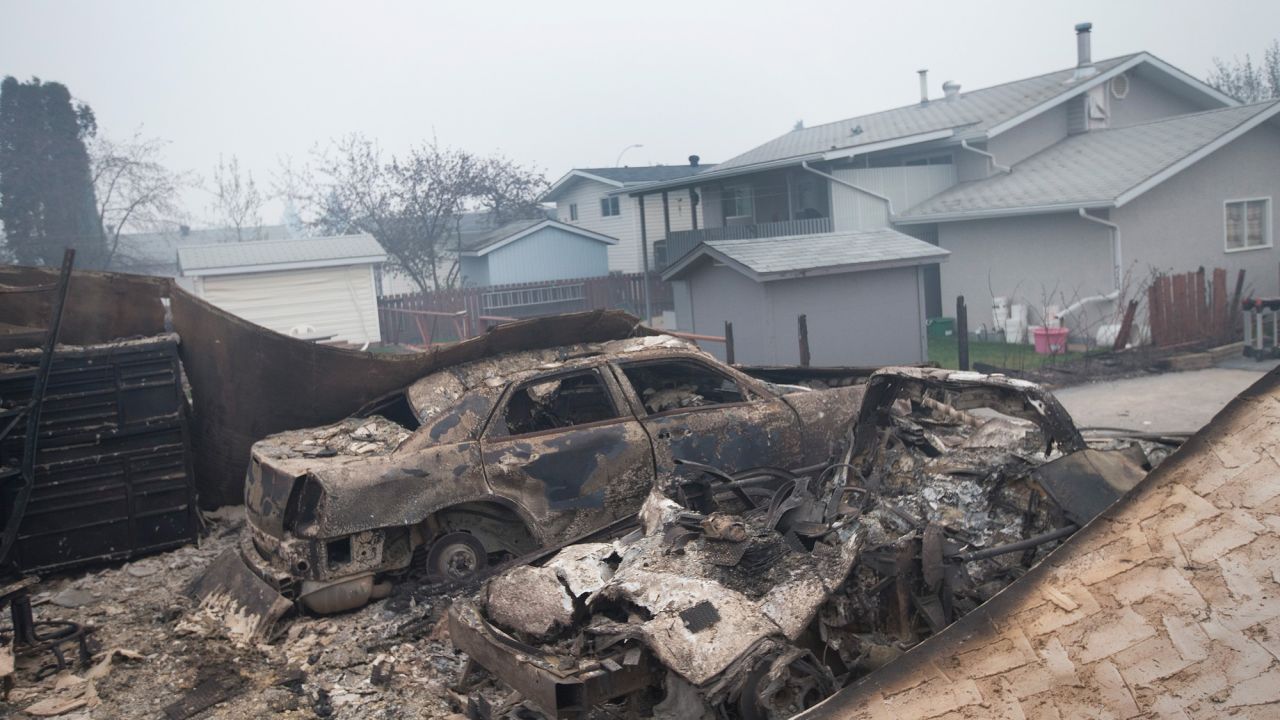 Wildfire forces Canadian city to evacuate
They, like many who fled by car, ended up hundreds of miles away in Calgary, Edmonton and other Alberta cities.
When they will be able to go home is much in doubt.
"It will not be a matter of days," Alberta Premier Rachel Notley said. "The damage is extensive."
Notley said she knows her constituents are scared and worried about what they will find when the fires are out and they can go back.
"Trust us that we have your back, that we will be there for you. And that we will support you along the way," she said at an evening news conference.
How to help victims of the Fort McMurray fire
Some good news
While the cause of the fire remains unclear, a dangerous mix of extreme temperatures and bone-dry conditions had fueled the inferno.
Chad Morrison, a senior manager for wildfire prevention with Alberta Wildfire, said the fire didn't move as much Thursday as it did Wednesday.
Strong winds didn't help, but lower temperatures – after two days of record heat – and lower humidity did.
The forecast for Friday included no rain, but winds were not expected to be as strong.
"We still have a few warm, hot burning dry days in front of us for sure. Firefighters will continue to be challenged," he said. "So we're not out of the woods yet and we still have a long ways to go."
Quick escapes
Cameron Spring had 30 minutes to pack up a lifetime of memories from the house he grew up in.
The fire, which started Sunday, was racing toward his home, destroying everything in its path.
"We had next to no warning," the 27-year-old said. "I was able to grab some clothes, toiletries, a hard drive and laptop, passport and my Brazilian jiujitsu belt."
Spring escaped just in time. His neighborhood – more than 100 homes – burned to the ground.
"Absolutely everything was leveled," he said. The only things left standing: burnt trees, a light post and a few chimneys.
But Spring doesn't have time to think about losing his home. He's also the safety and operations director at Phoenix Heli-Flight, which was busy evacuating hospital patients and helping firefighters by dropping water from the sky.
"It's not difficult at all to keep working and not think of it," he said. "Just knowing that everything we lost is replaceable is comforting."
One of the people his outfit rescued was Peter Fortna, who with his cat, Sami, and his roommate, had fled about 11 kilometers (6.8 miles) down the road to a friend's house.
A Phoenix pilot thought the area was in danger, so he set his helicopter down in a field when he saw Fortna and others nearby.
The pilot told them it was time to move to safety again and offered to take them to the airport, which was about a minute away by air. There, Fortna rented a car and drove 435 kilometers (270 miles) to Edmonton.
"I never feared for my life, but it was close enough," Fortna said of his ordeal.
Shifting winds
Canada wildfire: By the numbers
1,600: Structures destroyed 88,000: People evacuated1,010: Square kilometers burned250: Firefighters12: Firefighting helicopters0: Reported fatalities
Not everyone left in a timely manner, Sgt. Jack Poitras, a spokesman for the Royal Canadian Mounted Police, told reporters Thursday.
"We still have some people who have been hanging around," he said. That included two whom police discovered in town Wednesday night.
Officers are going into accessible areas and looking for signs of people, he said.
Figuring out where the fire is headed is very difficult, he said, because the strong winds kept shifting.
"It's very dangerous because it keeps going back and forth," he said.
The flames also prevented people north of the city from being able to travel south.
"It's not safe to let them through," Poitras said.
1,600 structures destroyed
The mammoth inferno has torched at least 1,600 structures, Notley said earlier. She later noted that figures couldn't be updated Thursday night because fire fighters were too busy battling the fire.
Authorities ordered the evacuation of more than 88,000 people – including everyone in Fort McMurray.
The northeastern Alberta city isn't the only area on fire. At least 49 wildfires are burning in Alberta, the provincial government said.
On the run again
Many who heeded the evacuation orders had to flee a second time as the unpredictable fire headed toward an emergency shelter in Anzac.
Donna Guillamot was one of tens of thousands evacuated from the Fort McMurray area to Anzac this week.
"I thought it was safe here, so I guess we'll go to Edmonton," Guillamot told CBC News. "Now you're sitting here and all you see is red flames. It's pretty scary."
Authorities are still trying to evacuate thousands of residents.
"Crews successfully evacuated 4,000 people from the camps north of Fort McMurray, and we are optimistic that this number will reach 7,000 by the end of day," Alberta Premier Rachel Notley said Thursday.
'Quite an amazing effort'
Spring said he's amazed by the generosity of strangers from all over Alberta province.
The wildfire destroyed gas stations, leaving many drivers and evacuees stranded. So fellow Canadians drove up a clogged highway, giving away gas, food and water.
"That's the most emotional part of it – everyone else coming to help you," he said. "It gives you hope … not everything's going to be bad."
A punk band from Pittsburgh, Pennsylvania, that was supposed to play a show Thursday night in Fort McMurray will instead play a benefit show in Edmonton.
Anti Flag asked people to chip in at least $5 each for the Thursday all-ages show.
And an apartment leasing company, Mainstreet Equity, is offering units for displaced families to live in rent-free for at least three months.
CNN's Amanda Watts, Faith Karimi, Chuck Johnston, Dave Alsup and Justin Lear contributed to this report.